The Tennis Club of Auvers-sur-Oise has launched this we the 1er tournament approved in the Val d'Oise.
Yohann Desmonts, the ambassador of the padel in Auvers-sur-Oise explains that there was for this tournament "8 represented clubs and 14 teams (10 men and 4 women) "
The good weather was at the rendezvous.
In women, RIOJA Sabrina + 15 / LAMBERT Delphine 15 / 2 left no chance to COTTET Virginia 15 / 5 / LEBORGNE Emilie 30.
Sabrina Rioja and Monica Blankson-Hemans (3 / 6), The champions of the Val d'Oise league will go to Lyon with full confidence for the championships of France padel next October.
In men, the battle is tough. But the best ranked, Sebastien 1 / 6 / BURIDANT Brice 5 / outweigh the experienced pair REGGIO Benjamin 15 / 4 / Yohann 30 / 2 DESMONTS on the 4 / 6 6 / 3 10 / 5 score.
Yohann DESMONTS was definitely on all fronts because it was he who took care of the organization of this tournament supported by Judge Arbiter Claudie VIVIER: A pair that worked very well.
Sabrina Rioja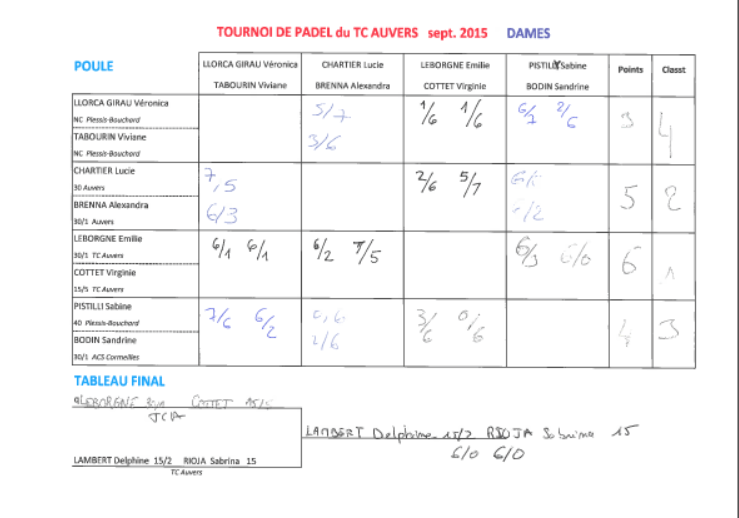 Franck Binisti discovers the padel at the Pyramid Club in 2009 in the Paris region. Since then padel is part of his life. You often see him touring France by going to cover the big French paddle events.