The padel has a new event in France: The Padel Infinity Tour

This circuit will be the first of its kind to be organized in France over a whole year with the Padel clubs of the South West on the basis of a tournament per month.
Multi-level tournament, open to all, without age or nationality restrictions.
Choose the category you want to play with 4 Minimum games by category. All teams will qualify for the finals.
The first tournament will take place in Blagnac 7 and 8 February 2015.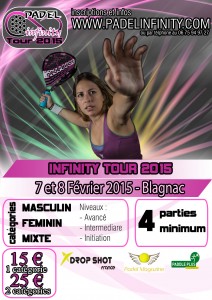 More info at contact@padelinfinitytour.fr and on www.padelinfinitytour.fr
Clément Arico is a great gentleman of French padel. Founder of Padel Infinity, one of the largest French padel circuits, he offers us his expertise on French padel.