After a week already very beautiful in interview, we continue with 2 very beautiful sportsmen: Valentin Porte and Pierre Frolla.
Interviews that you can follow live.
1 / Thursday April 23 19 p.m .:
Live with an athlete continues with the 2015 and 2017 handball world champion with "the experts", Valentin Porte. Passionate about padel he will come back to this sport in detail with the other great athlete: Robin Haziza. An exchange between high level athlete in perspective.
Visit the Robin Haziza instagram page or the page Padel Magazine to follow the live.
2 / Friday April 24 19 p.m .:
"Face-to-face" with a very high level athlete, the freediver, Pierre Frolla. Record holder in apnea, he is today on several fronts including completely incredible adventures underwater. We promise to discover a colorful discipline. This fan of padel returns to this sport and we will take a look at the breath and the breath.
Visit the Instagram page to follow our interview live.
3 / Saturday April 25 11 a.m.
As a bonus, the tutorial padel with Julien Bondia live, the coach of Tenerife in San Miguel. Listen to him regularly on Saturdays for his technical and tactical columns padel.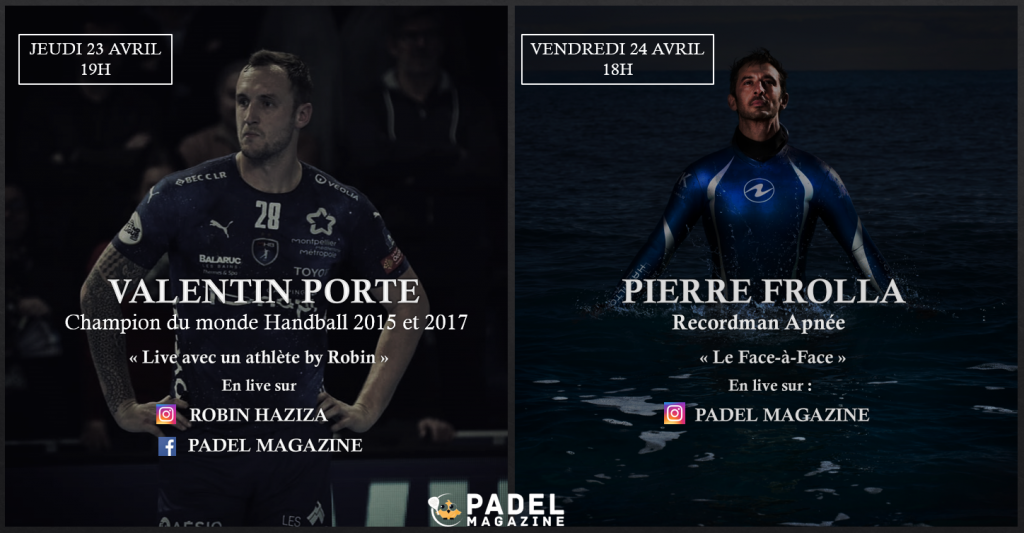 Franck Binisti discovers the padel at the Club des Pyramides in 2009 in the Paris region. Since padel is part of his life. You often see him touring France going to cover the major events of padel French.