After the exhibition on June 9, Tony Parker, Teddy Riner, and Alizé Lim will come to show their talents as padel at Roland Garros tomorrow.
The judoka, the basketball player and his partner, a former professional tennis player will be accompanied by Arnaud Di Pasquale, the new "sir padel"From the FFT, whose talent on the slopes is well established.
We can't wait to see how the 2m04 judoka and former San Antonio Spurs point guard will fare on the track. padel. One thing is certain it will be better for Teddy to avoid bumping too hard against the windows!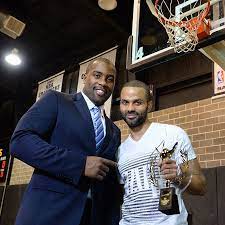 Photo credit: Facebook Teddy Riner
Between Parker's speed, and Riner's power, we could have a nice mix. Enough to beat former professional tennis players Arnaud Di Pasquale and Alizé Lim? Nothing is less sure !
Team Padel Magazine tries to offer you since 2013 the best of padel, but also surveys, analyzes to try to understand the world of padel. From the game to the politics of our sport, Padel Magazine is at your service.