It's the penultimate day of the tournament for A1 Padel Panama, and today's semi-finals still promise a great spectacle.
After their little sensation in 1/8th facing the number 4 seed, the adventure of Joaquin Gaitan and Fabricio Peiron stopped at the gates of the last four, defeated by Egea and Torre.
It's also over, for the number 3 seed Aguirre/Allemandi, soundly beaten by the Chiostri/Sanchez pair: 0/6 – 4/6.
However, it works for the number 1 seed Dal Bianco and Arce. As well as for the pair n°2, De Pascual/Alonso, who trembled against Santiago Rolla and Yain Melgratti.
Find the updated table below: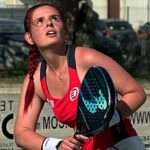 It was his brother who one day told him to accompany him on a track. padel, since then, Gwenaëlle has never left the court. Except when it comes to going to watch the broadcast of Padel Magazine, World Padel Tour… or Premier Padel…or the French Championships. In short, she is a fan of this sport.