This Tuesday, July 12 marked the arrival of the world numbers 1 in Paris in the legendary Roland-Garros stadium. On this occasion, Padel Magazine had the chance to speak with Alejandro Galan.
"It's very moving to be here, I had goosebumps when I went to the Philippe Chatrier court. I had never been there for my part, and to see it with a track of padel it's even more beautiful (laughs)."
"Roland-Garros is a mythical place for sport"
"I really want to play, and you can already feel this spirit, this atmosphere that sport can give off here. Whether you are a tennis lover, padel or another sport everyone knows that Roland-Garros is a mythical place. It's very moving to be here and I'm very happy about it. Moreover see that the padel has come so far, it's spectacular."
"I really like Paris. Since Valentine's Day when I came for the very first time, it's true that I often come back and I love it !
"I don't know what will happen when our contract with the WPT ends"
"I find it unfortunate the absence of Tapia and Sanyo from this competition. I know they would like to be here too because they have said so publicly but they are not the only ones and it is true that I wish all the players could grant their wishes and I sincerely hope that we can all take advantage of what we are currently experiencing".
"Regarding the physical condition, it is sure that it is not easy but we knew what awaited us. We've had a good pre-season and my body seems to be holding up well so far. I'm very happy with the rhythm that we currently have with Juan lebron".
"I don't know what will happen when our contract with the World Padel Tour will end, what I know is that the players and I benefit enormously from these kinds of competitions and from seeing how this sport develops. If in the future we can like here choose which tournament to play, and that the decision is up to the players, we will see how the situation evolves. One thing is certain: on the Philippe Chatrier court, we are going to stay there (laughs)".
"I look forward to being able to participate in the Premier Padel from Madrid"
"Le Premier Padel de Madrid is an event I don't want to miss. Madrid is the capital of padel, this is my home and the Wizink is a spectacular place. We look forward to being able to enjoy it".
Since the tournament will be held at the beginning of August, in the middle of the summer vacation period, we asked Ale if he thought the Wizink could fill up easily during this week.
"In Madrid there are a lot of people and I think that in Spain they really want to experience tournaments like this so yes I think the stadium will be able to fill up and I am already looking forward to it".
"We want to win more titles"
"I'm happy with our level of play this season, it's the first year we've played so many finals, we're much more consistent, apart from two tournaments where we didn't show our best level. We want to win more titles but we must not forget that week after week and given the little rest time we have, it sometimes happens that our batteries are not 100% full".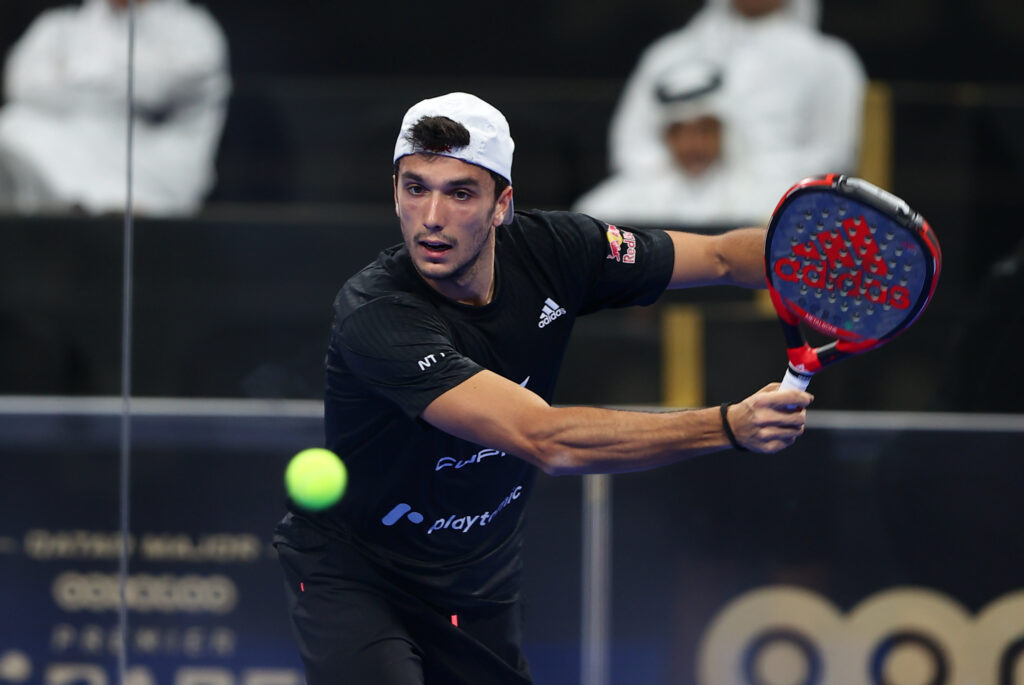 The level is excellent among our opponents. We come from Valencia, we practiced an excellent padel. We had the opportunity to conclude the match in the final but Sanyo Gutierrez and Agustin Tapia didn't give up and raised their level during the rest of the match. They were better and fully deserve this victory.
Rafa Nadal said several times that he felt good vibes, magic when he was at Roland-Garros. Does number 1 feel them too?
"It's true that it's something that you feel when you're here and I hope that this magic will accompany us"
Find this exceptional interview with Alejandro Galan in Spanish below.

Fan of padel and of Spanish origin, the padel runs through my veins. Very happy to share with you my passion through the world reference of padel : Padel Magazine.