Present at Beausoleil as part of the Cupra Padel-Point Tour, the French number 1 agreed to go to the microphone of Padel Magazine to mention: the French team, the French circuit, his mid-season record with Jessica Castello...
The Master Final in Barcelona: "The objective we set ourselves at the start of the year"
Padel Magazine : Jessica (Castello) and you are making a very good start to the season. Are you satisfied with this start to the season? What are you waiting for next?
Alix Collombon : "I would say that indeed we are having a rather good start to the season. Now if we have to look a little bit at the negative side, I think that in the first months we lacked consistency. It's true that we made the quarter-finals taking advantage of tables that were perhaps a little more favorable than others, but you have to be there in those moments and we managed to be.
We also had some matches where we didn't play well, we missed out, but here we've been much more regular, much more solid for two months. We feel that we are not far from passing an important milestone, but we are missing a little bit to pass this milestone. »
Padel Magazine : Let's imagine that you pass this course, are you thinking of Final Master at the end of the year in Barcelona?
Alix : "I definitely think about it. It was the goal we set ourselves at the start of the year with Jessica, to reach this Master Final at the end of the year and be part of the 8 best pairs.
Obviously it's very hard, today the steps are more and more difficult to climb. But of course that's the goal. In addition he will be at home, in Barcelona, ​​so it would be even more beautiful.
We will obviously give everything, but we will have to have a big season to get there. »
Alix's eye on the current strong competition on the French circuit
Padel Magazine : Many deadlines are coming soon and especially on the French circuit. I am thinking in particular of the P2000 des Pyramides, or the French championships. The question may seem surprising, but is the Collombon/Godallier pair still relevant?
Alix : " Of course ! On the French circuit, there is no change. We left for the whole season with Léa, so there is no reason for that to change if there is no injury. But no, no change planned. »
Padel Magazine : What eye do you have vis-à-vis the competition behind you on the French women's circuit (the pairs Clergue/Ligi, Detrivière/Martin, Invernon/Soubrié or even Ginier/Pothier)? Is this a good thing for the France team and the padel French women in general that there is such competition?
Alix : "Of course, since I think the more pairs, the more competitiveness, the more it will help the girls to progress quickly. As long as this competition is healthy, it's very good for the padel and padel feminine. Amélie and Mélissa are having a very good start to the season, obviously I know Jessica (Ginier) very well and I know the qualities she has. And if with Lucile they manage to find the "trick", it can really be a dangerous pair; Laura and Fiona too..
It's super interesting to see these pairs go up, it's up to us to arrive at the tournaments with Léa by being very serious from the first match and playing hard from the first to the last point. It's good for us too. And for the France team! »
The worlds: "We always have to have the podium in mind"
Padel Magazine : Speaking of the French team, for the Worlds, have you already set yourself a personal and global objective?
Alix : "I'm not used to setting myself personal goals when you're in the France team, but you always have to have the podium in mind. We know it's obviously very hard, we know that Spain is untouchable, we know that Argentina is untouchable…at least for now.
Now we are going to fight with countries like Italy which are getting stronger and stronger, Sweden which will really rise, I think Portugal will be there this time if they qualify. I think there will be a good level during these worlds, it will be super interesting, we will have some really nice matches to play. But I think we need to have a little ambition, and the objective of the podium is a great ambition. »
Cupra Padel-Point Tour : " This is what was missing in the padel in France "
Padel Magazine : You were present at Casa Padel as part of the 1st edition of the Cupra PPT. What was the outcome of this first experience of the circuit at Casa Padel and this stage in Beausoleil?
Alix : "Honestly, I think it's great! This is what was missing padel in France, a very important amateur circuit. With competitions, but gifts to be won, raffles, One Point Championships, clinics, exhibitions with the best French players or today with Florent Manaudou… it's incredible to see him on the pitch.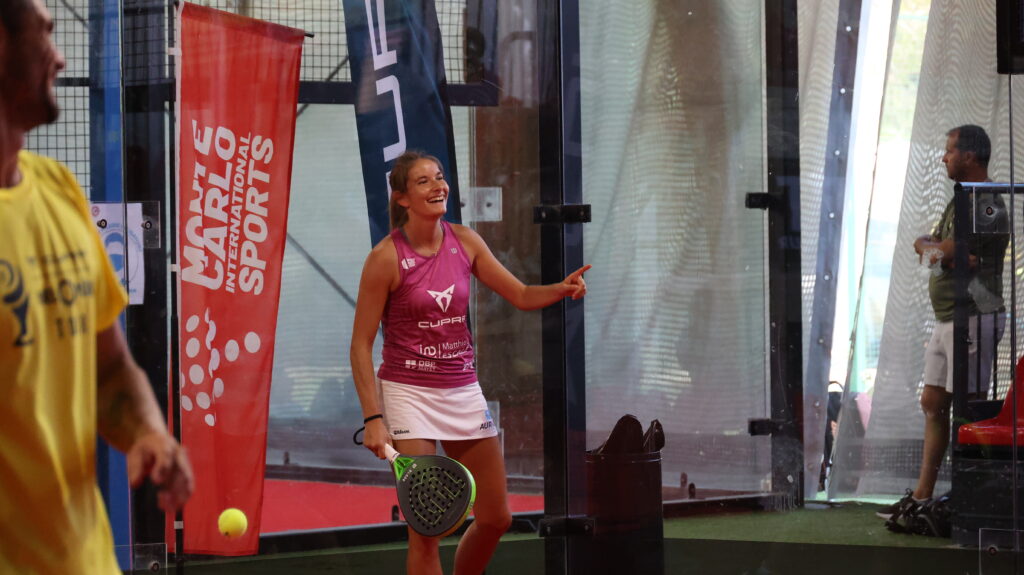 I believe that these are events that help the development of the padel. We have to manage to attract people to the field, because we know that when we manage to attract them, 8 out of 10 come back. I believe that's a pretty significant stat. Once they play, people will play again. That's the goal, we need mass, we need quantity.
We need young people too. There I'm super happy to see that there are lots of little ones who are there to come and play and it's really great. It's a great initiative from Cupra and Padel-Point ! "
Watch the interview in its entirety below:

Passionate about football, I discovered the padel in 2019. Since then, it's been crazy love with this sport to the point of abandoning my favorite sport.