What a fight we had on the central of this APT Hublot Monaco Master ! At the start of the men's quarter-finals, it was finally the Germani/Torre pair who qualified for the semi-finals after a tough clash against the Restivo/Ramos pair.
The match between Allemandi and Torre against the Restivo / Ramos pair will have kept all its promises. If the first set was one-sided, the second took a different turn. Beyond the score, we could see that the sulphurous new pair Allemandi / Torre seemed to lose ground in terms of "self-control". Getting annoyed over faults and misunderstandings, they even ended up openly "taking each other's beak" on the course. Opposite, the Restivo / Ramos pair, never stingy with effort, gave everything in defense, in particular which did not help the situation with the Argentinian duo. But these two players with fiery temperaments are also two top players within the APT. And in the end, the top players know how to make sense of things in important moments. They qualify for the semi-finals after a tie-break mastered from start to finish.
Final score: Victory Germani/Torre 3-6 6-3 7-6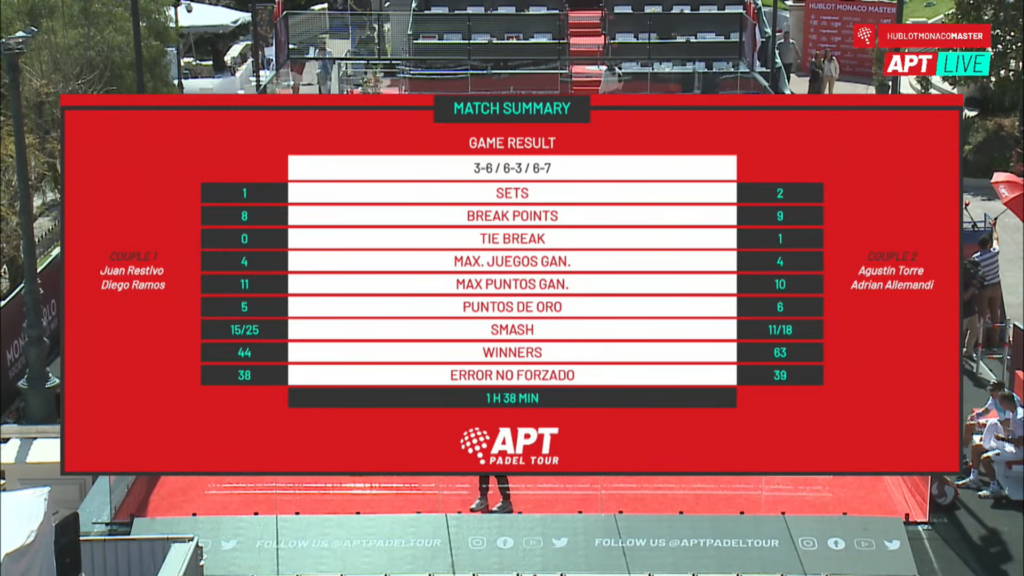 They will face the winners of the meeting between Federico Chiostri/Gonzalo Alfonso vs Lucas Da Cunha/Joao Pedro Flores for a place in the final.

Passionate about football, I discovered the padel in 2019. Since then, it's been crazy love with this sport to the point of abandoning my favorite sport.