Baptiste Poey and Jérôme Ingrand are the founders of Padel Sports Events, the communication agency specializing in the padel. Baptiste talks about PSE's implementation of the City Padel Tour. A project on which the team works a lot. Padel in the city centers, a dream that could become reality?
Padel Magazine - We hear more and more about the "City Padel Tower ". Can you tell us more about it ?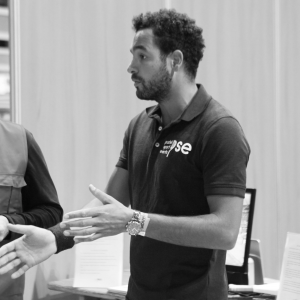 Baptise Poey - This tour project we had in mind for a while with Jerome. Padel Sport Events was born like this by setting up an ephemeral padel track in public places.
At the beginning of the year, we recruited 2 trainees Master Management of Sport to work on the project of organizing a tour in all its dimensions, logistics, economic, sports and administrative. They worked well, and after that, we structured their work with the PSE team.
How would this tour be organized?
We would start on 6 stages in 2019, 8 stages in 2020 and 10 stages in 2021, all in large French cities. There would be 3 events in 1 on each stage. From Wednesday to Friday, it's a "social event", we bring a new practice to the eyes of people, tennis clubs, associations, MJCs, children, men, women, everyone.
From Friday to Sunday, it is an "event performance" and the organization of a tournament with an endowment to bring in the best players from the territory.
And finally an "event business", we bring in a truck with 3 levels of receptionists (boxes on the roof and inside the truck), there will be a partner village with exhibition stands and we are setting up animations for the different partners to meet and exchange. We are on a very qualitative event.
It's all wonderful, but who is funding this tour?
Ah yes it is true that it must be financed… To date, it is a private tour, financed by private advertisers. For 2 months, we spent our time with Jérôme meeting big brands and presenting the project. The feedback being positive is what pushes us today to communicate on this project… and we speak of "project".
We are accompanied by SEVEN Agency in the relationship with the partners.
Le padel Already interested in brands?
Of course ! Much more than we think. In the presentation of the project, we emphasize several points. Even though the padel does not yet offer brands the visibility of football, rugby or basketball, we are on activation budgets that are also very far from it.
The visibility will not stop growing and the craze around the padel with. There are still no reference marks on the practice.
The other point is that we have a "witness country", where there is a real economy. padel, a real business model and a real private tour with the WPT. We have witness "economic data" to show brands and that speaks volumes.
With the City Padel Tour, we are giving brands the opportunity to be associated with a practice that will gain weight in the next 10 years. It's time to position yourself, to be at the beginning of the padel adventure in France. It's a speech that works.
And the French Tennis Federation is following you?
No idea. We know they know about the project but we have not been solicited. It's a great project for a sports federation, to bring a confidential practice to people in a public place.
We are moving forward with the advertisers and we are progressing rather well but it is obvious that the ideal would be that this type of project is accompanied by the FFT, we would be very happy.
After a "road show", brands still like it ...
What's next ?
Currently, we spend our time in Paris with Jérôme, between presentations in front of advertisers and discussions with Agence SEVEN. We will start to communicate on our social networks (@padelsportevents) on the news of the project, the state of progress and the partners who support us. It's a lot of work but we think it's worth it and PSE is also growing slowly (staff of 5). We believe in !

Franck Binisti discovers the padel at the Pyramid Club in 2009 in the Paris region. Since then padel is part of his life. You often see him touring France by going to cover the big French paddle events.