Eliminated during their first match withItaly Major Pemier Padel, Benjamin Tison and Teodoro Zapata seemed to struggle to communicate on the pitch, which is unusual for these two players who are usually very close on and off the track. Distant during the meeting, the French and the Spaniard did not know how to play their game and seemed to be overtaken by their rivals.
as his partner, the Francilien looks back on this defeat to our microphone and confides in his relationship with his teammate. In the same way, he makes his personal assessment and discusses with us his next objectives.
Before starting, we wanted to remind him of his more than positive results because Benjamin Tison this year there are 3 main tables out of 6 World Padel Tour and a set snatched from world number 1 Juan lebron et Alejandro galan au Premier Padel of Doha!
Unfortunately this time the magic did not work. Throwback to this defeat in the first round with our guest.
"We're going to have to talk to each other"
"Yes we lost in the first round against players who play well all the same, 80 and 90th in the standings. We miss it completely, it's been two games in a row that we bicker on the field and that we don't adopt the right attitude.
We're going to have to talk and set things straight. As you said, we had an incredible end to the season and of course we want that to continue. Of course we will have defeats but today what displeased me was the way we lost rather than the defeat itself.
We get along very well off the field, the last time against Leal and Semmler something strange happened, Teo didn't feel well and today the situation was the same. It's true that I sometimes complain, usually it doesn't affect him, but I think that there it must have affected him a little more. We're going to talk with friends to see what's going on. We must also admit that the conditions are not ideal for us because Teo loves to lob and defend well and here it remains very complicated because the ball comes out on all sides. It's another padel".
"With these conditions, everyone can beat everyone a little"
In view of the very fast playing conditions provided by the slopes of this Premier Padel Italy Major, we asked the French number 1 if competition favorites Juan Lebron and Alejandro Galan are going to be much advantaged
"No because everyone can type so they will have a hard time too. They dominate especially when they are the only ones who can get the ball out. At present with these conditions everyone can beat everyone a little. It's less than padel. I have just seen that Scat (Jéremy Scatena) has just won but it was hitting hard, there were not many exchanges but hey it was played out mentally and Scat is very strong on this point, moreover he hits very good.
"Since Premier Padel arrived in the world of padel the places are beautiful. Doha was incredible, there Rome at the Foro Italico, the stadium where the tennis tournament is played, and very soon Roland-Garros. For us it's just incredible, we are treated like tennis players when we don't have the notoriety and the income that goes with it. This is a huge step forward for the padel".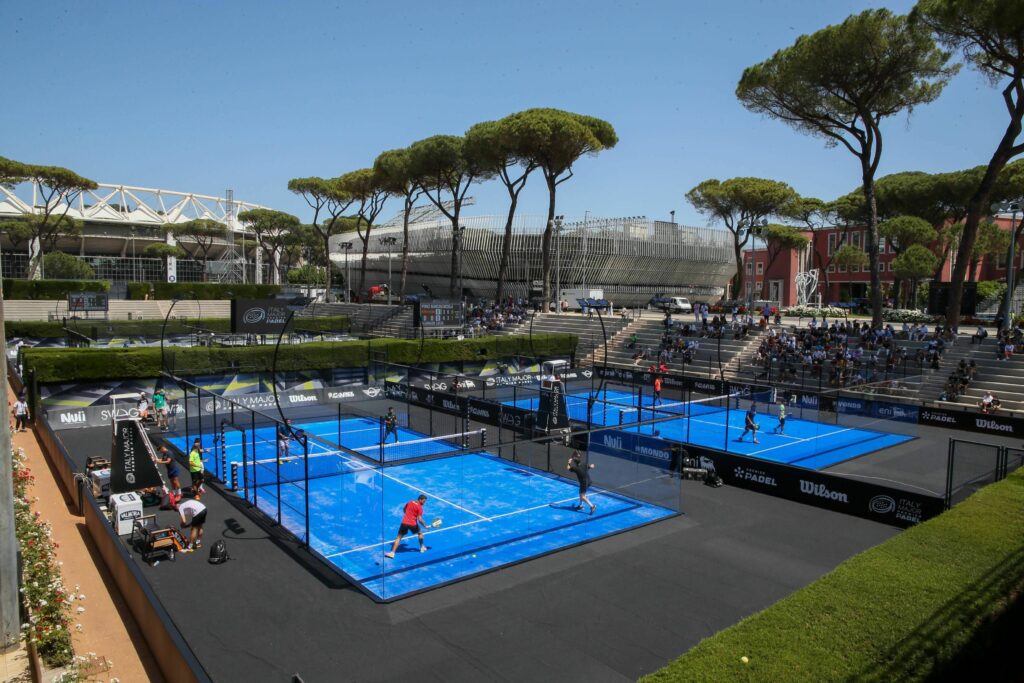 "Two very important months ahead"
"There are two very important months for us because there is the first WPT Masters in Marbella this weekend where we will start as the top seed of the previas, which means that we will only have two matches to enter the table and the points are more important there. It would change the season and if we did a fourth draw in Marbella: we would be approaching 60 – 55th. But it will be very hard because everyone is playing well.
After there will be Toulouse, where for the moment it is not yet confirmed but I should have a Wild Card for the main draw. It will be an opportunity to make a big game. And a few days later will be held the Premier Padel of Roland Garros. I will not have a Wild Card because I am already in the table on this circuit. All the players I talk to can't wait to be there because it's a mythical place".
"I don't feel any pressure"
Benjamin Tison and his compatriot Alix Collombon are the number ambassadors of the padel French. From there to feel a certain pressure?
"No, I don't feel any pressure, I'm happy to be followed, but it's true that sometimes I have the feeling that, given my ranking on the World Padel Tour and the difference there may be with other French players, when there is a victory for one of my compatriots, it is put on the same level. I think it's good and I'm friends with the other French people, I'm the first to send them a message. We do not realize and me the first that I was able to play this year three final tables. It was unthinkable.
For this tournament we wanted to do well but I don't think it's a pressure problem. With Téo we just need to chat with friends and clear things up a bit like an old couple. In any case, it is not expected that there will be a separation between us".
"Yes I thought to myself that I get sad when I lose against players who are 80 – 90th. This means that I have changed dimensions and I am very happy with it. Now you have to maintain and prove yourself at each tournament, but I train hard for that. I have a great team behind me!"
"Professionalize the top 100"
"I think so, that's the goal of Premier Padel. There are 44 pairs directly qualified in the final table so the first 88 so yes we can talk about the Top 100. I believe that Scat with its results will surely be directly qualified in the table for the next competition, to see I don't have looked at the dots. But what I said to the French, I'm happy to be with them on Premier Padel because at World Padel Tour I feel a little more alone. When I arrive they are no longer there. Even if I speak Spanish well now, it's not the same relationship as with them".
"I had not expected to progress so much"
"I feel capable of improving even more at the moment. Since 7-8 tournaments I play very well, even the matches that I lose I find that I have a good level. I feel that I'm passing a course and I think I don't miss much to pass it a little more. And as I told you, everyone can beat everyone a little bit. World Padel Tour. It's hard you have to fight every game and mental freshness is important. We must not forget that we have chained a lot. Now place to rest and we will enjoy that the padel is developing. You can feel it everywhere you go".
"I would really like to say that I'm very happy for Scat, because he's been struggling for a while, I know that, but he's a real person. He knows his limits and his qualities, he doesn't cheat and he gives everything. And I would sincerely like to congratulate him because he's a great guy and he deserves to be in the 1/16th round. Cema makes me happy for him".
"A disturbing point system"
"At Premier Padel I will indeed be a table player. Afterwards what worries me is the point system because we are told that the points earned on the WPT will not count for the next one. Premier Padel, except for the top seeds. But suddenly for a player like me who does not play the FIP because it is impossible for me to be in all the tournaments, I will be very far in the standings. And so it is for the other players of the World Padel Tour because if we have to start from below it seems complicated to me. I think that the FIP and the Players Association (PPA) will find an arrangement but we will have to start talking about it because if we have a season with 60 tournaments and in addition we play it a little for nothing because of the points, it will be hard".
Find the full interview below:

Fan of padel and of Spanish origin, the padel runs through my veins. Very happy to share with you my passion through the world reference of padel : Padel Magazine.