Padel Touch Basin Arcachon is moving to offer beautiful tournaments, very well done, for this end of the year. Early December will be played in the club Teste de Buch, a P250 men, a P500 ladies and a P1000 men. Hubert Lacour and Juliette Planchard, the official partners, tell us a little more.
Hubert Lacour is passionate about padel. He helps the development of this sport on the Bordeaux region by supporting the clubs and the players during the tournaments. He will be a partner of the Big Padel P1000 next week.
The three tournaments offered by Padel Touch, will take place the 7 and 8 December. A P1000 men, a P500 ladies and finally a P250 gentlemen.
Special welcome packs will be offered to all registrants, with a special touch on the ladies side. Women's accessories composed with care by Juliette Planchard, another partner of the event. In men, 100% organic technical t-shirts, made and flocked in France, especially in the Basque Country.
On the weekend of the 7 and 8 December the organizers invite both players and spectators to attend this event. Local producers will accompany the event. Producers of oysters in the Arcachon Basin and wine producers will taste their products.
Padel side, these tournaments promise to be animated. The organization plans, during the P1000, to combine 36 teams distributed as follows: 4 hens 4 teams where the best 4 access to the final table formed by other 24.
In the P500 girls, Padel Touch offers a minimum of 16 teams, but given the enthusiasm of the players during registration, it may be that the tournament exceeds twenty teams.
Finally the men's P250 should be full because the 12 teams eliminated in the pools of the P1000 will be automatically re-launched in the P250. 12 safe teams to which new registrations will have to be added. A tournament that may display full.
This is the idea of ​​tournaments in this club. Big events gathering players and players of all levels in a friendly, friendly, mixing sports, combativeness and gastronomy. A good cocktail that announces beautiful things for 2020.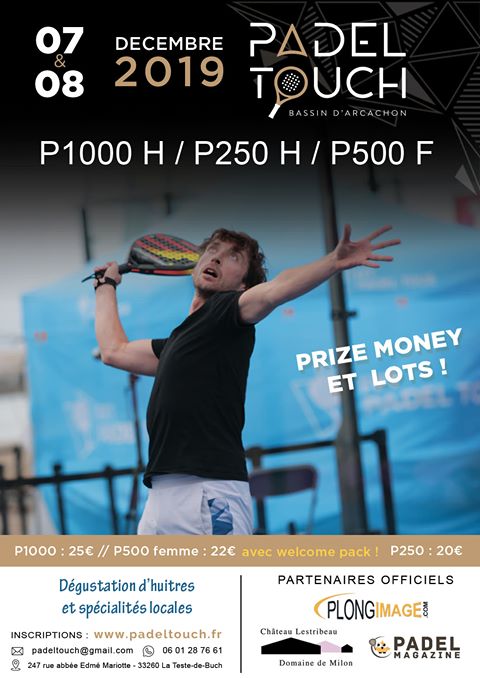 Franck Binisti discovers the padel at the Pyramid Club in 2009 in the Paris region. Since then padel is part of his life. You often see him touring France by going to cover the big French paddle events.