Black Crown, a Spanish brand which notably sponsors Marta Marrero, Eli Amatriain, and Adrian Allemandi, celebrates its 10th anniversary with Piton Limited.
To celebrate its 10th anniversary, Black Crown is releasing a new edition of its legendary Piton racket, called the Piton Limited. This 2020 version of the brand's flagship racquet incorporates the latest innovations such as a rough surface to maximize the effects, and a latest generation padded wrist strap.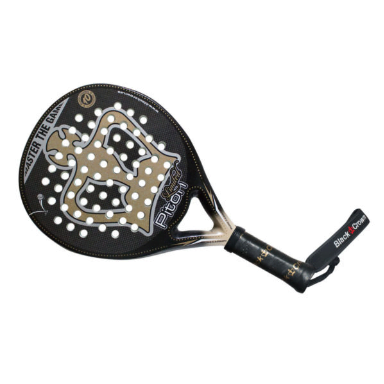 It is inside that we find the biggest difference since this Piton Limited is equipped with the all new SC White EVA foam, for more comfort, and the presence of the 2TB Eva in the frame, for a widened sweet spot. The shape of the pala remains round, for maximum maneuverability.
On the sides there are two layers of Low Density PitonGlass fiberglass, covered with 3k carbon. In the end we are dealing with a very manoeuvrable and comfortable racket, tolerant, and which does not lack ball exit !