Franck Binisti meets Ludovic Cancel and Benjamin Grué, respectively 17th and 19th in the ranking of padel of the FFT of November 2021.
Two former tennis players ranked 0
Franck Binisti: Tell me about your journey, your journey to padel ?
Ludovic Cancel: Like many players, I come from tennis. I was ranked 0 in my best ranking four years ago. It was on this date that I started the padel and since then I lose one ranking per year! A tennis friend, Valentin Massé, introduced me to sport on a "Happy Hour" at Toulouse Padel Club and I immediately hooked with this sport. I was in a phase anyway where I was stalling with tennis and padel thus appeared in my life like this. The first months, I hardly played because I did not know the players and for me the padel only came in second place for lack of time because I was preparing for my exam as a professor of physics and chemistry. Then little by little, I played more and more, the padel became a passion for me and from the second year, when I had more time, I was able to train several times a week and continue to progress until then.
Basically I am from Toulouse but I have now been in Perpignan for a year and I can say that I was extremely well received by the community. padel !

Benjamin Grue : I was a tennis player for twenty years up to ranking 0 and tennis teacher (holder of DES mention training) for 10 years at the Léognan club (in the Bordeaux region). Wanting to practice another more fun activity, I tried the padel early 2016. Strangely, I really got caught up in the game six months after my debut when I started competing.
I have now fully invested myself for 18 months on the French circuit because I stopped my tennis teaching activity, which allows me to travel on weekends.
"Go as far as possible together"
Franck Binisti: Was your association natural? We see a lot of pairs separating, getting back together… You are different, you are still together. Is your ambition to build yourself together?
Benjamin Grué: I have known three partners since I started. First Julien Castaing, the person with whom I started, we went up to 40 French together. Then Maxime Vian, a childhood friend with whom I played for 6 months. Then now Ludo with whom I started the project in January 2021.
We had our first tournament in November 2019 and won it (a P500 at La Teste), then he asked me to partner with him. Unable to hire me because of my work (not available on weekends),
we were only able to do 3 P1000 together during the year 2020, during the school holidays. We played very well (3rd in Perpignan, 3rd in Vence and 5th in Nîmes).
Once his collaboration with Mathieu Armagnac was over, our association was rather natural in view of our results and our understanding. In one year, we have both achieved certain milestones and we are very proud of it. We have the ambition to build ourselves together as long as our project is common and shared. But we also give ourselves the opportunity to play with other players to progress in certain P1000 or international tournaments.
Ludovic Cancel: Rather, our association took place naturally. Our first tournament together took place two years ago where everyone had their respective partners who were starting to ease off. We won this tournament by beating good Bordeaux pairs and I think we both felt good on the pitch naturally. After that, we tried to play together as much as possible, but Benjamin was less free than me. So I had played with Matthieu Armagnac in the most important tournaments and then we decided to play together last year in as many tournaments as possible. In fact, it's been all tournaments.
I think we both understood that the padel is a team sport, that 1 + 1 = 3 and that it is only thanks to this team spirit that we have managed to progress and gain strength together over the past few months.
For me, the ambition is obviously to go as far as possible together. And I think Benjamin is in exactly the same process. We both talk frankly about our results and our tournaments and we always question ourselves to continue our progress. So yes, the ambition is to continue together as far as possible for me.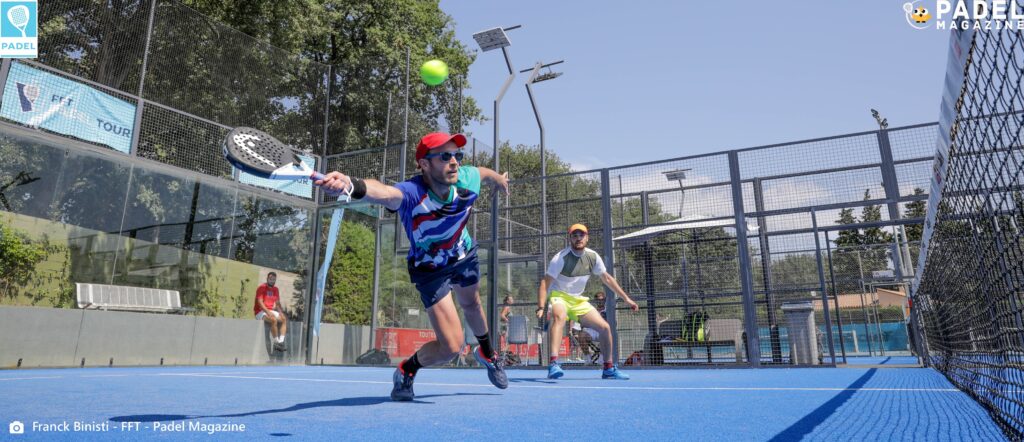 Franck Binisti: What can you blame yourself as a partner?
Ludovic Cancel: Let's say the summer theme is the little slack at the start / middle of the second set.
Benjamin Grue : To eat too many Burgers! (laughs)
The French team in the sights?
Franck Binisti: You have a fairly offensive game. Is it something that you are working on that comes from a particular will?
Benjamin Grué: We know it's one of our strengths, we are able to both hit in attack. We want to keep this playing identity as we progress in our defense game. We want to play a padel offensive while building before finishing the points.
Ludovic Cancel: We are often given this image of an offensive game and we must admit that at the base we only had this plan A. Being offensive was natural for us. But from now on, we have worked on our defense and I place us both as versatile players, able to evolve on the right as on the left, and that is what makes our strength. The goal is to have two controlled game speeds. Very fast when we are in an attacking position and very slow when we are defending.
Franck Binisti: What are your ambitions? The France team is in the sights? What do you lack to be among the very best in France?

Ludovic Cancel: My ambitions are to continue to have fun first of all and to continue to progress continuously as I have done so far. Team France is a dream that I have had in mind for two years to be honest. But until now, by remaining lucid and especially by evolving more on the left side, I could only hope to be in the short-list of substitutes at best. Today I am surprised myself to feel "almost" at the level of the best and I say to myself: "why not". But Team France is not something I can master so I don't prefer to think about it. Already, being present at the French team training courses will be very good. First the pleasure, the progress, the results and what will happen. Let's be clear, I still have a good big year of work before I can claim to be selected.
I would miss a big smash I think or get to be more decisive in one shot. Otherwise, I have to switch to the right.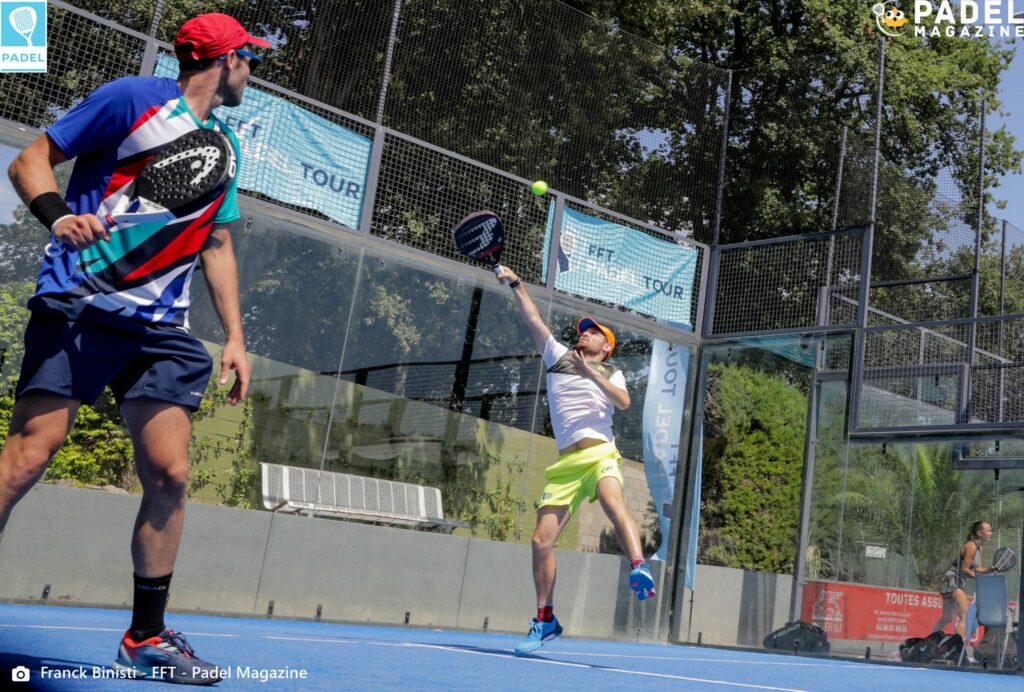 Benjamin Grué: My ambitions in terms of results for 2022 would be to take part in an internship with the French team, enter the top 10 French, make a semi-final in P2000 and gain experience in international tournaments.
My goals in terms of progress are to continue my physical development with the support of my physical trainer Guillaume Pigache, to progress technically and tactically with my trainer Philippe Baget from Central Padel in Saint-Jean-de-Luz and training camps in Santander (Santander) to continue learning.
For the moment the players in the France team are at the top but I work daily to get closer to it.
Today to earn our place we have to beat top 10 players regularly.
I am very young on the circuit, only 18 months that I play it thoroughly. You have to take the steps step by step. I lack the experience on the big games to be able to be clear-headed and serene on the important moments. In addition, it's only been two months that I train with a coach padel, I really have a lot to learn.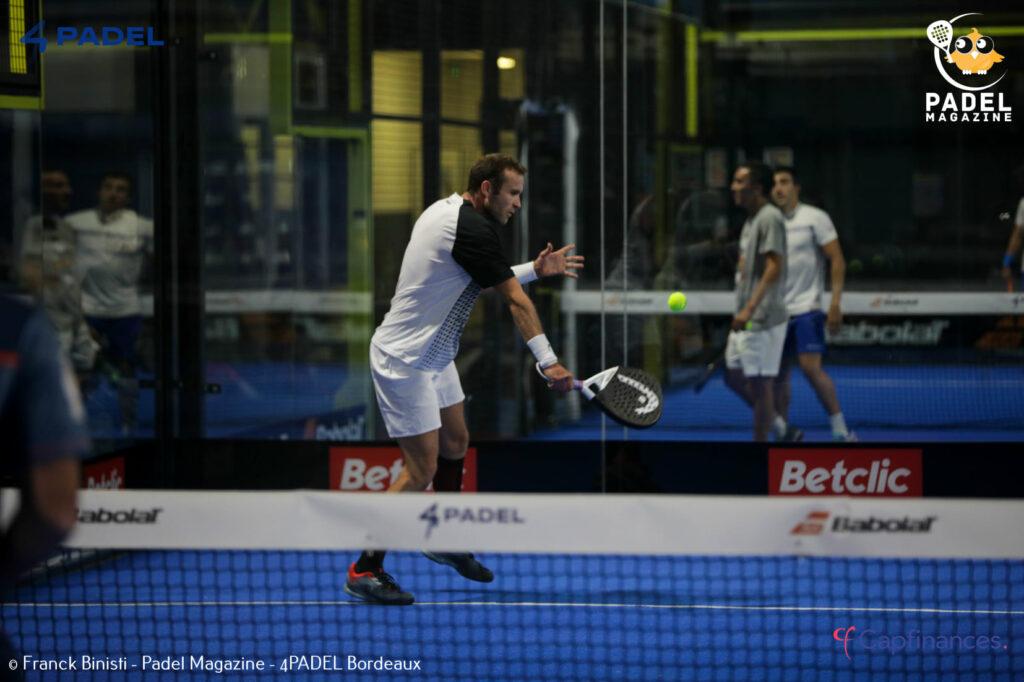 Cramps on the plane and a good memory!
Franck Binisti: Your best memory? Your biggest game?
Ludovic Cancel: With Benjamin, I would say the match where we lost 6/4 last against Maigret / Scatena in Toulouse. We were really in phase on the ground.
Benjamin Grue : For me the best memory is our 5th place in the French championships by winning big matches in combat. The biggest match against Pech / Theard in Toulouse in July: 2h30 of play where we all ended up with cramps by winning 6/3 in the third.
Franck Binisti: An unusual anecdote on a match, a behavior, a point?
Benjamin Grué: In Vence in August 2020, I was dehydrated at 7/6 4/0 against Mitjana / Toniutti for third place. I try to hang on as best I can. You end up winning by a miracle. The return by plane was complicated for me… It remains good memories now.
Ludovic Cancel: Yes, we were losing 7/6 4/0 and he released two exceptional returns like "the drunk man in kung fu technique". Behind, the match is overturned they are drawn to the tie break where Tom Mitjana makes a winning spike, believes he has won the match, and in fact there are 6 to 3 for them. I whisper in Ben's ear that I'm sure we'll win the game! We get by in this tie-break and then after a super tie where everyone had match points, we end up winning. After returning by Uber then plane and Benjamin had generalized cramps continually in the abs and all his body. I carried his things to him and I can still see in my head the cramp ball on his abs when he was stuck on the plane. We had a good laugh and it's a great memory for me!
Some international tournaments in the future?
Franck Binisti: I would like to have your opinion on the development of padel in France, but also internationally? Will we see you one day on the WPT / APT / FIP circuit?
Benjamin Grué: Today with the appointment ofArnaud Di Pasquale, padel is on the right track, we see a real desire to move forward. Land construction, teacher training, development among young people, organization of major international tournaments… We have to jump on the bandwagon because we are seeing strong development in countries in Europe such as Sweden and Italy.
In addition, the broadcast of the WPT on Canal and the world championships in Qatar on Bein Sport greatly helps to publicize our sport.
Last year we did our first FIP ​​in Canet and it was a great experience. It made me want to repeat the experience, either on a FIP or on the APT circuit depending on possibilities and availability.
Ludovic Cancel: I am happy that the padel has grown a lot lately because it is a sport that deserves it. Competition level on our scale, I find it very unfortunate that several P1000 can be done on the same weekend. I think there will be too many P1000s, that they will be discredited and that this risks upsetting the ranking scale too much. On the P2000s, it would be interesting for everyone to start in the sixteenth as in France, to avoid the free points which too easily maintain the top of the lists. A first round won by a seed is equivalent to at least a P1000 anyway!
WPT / APT / FIP, for the moment it is complicated with my work but I do not exclude the idea of ​​a small school break if one day I manage to claim this level!

Team Padel Magazine tries to offer you since 2013 the best of padel, but also surveys, analyzes to try to understand the world of padel. From the game to the politics of our sport, Padel Magazine is at your service.