After having already presented its Premium range, Cartri unveils the other models of palas that will make up its 2021 collection. Very beautiful palas, always "Made in Spain"!
For 2021, Cartri offers 12 palas, intended for all types of players whether they are beginners, confirmed or experts and whatever their profile. As always, the palas are handcrafted in Spain, for an unparalleled finish and touch of the ball!
Premium Series
Four models that use the very latest technologies and innovations as frames in 6k Kevlar Carbon, for unprecedented resistance!
Volcano 2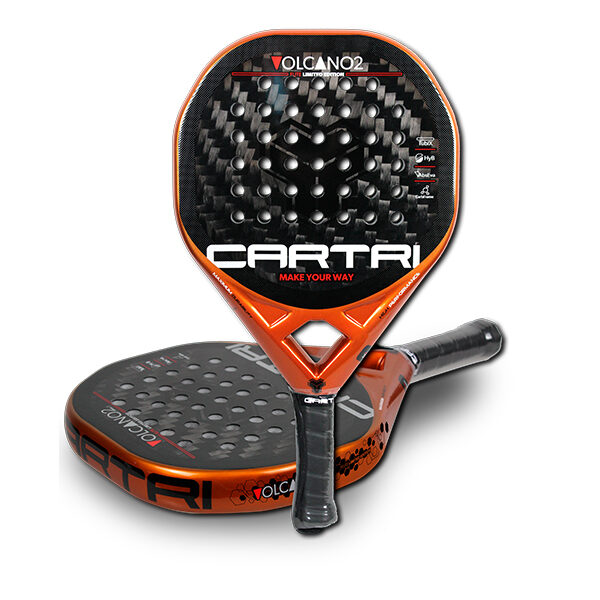 The Volcano 2 impresses from the outset with its hybrid form and its atypical design. Inside there is a mixture of Black EVA and White FOAM foam, for a perfect blend of comfort, vibration absorption and precision. On the faces, a layer of fiberglass, covered with two layers of carbon, the last of which is 12k biaxial 3D, for more power and spin.
In the end we have a very polyvalent with a large ball outlet!
Weight: 365g + -10
Cartri Triumph Omega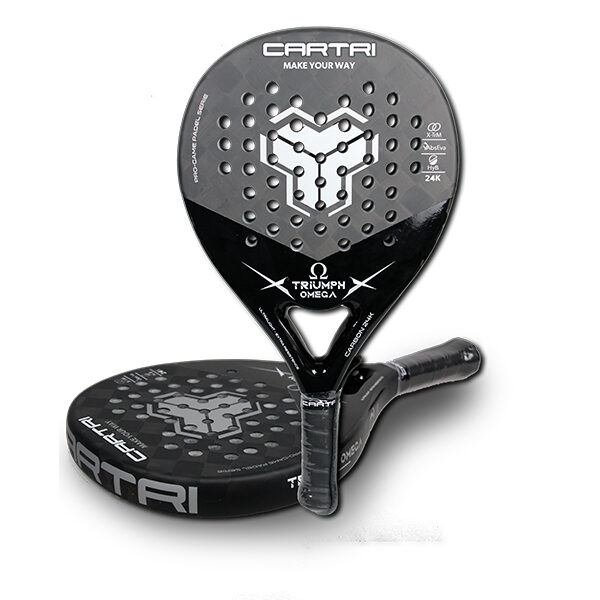 It is the evolution of one of the palas that we enjoyed the most in 2020. Rather round in shape, this very well balanced pala has a rigid touch, thanks to the carbon 24k that covers its faces. However, it is not a hard racket since the EVA Soft foam provides comfort and good absorption of vibrations. A clever mix of precision, power and comfort is on the program.
Once again we are dealing with a very resistant model, still with the carbon kevlar frame, as well as 3 layers of carbon covering the foam. A pala at the top of technology, which will withstand the heaviest hits without any problem!
Weight: 365g + -10
Cartri Total Shield Kevlar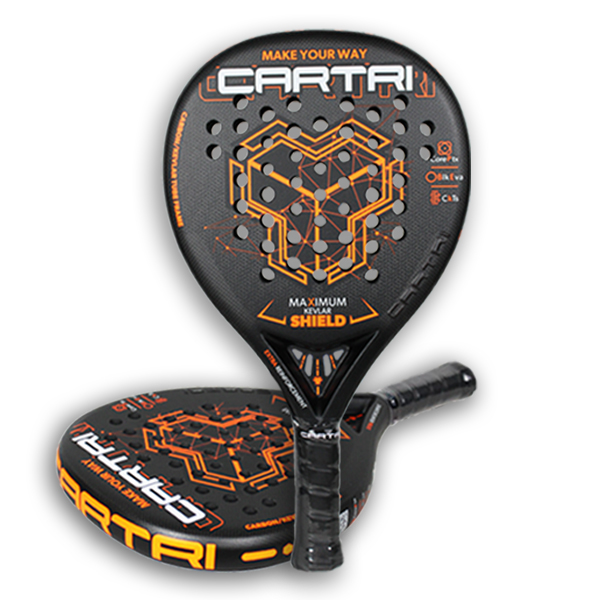 Like all snowshoes in the Premium range, the new version of the Shield incorporates a 6k Kevlar carbon frame. The other novelty is the bridge called Air Flow System. Shaped water drop, the Maximum Kevlar Shield is also a versatile pala, with a rather silky feel, which incorporates a Black Eva Soft foam, whose ball output is no longer to be proven.
The faces are in carbon 3k, covered with a new process called "Rubber grip", which grips the ball so you can put it wherever you want, and maximize spin!
Weight: 365g + -10
Cartri wolf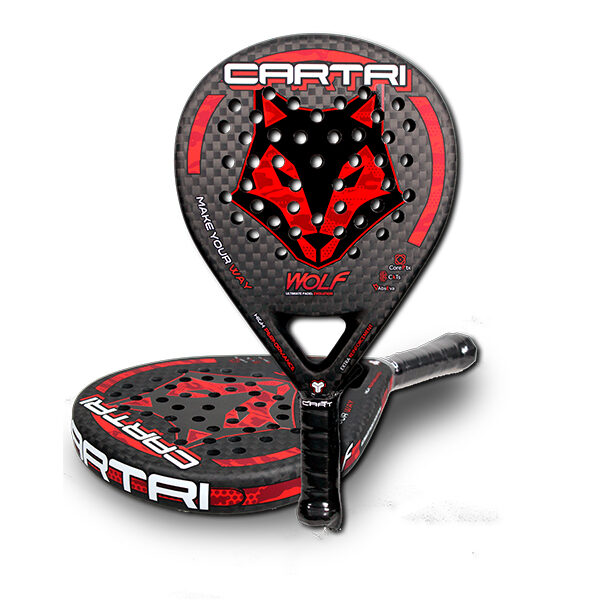 The Wolf is a brand new model offered by Cartri! A round shaped pala that has not finished surprising us. With its foam UltraSoft EVA, covered with three layers of fiberglass, and two of carbon fiber, it guarantees excellent strength. The last carbon layer 12 k mat will give you good rigidity to attack your opponents.
In other words, a great output of the ball, with a very good absorption of vibrations, and enough power to finish at the net. A pala that promises to seduce more than one!
Weight: 365g + -10
Pro Series
4 rackets for advanced level players looking for models offering high quality services.
Cartri Hammer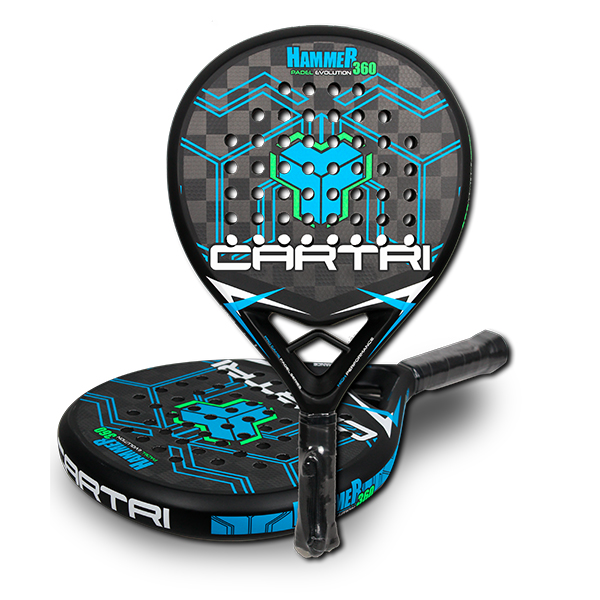 Hybrid in shape, the Cartri Hammer is a very versatile pala that will offer you a mix of comfort, power and maneuverability thanks to its combination of EVA Soft 13 foam and 18k Carbon on the sides. A model that should satisfy many players looking for consistent shots!
Weight: 365g + -10
Cartri Knife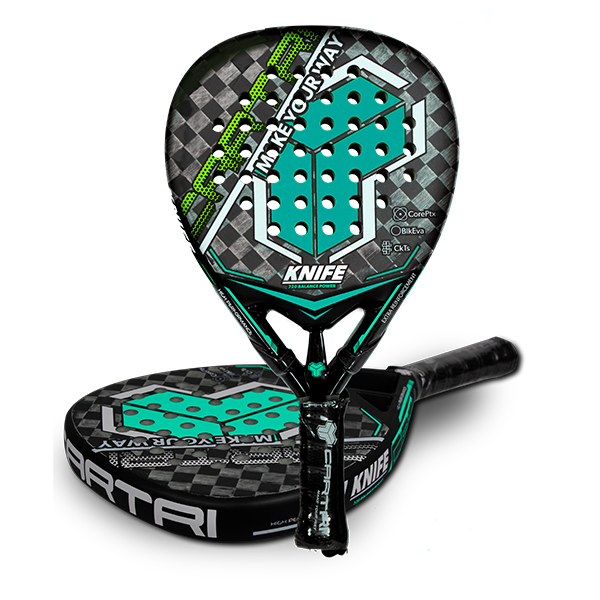 In the shape of a diamond, the Knife announces the color! A pala for players who feel comfortable in attack and want a maximum return on their smashes. The 18k carbon on the faces will allow you to print all the power you will need. Thanks to the EVA Soft 30 foam you will be able to benefit from a great striking force while benefiting from a good absorption of vibrations and sufficient comfort at the bottom of the track!
Weight: 365g + -10
Cartri Fighter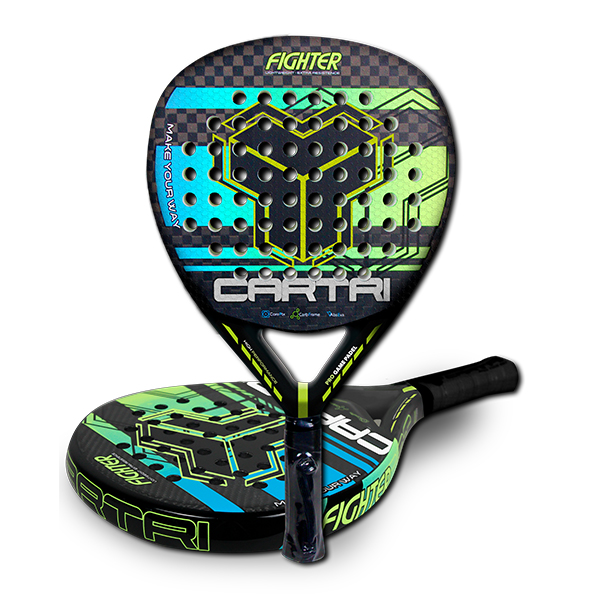 Also in the shape of a diamond, the Fighter is a pala that will give you a softer feel than that of the Knife. Indeed, its EVASOFT White 17 foam will provide you with a lot of comfort and more softness. The rough 12k carbon is present on the faces to allow you to put enough force in your strikes and spin in your balls!
Weight: 365g + -10
Cartri Bazooka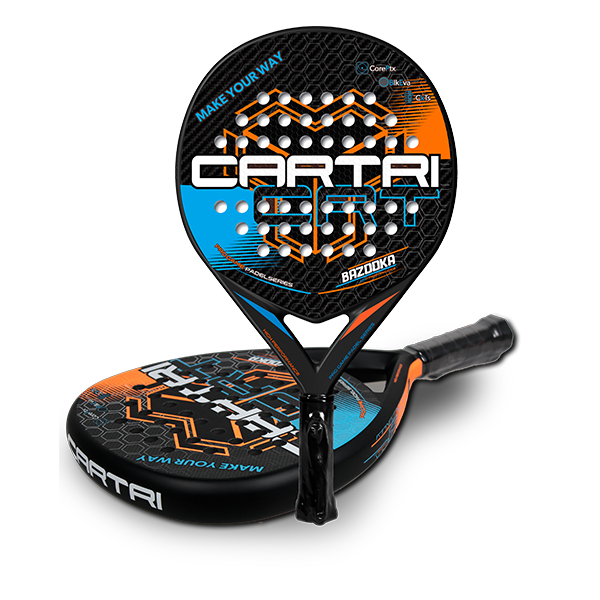 The Bazooka is a round shaped racquet, perfect for players who are looking above all for the maneuverability. The Black Eva Soft foam and the 3k carbon faces will allow you to benefit from a good dose of comfort and vibration absorption, while maintaining good punching power!
Weight: 365g + -10
Advance Series
Rackets for developing players who want a quality, durable pala.
Cartri Rocket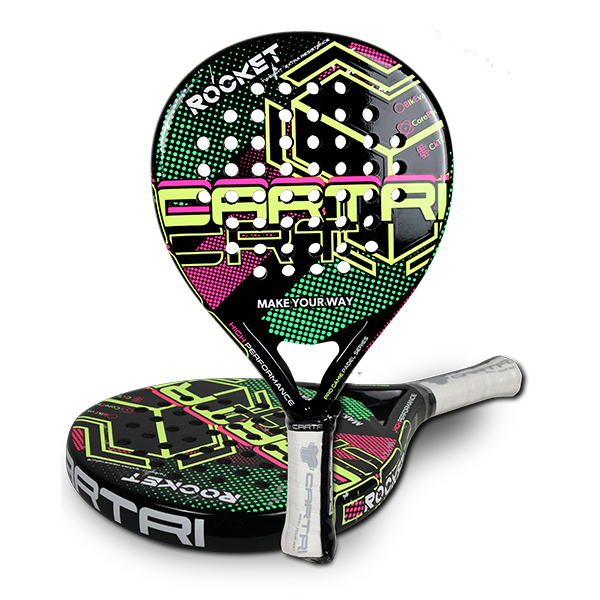 A round shaped pala for intermediate level players looking above all for maneuverability and comfort. Thanks to its EVASOFT 30 foam, the Rocket will guarantee you excellent control in your shots. The sides which mix carbon and fiberglass will allow you to obtain a soft touch of the ball and an optimal absorption of vibrations!
Weight: 365g + -10
Cartri Koala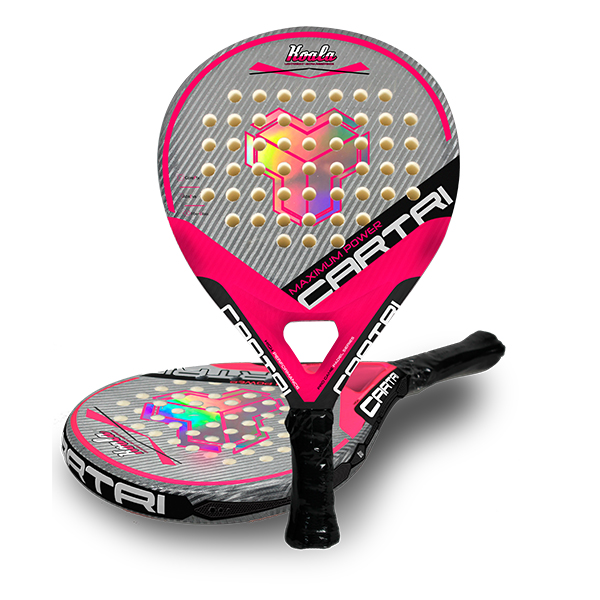 The Cartri Koala is a round shaped racquet, very comfortable, which brings you vibration absorption and maneuverability. Perfect for developing players looking for a pala that is easy to play and lowers the risk of injury thanks to the combination of EVA Soft foam and metallic fiberglass on the sides.
Weight: 365g + -10
Cartri Galaxy 3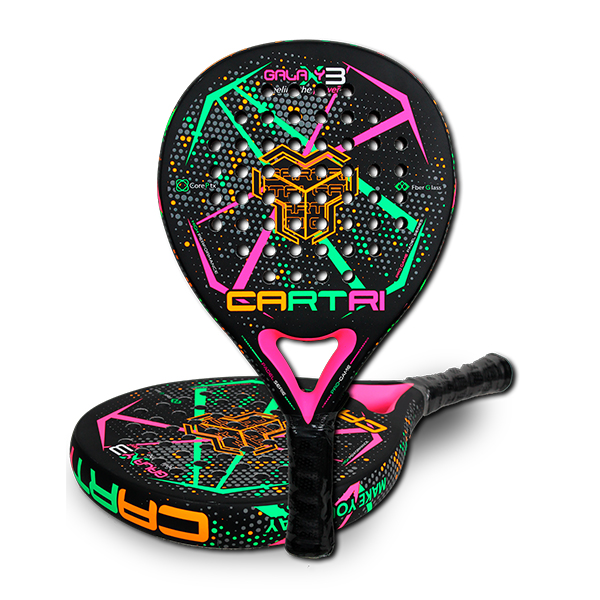 The perfect beginner's snowshoe. This Galaxy 3 is equipped with a flexible foam and four layers of fiberglass on the sides to give you flexibility and resistance! Its large sweet-spot will allow you to make fewer mistakes and preserve your joints!
Weight: 365g + -10
Junior series
A pala for young budding players who want to have fun on the slopes of padel !
Cartri Orion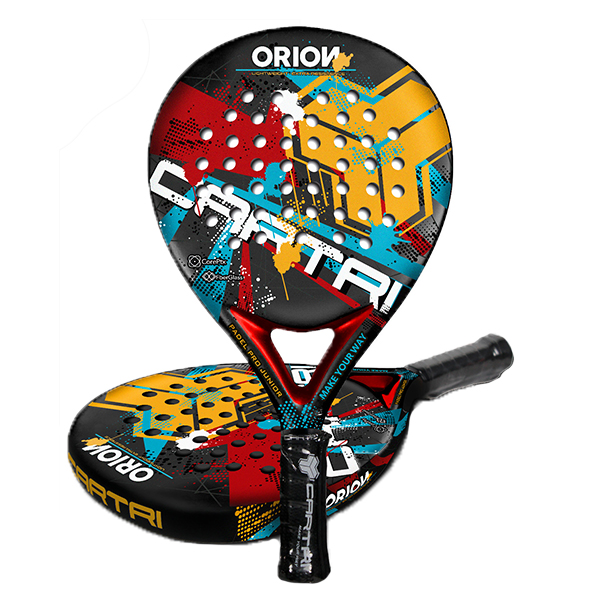 A very flexible and light racket, perfect for juniors who want to practice their favorite sport without risking injury. As EVA rubber and fiberglass suggest, vibration absorption is there!
Weight: 310-325g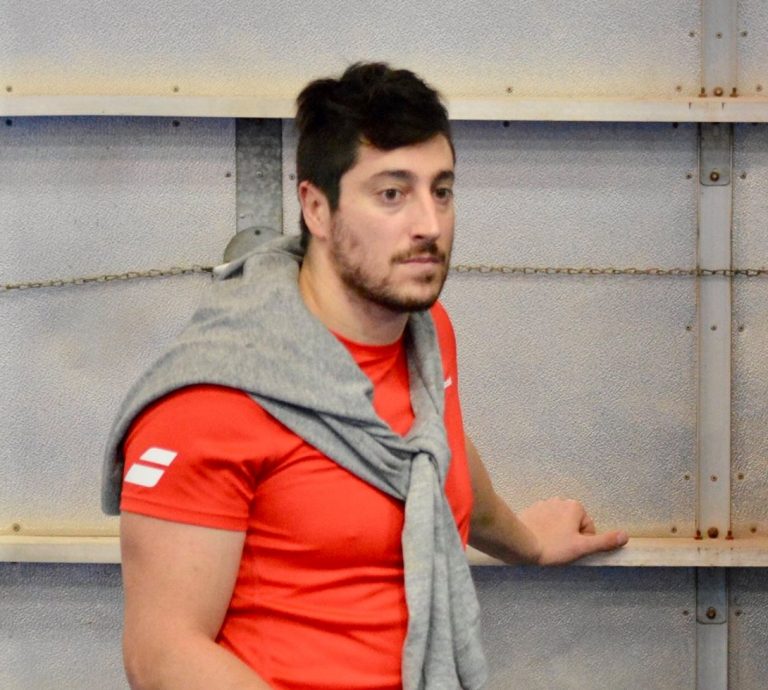 Xan is a fan of padel. But also rugby! And his posts are just as punchy. Physical trainer of several padel, he unearths atypical posts or deals with topical subjects. It also gives you some tips to develop your physique for the padel. Clearly, he imposes his offensive style as on the field of padel !