Christoph Krenn and David Alten are part of the locomotives of the Austrian padel. Christoph Krenn tells us his story and especially shows us how padel is expanding in Europe.
Jean-Marc Hérard (JMH) - How did you fall in the pot of padel?

Christoph Krenn (CK) - We both (With David) started in 2014, when we opened a club in Vienna. Since I was in sports management, I was contacted to manage this club which counts 3 short outdoor and 3 short modular beach tennis / beach volleyball.
But you touch all the rackets, that must help ...
Before I went to the padel, I was 3 years 1 number of world Racketlon, multi-disciplinary event that opposes the same opponents on 4 sports: table tennis, badminton, squash and tennis. in racketlon, I was also world champion in doubles, mixed and is part of the national team. In 2014 I give up the Racketlon, after having pointed 7 years among the top 3 world.
On the tennis side, David and I figured in the Austrian Top 100.
So, our evolution in the padel was quite fast. David and I are winners of the 2015 padel championship, a great vintage for us since the same year, we win the FIP tournament (Tournament of the International Padel Federation) of Vienna and reach the semifinals of the tournament FIP ​​of Koln !
In 2016, we played 2 tournaments WPT (Professional tour: World Padel Tour): Valencia (defeat in the first round of pre-previa), and the Challenger La finca Madrid where we spent 1 tour.
Let's talk about Padel in Austria, there is a lot of infrastructure?
Since the summer 2014, 3 outdoor courts and 2 courts covered in Vienna have been installed. The last two at Christmas 2015.
From 2016 near Vienna: 1 runs in Stockerau, 1 in Biberbach, 1 in Podersdorf, 2 Short in Bisamberg from 2015, and 1 in Graz from 1995!
Plans for the 2017-2018 season?
Oh yes ! All Austria speaks padel since some time! At home, the padel can count on great tennis players like Jürgen Melzer (formerly 8 ATP), Dominik Thiem, Oliver Marach, and even comedian Viktor Gernot. Some thought it was a fad but the padel in Austria is actually only in its infancy.
For 2017 if all goes well, a club will be opened in Hard (West of the country), 3 new short should be mounted in Graz and 2 Courts in Enzesfeld near Vienna.
And other projects are in progress!
Do you have a large pool of padel players? What does your Federation do?
For now, the Federation unfortunately offers very few competitions for amateur players. In 2016, Vienna, all levels combined, the Vienna Ranking (local ranking) counted 300 players.
In 2017, a Padel & Tennis circuit will offer padel and tennis competitions in a larger number of clubs.
David and you try the World Padel Tour adventure?
After the WPT Valencia and the Madrid Challenger where we trained with Juan Martin Diaz himself, the desire to do more on the circuit more appeared to us obvious. We are crazy about this sport so do not try our luck in Spain. So we will try to be more present on the WPT 2017. As good competitors, our goal is clearly to play on the pro circuit WPT. In Austria, for the moment, it is very difficult to solicit and find sponsors because the discipline is still in the making ... Our project is based on the crowdfunding platform "I believe in you", available in Austria, Germany and in Switzerland.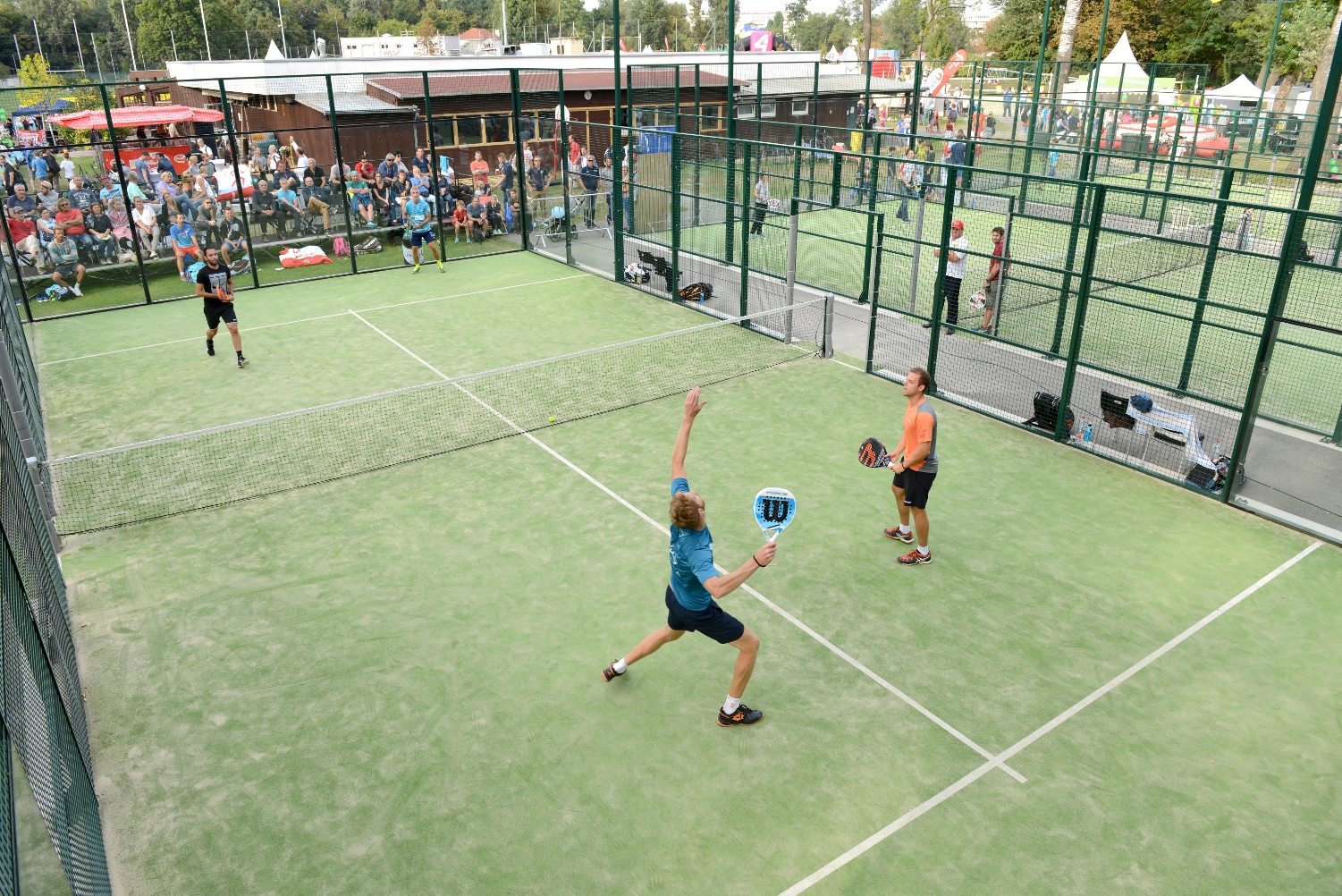 The crowdfunding gives us financial support to our players, and the donor also receives something in return ...
Here is the link:
http://www.ibelieveinyou.at/ibiy/src/#!/projectdetail/3488/ab-auf-die-padel-profitour-2017
And it works?
We can talk about success ... our initial goal was to collect 5000 Euros for our WPT season. At 20 days of the closing of the campaign, we have already collected 103% of the goal.
Can we have ambition when we arrive on the pro circuit?
We already have a win in pre previa, why not aim for the Top 100 WPT?
The level is so high in Spain ... the partners in Austria are so rare, and the conditions are so complicated in Austria that the project is all the more exciting.
We would like to thank all the donors, those who helped us in our approach and those who have helped, more than 30 people in all!
You do not live in Spain, what are your references to padel country?
We live in Vienna, the player Fermin Ferreyra (150 WPT) is our main contact in Madrid. Fortunately our jobs are very flexible and we can move temporarily to Madrid. The budget to settle in the Spanish capital is too high.
Do you follow what is happening in France?
A little bit about Padel Magazine, even if we do not understand everything, but the outline. In any case, the FFT Padel & Tennis cohabitation seems to work well at home, I hope it will be the same in Austria.
Interviewed by Jean-Marc Hérard - Padel Buzz
[box type = "info"]more about Christoph and David on the web:
www.padel.wien (padel / tennis circuit and padel activities in Vienna).
The platform I Believe in you:
http://www.ibelieveinyou.at/ibiy/src/#!/projectdetail/3488/ab-auf-die-padel-profitour-2017
https://www.facebook.com/Christoph-Krenn-214974508557403/ (Facebook page of Christoph Krenn [/ box]

Jean-Marc Herard is the chronicler Padel Magazine internationally. The Barcelona resident offers us a more international vision of padel, notably with his Padel Buzz column. JMH is the scanner of the world padel.