Interview with one of the French padel mastodons: Clement Arico. Founder of one of most side padel circuits in France, Padel Infinity, and forerunner in the development of the french padel, Clément retraces his great journey in the padel world.
The padel and you: How did this passion develop?

I started Padel in 2003 at Paddle Plus in Blagnac. The passion came instantly and I almost lived at the club because I played padel so much. Paddle Plus and padel are an integral part of my life.
This passion allowed me to meet my wife.
Then I created the brand Padel Inifnity beforehelp create the National Padel League.
The FFT then resumed the padel.
And I also worked 1 year at the Toulouse Padel Club to help it get started.
I have tried to help this sport my way finally.
Tells the story of Padel Infinity
I like competition and unfortunately back then there weren't many tournaments.
I moved everywhere in the south to play (Aix, Cassis then Perpignan) where the clubs held tournaments.
My 1st partner was Stephane Devillard, the 1st of the club to want to go far to play.
I mostly played in Spain in amateur tournaments where we could make two categories in order to spend a very pleasant weekend between Padel and visit. It was a real pleasure, with the very nice mentality that we find in the padel.
From there came the idea of ​​doing the same in France. Make a friendly event where players could play as much as possible over a weekend. The idea really pleased from the 1st tournament. The clubs were won over by the turnkey service, I did everything from A to Z and I moved everywheret (Lyon, Perpignan, Bordeaux, Pau, Castres, etc.) before being joined by two extra guys!
The Padel Infinity association was born!
And today, Padel Infinity is a benchmark in France…
Indeed, Padel Infinity Tour was the 1st Circuit to be launched in France in 2014 (note with the National Padel Cup).
We are to our 7th year. It is a great success. Franck Mastroppolitto helped me create the association "Padel Infinity Tour", I thank him for that.
I think this circuit has helped to develop our sport in a beautiful way by making others want to make circuits or even clubs. I tried to share my passion as best I could to run a circuit like the Padel Infinity Tour.
Being able to make two categories and offer a welcome pack (T-shirts + bottle of water) to the players was, I hope in any case, a way of showing that we were trying to do our best to make the tournament the most pleasant possible.
One of our strengths I also think: break our heads to fix all the players.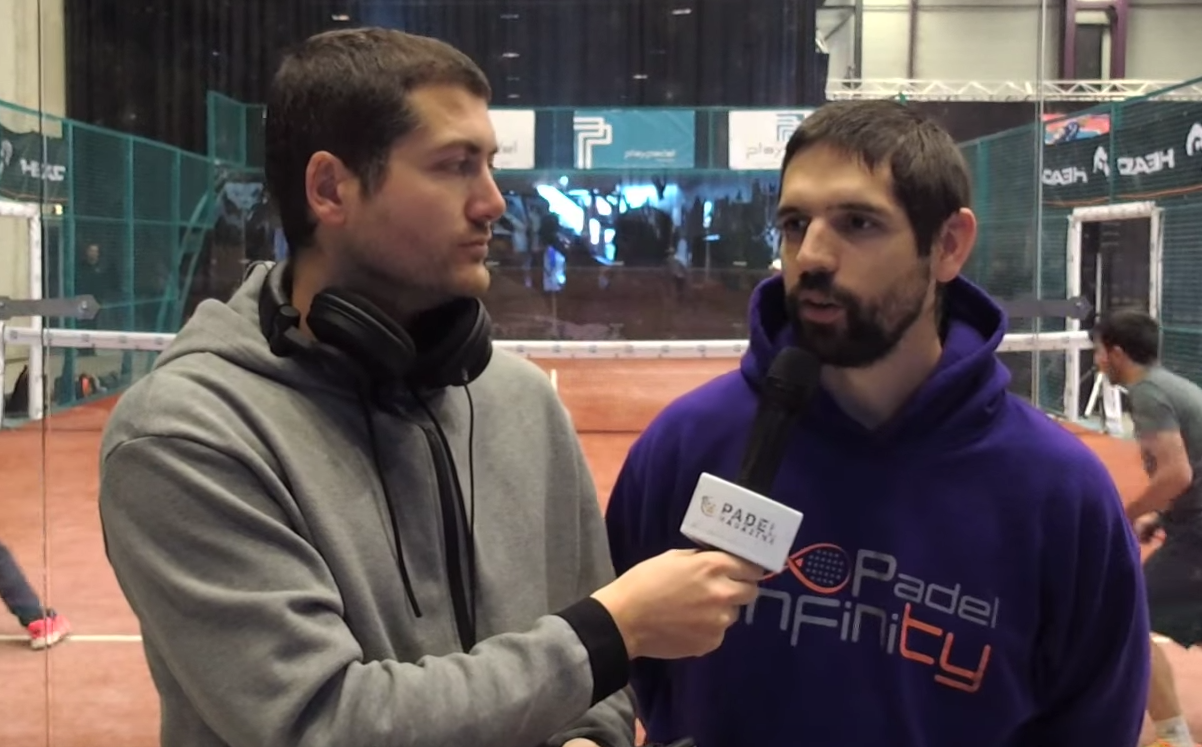 In recent times, padel has evolved…
François-Xavier Conninck and Axel Sabalete came to help me manage the different tournaments. They do a great job in the spirit that I have and that I play our sport.
I always try to do Spanish tournaments which is not obvious given the number of tournaments now in France. We also adapt to people and clubs…
What is the 2020 program?
Padel Infinity started in October 2019 and will end in September 2020 with around 20 stages and a Master in Spain where, like last year, all the winning teams will be invited.
BUT: The Master will be open to all with the double category of course. it will also be open to the Spanish so that the French can face the locals in the spirit of the tournaments in which I participated as that player at the very beginning. I really hope to have a super big tournament there. the date will probably be at the end of September but nothing has been set yet.
For the moment the next steps are:
8th stage: February 29 / March 01 at Squash Padel Parc Ducup in Perpignan
9th 1st Open Sport Management: 07-08 March at Toulouse Padel Club
10th 1st Open racket-padel.com: March 28-29 at Padel Club Albi
11th stage: 4-5 April at the Béziers Padel Club
12th stage: April 25-26 at Padel Tolosa
and others to find on www.padelinfinity.com
The objectives of the circuit are, and have always been, to make the players play as much as possible, to adapt to all amateur players with a multitude of categories available. to please.
Now is the time to pass the baton. I managed to make the Padel Infinity Tour a beautiful circuit, cthis season will be the last for me. We are going to end in style with the Master in Spain with I hope a huge tournament!
We will try to make beautiful stages as always, to please people. We made extraordinary steps with 96 teams, the inauguration of the TPC was really great.
Our last "Master" in Bordeaux last year with 88 teams: great meetings.
There were hiccups and this is normal but it was a great experience. I wanted to thank those who helped me in their own way, who wanted to add a stone to the building at different times. François SanMiguel, Baptiste Poey and Jérôme Ingrand, and especially FX and Axel who are helping me this season, and of course my wife Fatima who has always been at the top in this adventure.
the 1st Open Padel Magazine by Padel Infinity
Chuttt ...

Franck Binisti discovers the padel at the Pyramid Club in 2009 in the Paris region. Since then padel is part of his life. You often see him touring France by going to cover the big French paddle events.