Follow live commentary on the round of XNUMX between Alix Collombon and Jessica Castello against Delfi Brea and Julieta Bidahorria at the Blockchain.com Miami Open.
Alix Collombon and Jessica Castello have a chance to play a quarter-final of a WPT Open in the first tournament of the year. A performance after which they had run all last season before achieving it in Cordoba, during the penultimate tournament of the year.
Today is therefore a very big match that awaits them against an unprecedented pair: that made up of Delfi Brea, 5th player in the standings, and Julieta Bidahorria, who replaces his usual partner Tamara Icardo, injured.
This meeting, which will be played on track 3, in the second rotation of the morning, will be followed live with commentary just below.
Come to support Alix, Jérémy Scatena and Benjamin Tison give us their impressions a few minutes before the start of the meeting:
It started here in Miami, with Alix Collombon serving.
First and game and first "punto de oro". The two pairs fight, the points last and we should be entitled to a big fight. Castello and Collombon manage the decisive point well to lead 1/0.
Second decisive point and first break of the match! Alix Collombon and Jessica Castello lead 2/0.
The break for the Argentines who play a very solid game and put pressure on the Franco-Spanish pair. 2/1
All the points are hooked, we are witnessing a big fight on this track 3.
We are witnessing a very tactical match, Alix and Julieta play a lot online and Castello and Brea are a bit in the fridge. New game at "punto de oro" and it falls into the hands of Gabi Reca's players. 2/2.
Another "punto de oro" and it was Collombon and Castello who won: 3/2.
Very targeted by Collombon and Castello, Julieta Bidahorria made a very solid match. Argentina won two consecutive points on the fly to allow his pair to pick up: 3/3.
First game a little quiet for the Franco-Spanish pair which takes the lead: 4/3.
We are witnessing some very beautiful padel under the Miami sun. Alix responds to Bidahorria with a superb parallel par 3 and a new "punto de oro" on track 3. The "bajada" by Julieta hits the mark and the Argentinian pair pick up: 4/4.
New par 3 from the Frenchwoman who takes matters into her own hands at the end of the set. Thanks to an incredible volley from Castello, the Franco-Spanish pair continues to race in the lead: 5/4.
First Collombon/Castello set! Alix and Jessica were very solid in the most important game and they won the first set.
Here we go again with Jessica Castello serving.
The Argentines put pressure and break from the outset in this second set: 0/1.
Débreak of Alix and Jessica who stick together from the start: 1/1.
The Frenchwoman and her partner are playing very well and they logically take the lead: 2/1.
Alix and Jessica didn't make any mistakes, they continued to put the pressure on and gave themselves a deserved break: 3/1.
Jessica Castello serving to try to take a comfortable lead.
Julieta Bidahorria is in high demand and she is starting to crack. The Franco-Spanish pair tries to drive the point home. On a winning end from Alix, Castello and Collombon increase their lead: 4/1.
The Argentines do not abdicate, they offer themselves a little air with a white game: 4/2.
Gabi Reca's players are recovering, but it's not enough to stop the Collombon/Castello machine which is getting a little closer to victory: 5/2.
Julieta Bidahorria to try to extend the show here in Miami. A very strong game from the players of Gabi Reca allows them to stay alive in this match: 5/3.
Jessica Castello serving to try to end the game.
It's done, Alix Collombon and Jessica are in the quarter-finals! A deserved victory for the Franco-Spanish pair who will have played a very solid match to win in two sets: 6/4 6/3.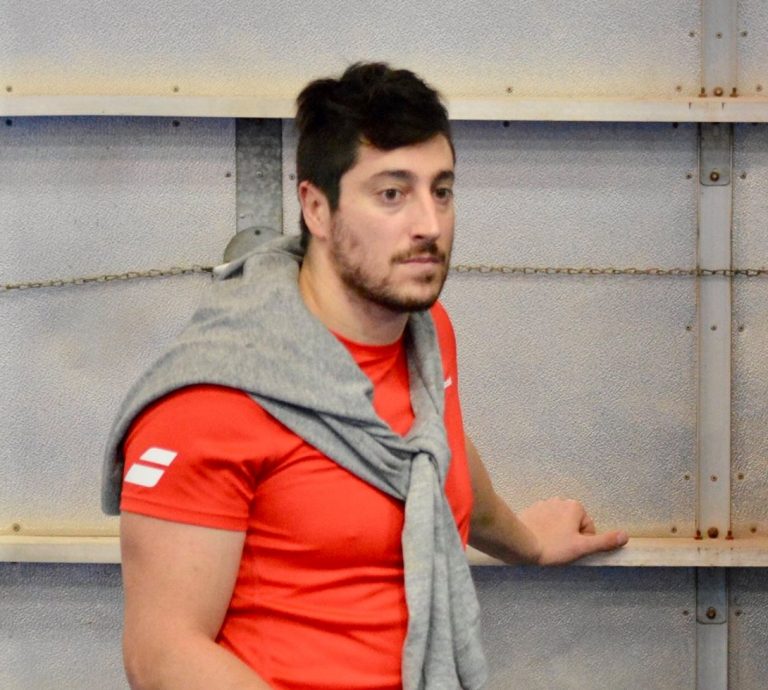 Xan is a fan of padel. But also rugby! And his posts are just as punchy. Physical trainer of several padel, he unearths atypical posts or deals with topical subjects. It also gives you some tips to develop your physique for the padel. Clearly, he imposes his offensive style as on the field of padel !