World Championship Padel 2016: Switzerland plays the qualification, July 9 and 10 in Basel / Frenkendorf
The men of the Swiss national team will play on the weekend of July 9 and 10 to try to qualify for the 2016 World Championship. The decisive matches will take place at the Swiss Mega Park in Frenkendorf / Basel. The Swiss team have a golden opportunity to secure their ticket to Lisbon in the home games. Their opponents are Monaco, France and Austria.
With this qualifying phase, the Mega Parc expects first class matches from padel in Frenkendorf / Basel. All the participants were chosen by their national associations and are the elite of their country. For Switzerland, this stage is obviously the most important event of this spectacular new sport. The event will be organized by the Swiss Association of Padel. If you want, you can come and encourage us free of charge, entry will be free.
The players will compete against each other on the weekend of July 9 and 10 to try their luck to qualify for the World Championship. Padel 2016 in Lisbon. This would mean a fifth participation for the Swiss national team after taking part in the world championships in Canada (2008), Mexico (2010 and 2012) and Spain (2014). The players who played the European Championship last year will meet there and show you that the padel at high level is an amazing and spectacular sport.
Trainings will begin on Friday afternoon. The qualifying kicks off on Saturday July 9 at 10 a.m. In each round, three matches will take place. The second round will take place on Saturday at 16 p.m. The third and final round will take place on Sunday at 10 a.m. The final program of the event will be published on the website of the Swiss Association of Padel in a few days on: www.swisspadel. Ch .
To know more:
Author: Claudia Bräm, vice - president SPA: claudia @ swisspadel. Ch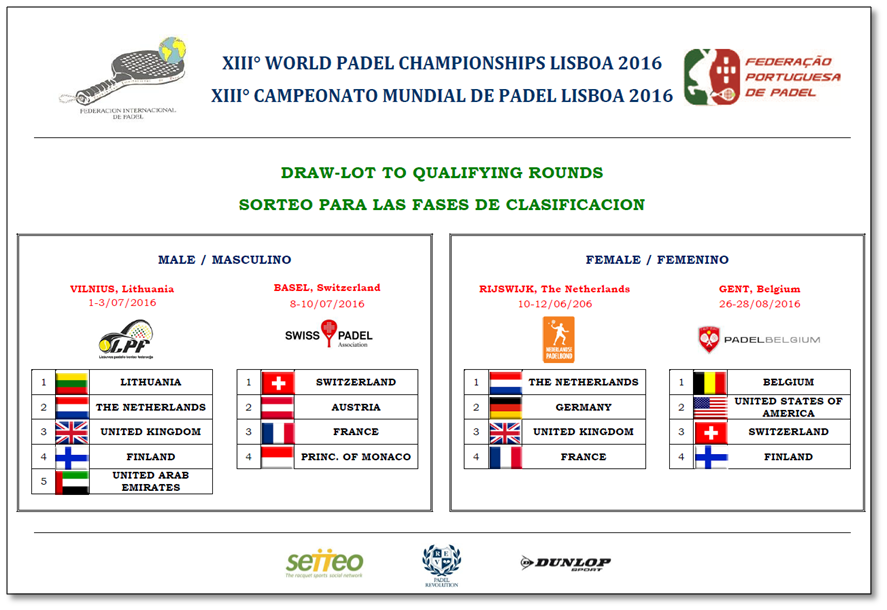 Franck Binisti discovers the padel at the Club des Pyramides in 2009 in the Paris region. Since padel is part of his life. You often see him touring France going to cover the major events of padel French.