Exceptional! The Ruiz / Stupaczuk duo created a surprise by depriving Lebron and Galan of a potential 3rd consecutive coronation during this Cordoba Open.
Stupa and Ruiz announce the entrance color
In a 1st set where the level is particularly high, it is the Ruiz / Stupaczuk pair that makes the difference. The key to this 1st set? An almost "extraordinary" aggressiveness, notably from Alejandro Ruiz, who did not leave the slightest "no adjustment" to Lebron and Galan. Taken up speed, the numbers 1 are jostled as rarely: 6/4 for Ruiz / Stupaczuk!
A second one-sided set
The second set starts as the first ended, that is to say on the hats of wheels. The Ruiz / Stupaczuk duo strike first and break from the start. The steamroller destroys everything in its path. Multiplying the puntazos, the par 3, the Ruiz / Stupaczuk pair, of exceptional accuracy, will have put all the ingredients on their side to secure the victory.
Final score: 6/4 - 6/2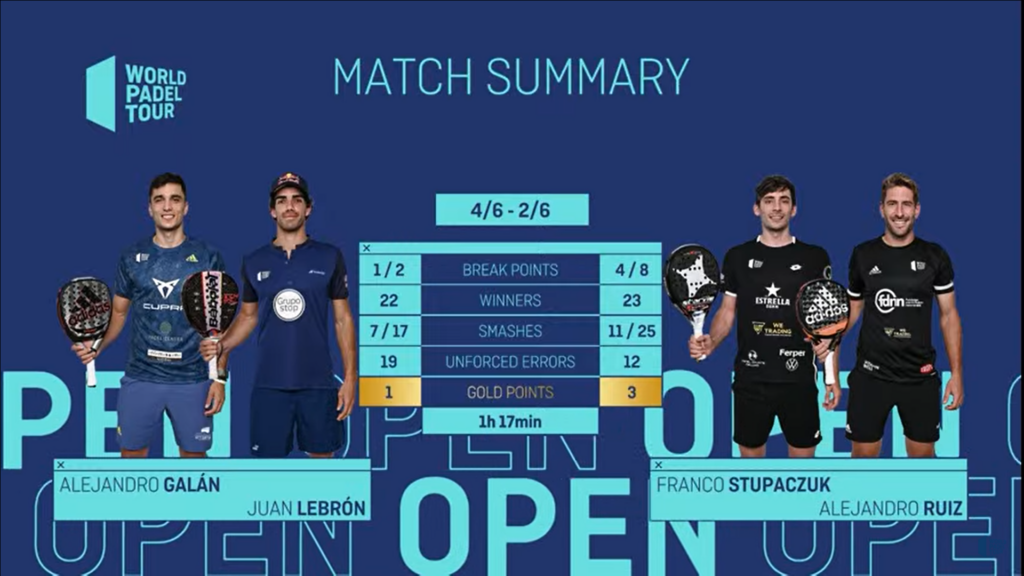 No third consecutive title therefore for Lebron and Galan who did not exist in the second round. Alejandro Ruiz and Franco Stupaczuk will be opposed to Paquito Navarro and Martin Di Nenno for the remake of the Cagliari finale with the goal of winning their second title of the season.

Passionate about football, I discovered the padel in 2019. Since then, it's been crazy love with this sport to the point of abandoning my favorite sport.