Come and attend the 16 at the 22 in January, the first tournament Padel P500 homologated League of Provence 2017 that will bring together virtually all the players of the French team as well as Spanish players World Padel Tour.
Padel is booming in France! Spectacular points, friendliness and sportsmanship always intact, this sport, easy to access will excite you.
An exceptional level next weekend to close the tournament that lasts all week at Padel Country Club, near the league of Provence!
A very nice plateau of players and players!
Jérémy SCATENA (French champion and European champion), Maxime MOREAU and Laurent BENSADOUN (French vice champion and member of the French team), Jérémy RITZ (French N ° 6 and member of the French team).
The best players in the region, Pier GAUTHIER (French N ° 7), Laurent BOULADE (N ° 8 and European Champion), Jérôme FERRANDEZ (N ° 9 and European Champion).
And finally, several Spanish players including José SALINES (WPT player) and Guillermo CLOSA!
The female painting will also present a beautiful picture including Audrey CASANOVA, French champion Padel!
FINAL PHASES SATURDAY 21 and SUNDAY 22 JANUARY!
Do not hesitate ! We are waiting for you for this spectacular event!
Follow us on our Facebook page this week for a lot of news about this beautiful event!
The Padel Country Club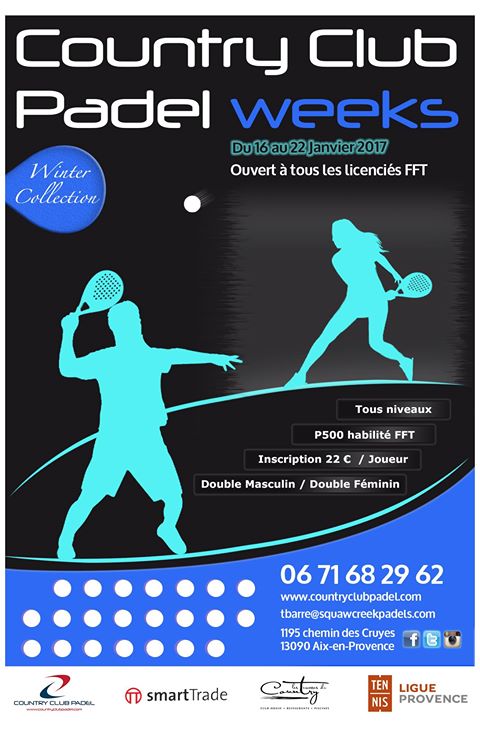 Franck Binisti discovers the padel at the Pyramid Club in 2009 in the Paris region. Since then padel is part of his life. You often see him touring France by going to cover the big French paddle events.