We know the padel is developing and structuring very well in France. More and more complexes are emerging, and many centers now organize FFT-approved tournaments. This was the case at SPOT-IN Padel (Rennes) the weekend of December 17/18, 2016. A look back at this superb tournament which saw a women's tournament and a men's tournament take place in parallel.
SPOT-IN Padel (Rennes), the growing ambitious complex:
SPOT-IN Padel is the first 100% complex padel in Brittany. Clément and Antoine welcome us to this beautiful, very diverse club: simple reservation, team building events, Padel, approved tournaments. But the event of the end of 2016 at SPOT-IN Padel is the FFT homologated tournament (P100) which took place on Saturday 17th and Sunday 18th December.
In the men's overall, 20 teams are registered and present. Spread into 4 pools of 5 pairs, only the first two went for the 1 / 4 finals. The other three are paid in a consoling picture.
A nice plateau for this tournament:
Since a year, more and more tournaments are born in France. So there is an increasing number of players being ranked at the national level.
In Rennes, many of them were present. And headlined Samuel Devrand (number 5 French) accompanied by Aymeric Meslin (number 77). On paper, this pair was a grandissime favorite but you had to be wary of Benjamin Sisternes (108th French player) with Edouard Poirier. Many outsiders also intended to shake the two pairs that seemed above, including several players ranked around the 300 place and several players unclassified but very good tennis players (ranked negative tennis among others).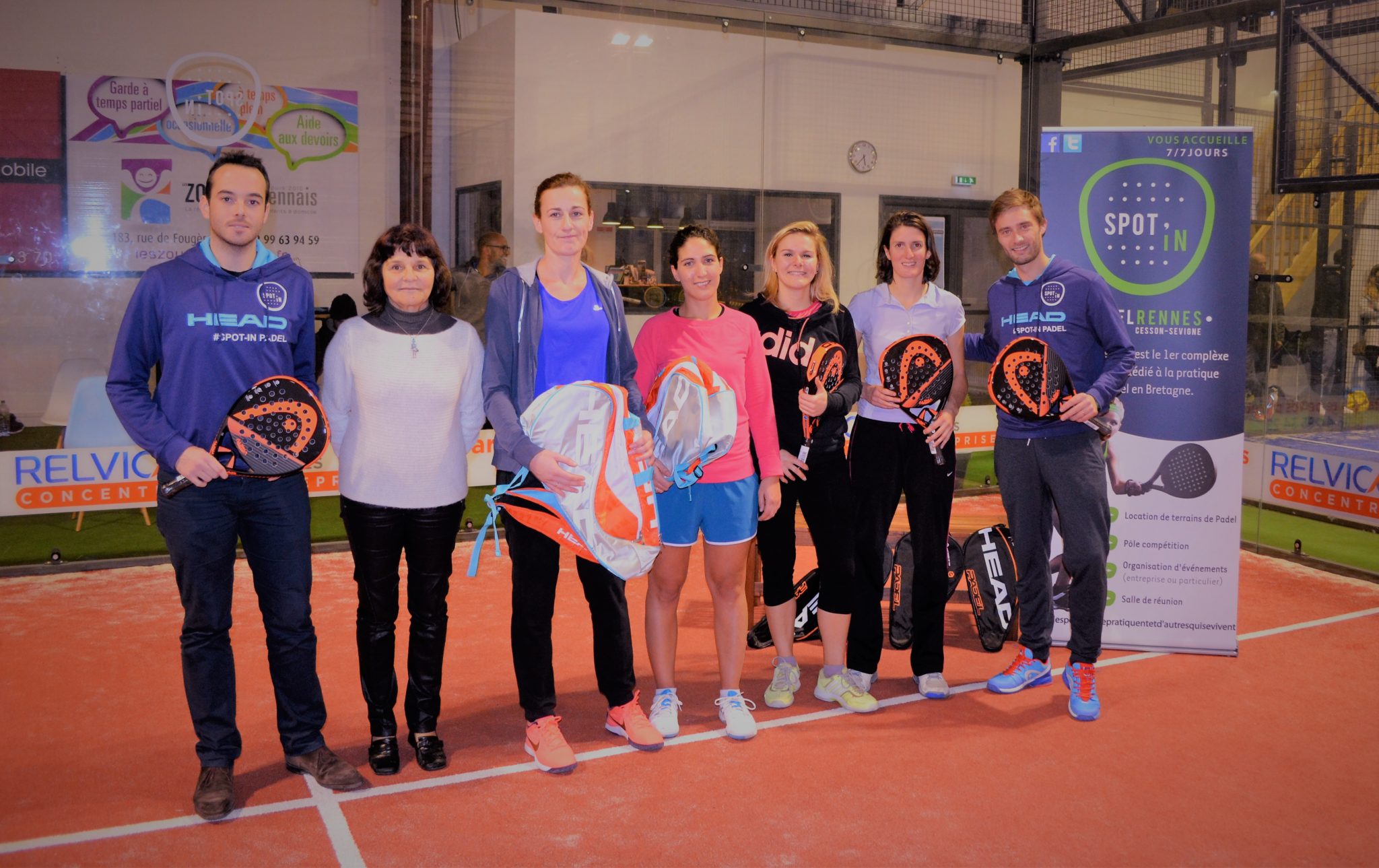 The teams have moved a lot and from different places: Rennes, Nantes, Laval, ... And even a player from the United States! A lot of diversity for a tournament that has kept all its promises with more 75 intense matches.
The favorites did not fail:
Not surprisingly, the first two seeds (Devrand / Meslin and Sisternes / Poirier) were in the final.
Easily for the first cities that have made a mouthful of their opponents from the group stage to the final.
The latter have however had more difficulty, especially 1 / 2 final where their opponents pushed them to the super tie-break. The game was played very little but it was the favorites who came out after a physically and nervously exhausting match (6 / 2 3 / 6 1 / 0 (12 / 10)).
The long-awaited final has therefore taken place. And finally, Aymeric Meslin and Samuel Devrand win after a well-managed final. The winners (on the score of 6 / 1 6 / 3) were awarded an exceptional prize.
In women, it is the pair Lefevre / Grollaud who fate at the end of a tournament they have mastered in their entirety.
A beautiful endowment:
The winners and finalists of the Men's and Women's paintings are left with snowshoes (Head Alpha Motion, bags Head Delta mastercombi).
This endowment was carried out in collaboration with the brand Head and the new snowshoe and equipment sales site www.padel-shopping.fr.
It is therefore an exceptional weekend which took place on Breton lands. Next dates will be released shortly. Stay informed if you want to know when the next sanctioned tournaments will be organized by SPOT-IN Padel in the coming weeks…
=> 1st quarter 2017 SPOT-IN Padel will host the stage of Head Padel Open. (Date to come 😉
www.spot-in.com
09 81 81 71 80.

Franck Binisti discovers the padel at the Club des Pyramides in 2009 in the Paris region. Since padel is part of his life. You often see him touring France going to cover the major events of padel French.