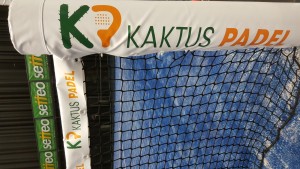 Like last year, the Open Sud de France (ATP 250) held in Montpellier this week honors Padel with its panoramic terrain.
Placed a few meters from the central, thousands of spectators come to discover and try the padel.
Melchior Dejouany, the General Manager of Kaktupadel explains that "The Open Sud de France has become a key date in the padel French for the promotion and development of this sport ».
The South of France Open has become a unique opportunity for the curious to come and try snowshoe sports of the future, but which becomes irremediably more and more present.
Connoisseurs will be able to improve their smash "plateau" and other shots with Axel Sabalete present all week.
SETTEO, the largest social network of racket sports in the world and partner of the International Paddle Federation is part of the adventure all week long and will co-organize matches and padel events.
Everyone in Montpellier at the Park & ​​Suite Arena until February 7!

Franck Binisti discovers the padel at the Pyramid Club in 2009 in the Paris region. Since then padel is part of his life. You often see him touring France by going to cover the big French paddle events.