Padel Magazine spoke with Elise Remark, Marketing Director Cupra France, in order to discuss the future of the brand and Padel in France.
Elise Remark: "Cupra has embarked on padel for several years at the international level, with partnerships launched from Spain with in particular Belasteguin as the face of padel international and Cupra ambassador.
As the brand is growing rapidly, this creates a parallel with the padel which is developing extremely strongly as well. It was only natural that Cupra turned to the padel, by telling ourselves that in France there was something we could build on. "
"Cupra embodies values ​​of performance and surpassing oneself that match with the padel"
Padel Magazine : What could link the padel in Cupra? Why Cupra chose the padel and not another sport?
Elise Remark: " We are lucky to have been able to introduce us to the discipline with Casa Padel from the start and today with the Pyramides club, which allows us to show our know-how to as many people as possible. Indeed, Cupra was interested in padel for several reasons, already because Cupra has values ​​of performance and surpassing oneself which will quite naturally match with the values ​​of Padel high level. It is a discipline that continues to grow and is quite addictive, and we find that with Cupra because we focus on the search for pleasure and performance.
We weren't looking for a global showcase already very preempted by other brands and other manufacturers, we wanted something that matches our DNA and our value and that would allow us to create a nice furrow together, hence the choice of padel !"
"Lots of things to come for Cupra and the padel "
Padel Magazine : You were talking about the development of Cupra with this booming sport, what are the main areas of development for the brand? A Cupra Padel Tour would be in the pipes, can you tell us about it?
Elise Remark: "The padel is a discipline in which we want to engage fully, we will put a commitment that will be 360 ​​° on the different aspects of padel with people who will allow us to embody this ambition of collective work. The idea is to make this discipline known to as many people as possible, and at Cupra we are sure that it is a sport that will appeal to as many people as possible.
We will have personalities who will surely appear to promote this sport, event activations, commitments on certain courts and why not tournaments. So a lot of things to come for Cupra and the padel. "
Gender diversity as a spearhead
Padel Magazine : Cupra will therefore invest in padel, and you have made the choice of co-education with a woman / a man, since you are going to start in France with Alix Collombon and Ben Tison, why did you choose these two players, and how did things match up with them?
Elise Remark: "Cupra is a young brand, a brand that has ambition, and that wants to do things differently. We have already implemented a strategy of sporting incarnation, with sports stars, with today more than 7 athletes who carry the values ​​of Cupra.
And it is quite naturally that we wanted to have French ambassadors, in the padel, which are headliners and which allow us to embody this desire to develop Cupra and the padel in France.
We had the chance to meet Benjamin and Alix who represent the high level of padel French. Through their human and sporting values, the idea is to put them forward with the Cupra logo at their side and it is with confidence that I know that they will wear the brand in the best way. "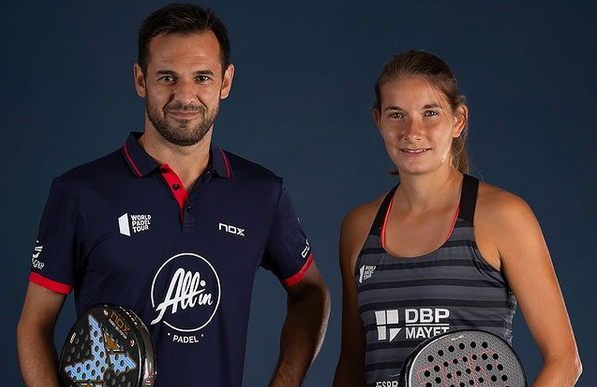 The interview can be found in full here:

Passionate about football, I discovered the padel in 2019. Since then, it's been crazy love with this sport to the point of abandoning my favorite sport.