The time for the final has come for the teams present at Fip Platinum Sardegna. And it is the ladies who will start this day in Italy.
Among the women, the number 2 seeds Patty Llaguno and Lucia Sainz honored their rank by winning in two sets against the Spanish-Portuguese pair Caldera/Nogueira. The experienced Spanish will meet the surprise pair Mesa/Orsi (TS7). Carla Mesa and Carolina Orsi were able to find the keys to defeating the number 6 seed, Martinez Lobo/Rodriguez.
After the coronation of one of these two pairs, it will be the men's turn to return to the track. They were expected, they responded: Mike Yanguas and Federico Chingotto defeated Capra/Sanchez in the semi-final 6-4/6-4. The number 1 seed will have a hard time facing the explosive Rami Moyano and Francisco Gil who continue to surprise in this tournament. After their victory against the new Garrido/Gonzalez pair, they sought their place in the final against Nieto/Rico (TS4).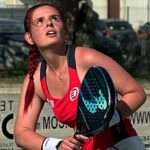 It was his brother who one day told him to accompany him on a track. padel, since then, Gwenaëlle has never left the court. Except when it comes to going to watch the broadcast of Padel Magazine, World Padel Tour… or Premier Padel…or the French Championships. In short, she is a fan of this sport.