It's time for the semi-finals in Italy, with great matches and the stars!
It is the ladies who begin the hostilities, with a first meeting Carolina Orsi/Carla Mesa, opposed to the pair Marina Lobo/Nuria Rodriguez, yesterday's crush of French women Alix Collombon and Léa Godallier.
This first meeting will be followed by the first men's semi-final, pitting the No. 4 seed Rico/Nieto against the No. 5 seed, Gil/Moyano. The latter were authors a very big match in the 1/4 finals, notably releasing the brand new Garrido/Gonzalez pair in two short sleeves.
You will have to wait until the end of the afternoon to follow the other posters of the day, including the second women's half, opposing Caldera/Nogueira to the Llaguno/Sainz pair.
Last meeting of the day – and not the least – we will find the XXL poster of these semi-finals of the FIP Platinum Sardegna, with the meeting between the pairs Yanguas/Chingotto and Capra/Sanchez.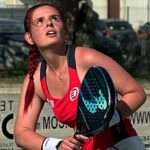 It was his brother who one day told him to accompany him on a track. padel, since then, Gwenaëlle has never left the court. Except when it comes to going to watch the broadcast of Padel Magazine, World Padel Tour… or Premier Padel…or the French Championships. In short, she is a fan of this sport.