It's no longer a surprise for anyone, the first tournament made in QSI- FIP will be held from March 28 in Doha, Qatar.
And as we imagined, the best players on the planet also want to take part in this great celebration which will mark a new era with this brand new circuit.
On this occasion we already know which players will participate in this event.
First of all, to make it clearer, it is worth recalling how the tournament will take place.
There will be 32 pairs (30 + 2 jokers) who will enter for the qualifications.
And concerning the final table, no less than 56 pairs will compete for victory in the 20×10.
In these 56 pairs it takes 44 + 4 wildcards and 8 from qualifications.
The list of players present has been published on the FIP website.
You can see the numbers 1 Alejandro galan et Juan lebron or even Paquito Navarro, Martin Di Nenno, Fernando Belasteguin and many other big names padel.
On the other hand, we notice that it lacks Agustin Tapia, Miguel Lamperti et Rafa Mendez. Surprisingly these three players are sponsored by Nox. Pure coincidence? We should know more soon...
So, Sanyo Gutiérrez will evolve alongside his nephew Agustin Gutierrez. Remember that last season, when Bela was injured, the Argentinian had made a tournament with his other nephew, Cristian German Gutierrez.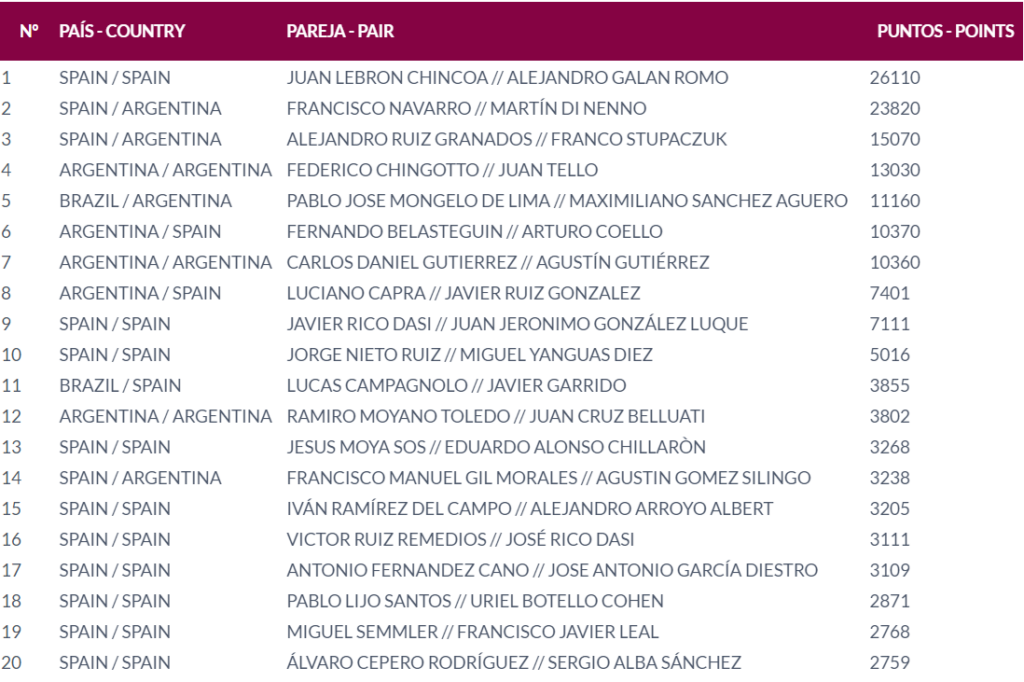 As you will have understood, this 5-star competition has almost filled up and it promises a great show and above all a start to the 2022 season with a bang.

Team Padel Magazine tries to offer you since 2013 the best of padel, but also surveys, analyzes to try to understand the world of padel. From the game to the politics of our sport, Padel Magazine is at your service.