They were the only tricolor chance in this FIP Rise Kaunas: Julien Seurin and Manuel Vives were eliminated in the first round against the Spanish pair Aymeric/Aragon. Yet number 10 seed in this tournament, the French pair was surprised by the very good level of their opponents.
Final score: 7/5 6/4. Cruel defeat for the French who arrived with great hopes in this FIP Rise Kaunas. If the turn Josep Aymerich Bellmunt (410) and Manuel Aragon Herrera (687) seemed affordable, the disillusionment is only greater for our frenchies.
Manuel Vives promised, on his networks to "get up and finish the year as a warrior".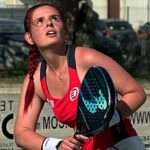 It was his brother who one day told him to accompany him on a track. padel, since then, Gwenaëlle has never left the court. Except when it comes to going to watch the broadcast of Padel Magazine, World Padel Tour… or Premier Padel…or the French Championships. In short, she is a fan of this sport.