Being one of the countries most affected by Covid-19 in Europe, France is currently undergoing numerous health restrictions which make the practice of padel complicated… but largely possible!
Between the 16 departments affected by the new restrictions, the curfew and the closure of indoor clubs, let's take a look at what you can do when you want to play padel or tennis in France.
Priority audiences allowed indoors
As the Government tells us, the priority audiences, can continue to exercise indoors. This concerns:
professional and high level athletes
athletes registered in the Federal Performance Course;
audiences in university or professional training;
people with a medical prescription for adapted physical activity (APA);
persons with disabilities recognized by the Departmental House of Handicapped Persons (MDPH) as well as the supervision necessary for their practice;
In addition, professional, high-level athletes, people in vocational training, and the supervision necessary for their practice can "waive the curfew as part of their travel and access to sports facilities ".
Concretely, who can play padel indoors?
As we have seen above, professional and high level athletes are allowed to play indoor sports. So no problem for the best tennis players. On the other hand, no player from padel is not considered a high level athlete by the Ministry of Sports (there is no player from padel on ministerial list of high level athletes). To our knowledge, there are also no athletes registered in the Federal Performance Course in the padel. To remedy all this, the FFT has established an exemption for 15 best players in the French ranking of padel, in order to allow them to train in indoor structures.
As the FFT specifies, people with disabilities and the supervision necessary for their practice can play tennis (and therefore the padel) indoors
This is also the case for Minors, but only within the framework of school time for the latter
- students in DEJEPS Tennis training can also play indoors
The government increasingly recognizes sport as a essential activity to stay healthy. Le 2020 Decree No. 1310-29 October 2020 allows people with chronic diseases to practice an indoor activity. Today, it is estimated that 20 million people in France are affected. Be careful, however, this is the prescription of an adapted physical activity (APA) which is performed by a doctor. So, as the French Golf Federation tells us : "This type of practice can only be carried out with a framework trained in APA". In other words, it is not possible to hit the ball indoors with three friends who have back pain. It is a good idea to practice the activity while being supervised by a APA-trained professional trainer.
Residents of the 16 reconfigured departments can play outdoors, less than 10 km from their homes.
People who live in the 16 departments affected by the new confinement (Aisne, Alpes-Maritimes, Eure, Nord, Oise, Pas-de-Calais, Paris, Seine-Maritime, Seine-et-Marne, Yvelines, Somme, Essonne, Hauts-de-Seine, Seine-Saint-Denis, Val-de-Marne, Val-d'Oise) can continue playing padel and tennis outdoors and on the semi-covered courts, provided there is a club within 10 kilometers of their home. Impossible therefore for those who do not have access to land near their home ...
In addition, people residing in other departments cannot go to the 16 departments under surveillance beyond a perimeter defined by a radius of 30 kilometers around their home.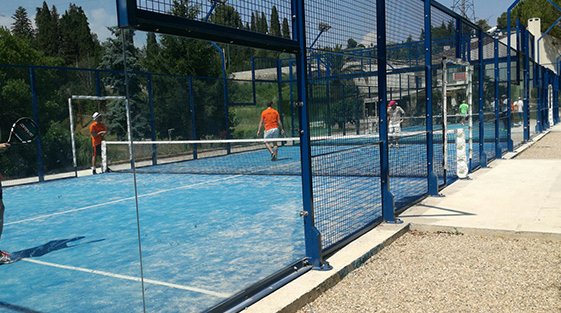 Not after 19 p.m.
For all people who are not among the 15 best ranked French, who do not have a chronic disease and do not live in the 16 aforementioned departments, it is still impossible to practice padel indoors. On the other hand, it is fortunately possible to go hit the ball outdoors and semi-indoors, whatever the distance between you and the club, until 19 p.m., curfew time!

Team Padel Magazine tries to offer you since 2013 the best of padel, but also surveys, analyzes to try to understand the world of padel. From the game to the politics of our sport, Padel Magazine is at your service.