Head Padel present the news Graphene 360 ​​Gamma Pro and Gamma Motion, rackets really like no other, with their particular shape.
"Play like everyone else? Not for me !"
This is the sentence that represents the Gamma line. Head Padel has made a racquet with a totally atypical shape, for players who don't want a racquet that looks like all the others. Graphene 360, Power Foam, high-end palas, extremely versatile !
Video credit: YouTube HeadPadel
Head Gamma Pro
It is the pala used by Arturo Coello and Edu Alonso on the World Padel Tour. Hexagonal shape, exceptional power-to-control ratio, super comfortable touch, it's a racket that can suit any player, and that does not go unnoticed with its flashy colors!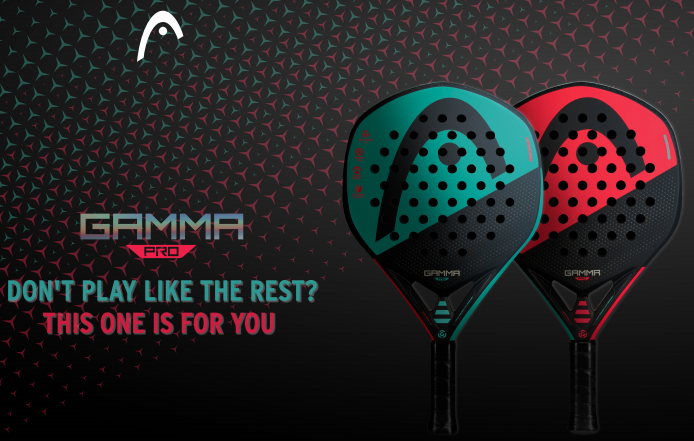 It is the nugget of the Spanish padel, Arturo Coello, who, at only 18 years old, achieves the feat of being 24th in the Race of World Padel Tour, who speaks best of his Gamma pro :
"I immediately loved the style of this racket. It has a different shape than what we usually find and that makes it unique. Its foam is intermediate, neither too hard nor too soft, which allows it to adapt to any game. It allows me to feel sure of my game, brings me a lot of comfort, it is a very versatile racquet. Indeed, it gives me a lot of control at the back of the track, which helps me greatly, and it allows me to unfold my game in attack. I have exceptional feelings with the Gamma Pro, Head did a great job! "
Head Gamma Motion
This is the version lighter Gamma Pro, it is used in particular by WPT players Carlotta Casali and Carla Serrano. There is of course the Power Foam and Graphene 360, for a perfect compromise between power, comfort, ball release and control. Again, we can say that Head did a great job with the design and colors!