HEAD surprise once again with a range of snowshoes padel using «graphene ". Graphene is considered the material of the future with its multiple applications in the industry.

A new technological innovation: Graphene
He was recently used for product manufacturing electronic. Graphene is also more resistant and lighter. Indeed, measurements have established that graphene has resistance 200 times superior to that of steel and that it is 6 times lighter.
Head thus increases the durability of its rackets padel.
3 high end rackets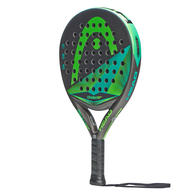 PRO SERIE
A comfortable pro racket to play naturally. A new quality material, graphene, is behind the performance and comfort that characterize the Pro Series. 200 times more resistant than steel, it promises longevity and control. The graphene built into the frame and the hitting area as well as the new UltraSoft core offer a larger sweetspot. With this aggressive-looking racket in green and black tones, you're everywhere. Take the opportunity and enjoy an incredible effect.
| | |
| --- | --- |
| Weight: | 370 g |
| Size of the sieve: | 430 cm² |
| Framework Profile: | 38 mm |
MOTION SERIE
In the prodigious Motion Series racquets, performance and comfort are combined to perfection for pro players. The racket is essentially composed of graphene, a material 200 times more resistant than steel. Thanks to graphene and the new UltraSoft core, you get a bigger sweetspot and you control the game better. This matte and aggressive look in orange and black will make you the star on the courts. Enjoy playing, knowing that victory is at your fingertips.
| | |
| --- | --- |
| Weight: | 360 g |
| Size of the sieve: | 420 cm² |
| Balance: | 275 mm |
| Framework Profile: | 38 mm |
TORNADO BELA
The undisputed world number 1, Fernando Belasteguín, presents his new racket with several characteristics that strongly remind his game. Equipped with an ideal combination of control and power as well as the Circular Holes Intelligent Pattern (CHIP) technology, this model has a an improved sweetspot that makes it easier to play and allows you to return every move. The durable graphene and matte finish complete the elegant design.
Bela has gone down in history as the player who remained world number one for 13 years. And he does not seem ready to want to give up this title anytime soon. If you've always wanted to play like Bela, now is your chance! Treat yourself to the "Eternal First" racquet bearing his autograph.
| | |
| --- | --- |
| Weight: | 375 g |
| Size of the sieve: | 420 cm² |
| Balance: | 270 mm |
| Framework Profile: | 38 mm |

Franck Binisti discovers the padel at the Club des Pyramides in 2009 in the Paris region. Since padel is part of his life. You often see him touring France going to cover the major events of padel French.