Former world number 1 padel between 1988 and 1991, the Argentinian coached the greatest professional pairs and continues – at almost 64 years old – to train the talents of the future and to pass on his passion for this sport. For three years, he has been collaborating with Decathlon to develop Kuikma brand snowshoes, the most sold in the world. We met him at the end of 2021 in the magnificent club of Torrelodones, close to Madrid, where he dispenses his knowledge. The opportunity to ask him about his ideal racquet, the type of game he favors and the global evolution of players and padel.
The ideal racquet?
"For me, the racket of padel ideal should have a large impact area (the "punto dulce") and a light head balance. Players do not all have a big hit, when the balance is down, it promotes maneuverability but it creates a lack of power, the racket of padel having a shorter lever arm than the tennis racket. With racquets that are too light, the ball does not come out enough when you slightly off-center or when you want it to come back on its side. With a "soft" racquet, you need even more weight because it absorbs a lot of power. A powerful player can get by with any racquet; but the one that lacks power - and that's the case with 60 or 70% of people who play padel - he has a problem."
No less than 370 grams
"Often beginners or intermediate players feel more comfortable with a light racquet. But a light racquet will vibrate more and it "sends less". This is even more the case when playing with balls that are not new. However, on average, players play three games with the same balls. For me, a racquet should weigh no less than 370 grams. This is the case for men but also for women. My wife plays better with my heavy racquet than with the light racquet I gave her. The problem is that it becomes difficult to get heavy racquets because all the factories make light racquets."
"My racquets weighed up to 430 grams"
"When I was a professional player, I played with racquets that weighed up to 430 grams. And when I stopped playing, my racquet weighed 390 grams. Today, a racket of 385 grams pleases me. When you want to block an attack, it's much better to have a heavy racquet, it has more stability. If you give me a 350 gram racquet, it will move in my hand, all by itself."
What about Kuikma snowshoes?
"I think they are quite well designed and made (he says objectively, with a big smile). However, I find that we still lack a slightly different touch compared to what exists elsewhere. Today in the field of snowshoes, you cannot invent so much more than what has already been invented. We currently have, in the expert range, soft rackets and controls. In the future, I would like to find a variant, something innovative in 2023, when the range will be completely renewed.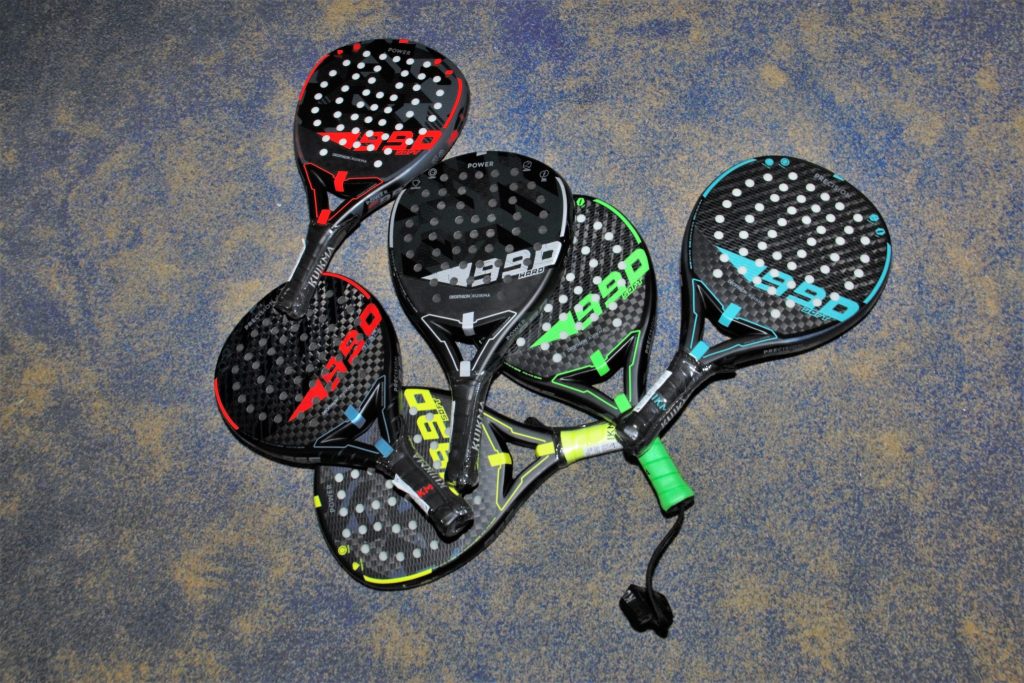 Find the right compromise
"Fiberglass is the most pleasant material to find the right feeling when typing. The carbon provides stiffness that allows for better feel and control of the ball at the time of the shot. But the majority of players and therefore Decathlon customers prefer a more cushioned, softer strike. For me, carbon should be used for racket frames, and then we use different layers of fiberglass and aluminum to find the right compromise in terms of stiffness."
"Our racket at €100 is equivalent to those at €300"
"At Kuikma, my role is to test the rackets and give an impression of the materials to use for each type of player depending on the characteristics of their game. Then I recommend and give credibility to a racket of a price more accessible: the idea is to show that it is as competitive as a more expensive racquet. The most important thing is to convince people that our 100 euro racket is equivalent to the 300 euro racket: it's not just a question of image, it's simply because the materials are the same. Several brands offer very good products in my opinion. But there are some racquets whose price is not justified."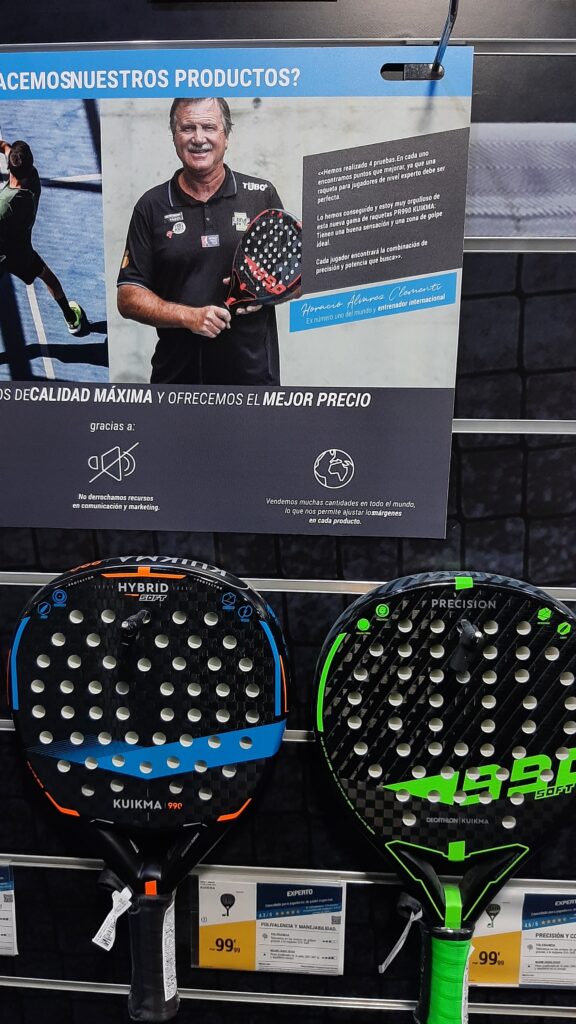 "The madness of padel raise the prices"
"Some brands have a prestige and a glamor that can make their products very expensive. It's like with watches: you can have a Seiko that works better than a Rolex but will cost much less. Today, the madness of padel in Nordic countries like Sweden leads to price inflation. This is true for snowshoes as it is for courts. We are beginning to have difficulty buying land padel here in Spain, because we buy them for 25 euros; manufacturers prefer to sell them for 000 or even 32 euros in Sweden. To change a carpet, I can't find a supplier, because it's less profitable to sell it for 000 euros here than 40 euros in Sweden."
"The Golden Age of padel, it is now "
"I believe that the golden age of padel, it is now. The level increases more and more. And young people are playing with adults earlier and earlier. A boy like Agustin Tapia, who is 22, started playing at 15 on the professional circuit. He has this power and this mental velocity that young people have, he has acquired experience because he has played with adult partners of a good level, which has allowed him to have a level of responsibility that he would never have reached so quickly."
"Spectacular play causes matches to be lost"
"At padel, the players who win the most are the smartest. The spectacular game sometimes gives you the point, but at the cost of risk-taking which is most often excessive. In my eyes, Lebron and Galan are not looking for the spectacular game, but play a fast and powerful game. Tapia, he has a spectacular game, with incredible shots, but, paradoxically, it makes him lose a lot of matches.
The importance of point construction
"I believe that coaches should give importance to the 'good game', to the construction of points. Everyone only looks at the finalization of the points, but does not pay attention to the above. If we take Luka Modrić (Editor's note: the Croatian midfielder of Real Madrid), he will make the decisive pass, but it is another who will score the goal. But this decisive pass, it is priceless! For me, the padel is a sport of preparation and construction: and those who know how to both build and finish are masters."
"Almost all shots are recoverable"
"Conclude a point by padel is much more difficult than in tennis. Except when a lob is short and a player can kick the ball out or back into his court, all other hits are recoverable. At high level, making a par 3, for example, creates more risks of losing the point than chances of winning it, because the defenders can get out. Whereas before, leaving a ball, it was the assured point, but today, it is finished. For me, a shot that will have to be used more and more is the jump smash, to find the par 4. It is a shot that you have to work on in training. Because even the smash hit hard which returns to his camp exposes the counter-attack of good defenders.
"Bela, a player who calculates"
"Belasteguin's game is very much based on the construction of the point from the bandeja. When he hits hard, he almost always wins the point, but he's not a player who hits often. Why ? Because he knows that with two more shots he will win the point more often. In his eyes, it is therefore not necessary to take so many risks. I coached Bela and Lima for a year and a half. I can say that Bela is a player who calculates risks and chances. If he gets into a volley duel, it's because he knows he has an 80% chance of winning. Because if he knows that his opponent is more likely to win the duel, he does not go.
It has an exceptional window exit, which it is able to vary. And he chooses to make the move that will put his partner in a good position. Then the lobs he does are also outstanding. And rather than hitting, he does not hesitate to let the ball pass to get out of the window because he knows that it will be favorable to him. And he does not necessarily seek to win the point too quickly, he prefers to put a low ball in the center and not score the point until the next shot. He knows that time is on his side because he controls the time of the game.
The "3 – 4 – 5", Bela's weapon
"When Belasteguin finishes a point, he has a nervous twitch, his eyes are fixed and he thinks, he thinks, he thinks. He then has a ritual: 3 seconds to calm down, relax, 4 seconds to think about what he is going to do and 5 seconds to take action. And he masters this 3-4-5 to perfection. It's something that is instinctive with him, but that he also works with his psychologist. In addition, he works a lot on visualization. When he faces a player, he knows exactly what his habits are, which way he is going to send the ball, how he plays 30/40 shots, 40/30 shots. He knows who to play in the important moments and who to avoid in those moments.
The game is getting faster and faster
"At padel, the defense is very powerful. Players able to earn points by hitting are few. While many know how to defend well. The defense balances the games because hitters are not always good defenders. Those who come from tennis often strike well and are good at the net, but behind it is another matter. The equipment is also very important: if the balls are fast and the racquets powerful, it will benefit the big hitters. So it's true that the game is getting faster and faster. But playing outdoors, sometimes at sea level, can slow down the game, especially with slow pitches."
Intermediate game speed
"Personally, I like when the balls and the playing conditions allow an intermediate speed, which favors strategy. I don't like points that are over in two shots. It is easier to judge the quality of a racquet than that of a ball, because the racquet does not deteriorate, or deteriorates slowly, whereas the ball wears out more quickly and reacts differently according to the conditions of the game. temperature, pressure, altitude, etc. A ball can be good when you open the box, but have lost a lot of pressure three days later.
"A gentleman is missing padel in France "
"In France, there is still a lack of someone who really believes in padel : you need a type like Fred Oudeville, a fan. Considering the way the padel world will prosper, the gentleman padel in France must be someone who lives this sport on a daily basis. If you don't have the passion yourself, you can't pass it on."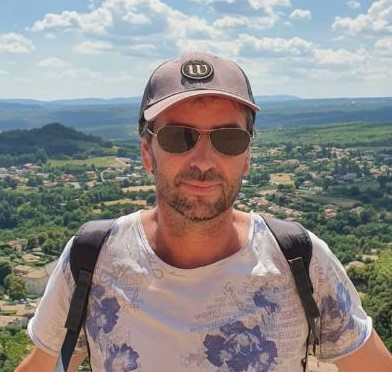 After 40 years of tennis, Jérôme falls into the pot of padel in 2018. Since then, he thinks about it every morning while shaving… but never shaves pala in hand! Journalist in Alsace, he has no other ambition than to share his passion with you, whether you speak French, Italian, Spanish or English.