here is continuation of our report in Madrid behind the scenes of the industry padel of Decathlon. Today, we are interested in the way in which the best-selling rackets in the world are "cooked".
Although created only two years ago, Kuikma, the 100% brand padel of Décathlon, has already acquired its letters of nobility in the world of padel. As for rackets, this is the case with users, with very positive customer feedback, particularly on the criteria of quality-price ratio and durability.
Do not necessarily spend 200 or 300 €
« Our objective, Explain Frédéric Oudeville, the gentleman padel by Decathlon, was to make the padel accessible to the greatest number. This means in particular financially accessible, whether for the beginner or for the expert, who does not necessarily want to spend 200 or 300 euros for a high-end racket. With our expert range, we wanted to offer, for 100 euros, carbon rackets equipped with the best technologies. And that, we are practically the only ones on the market to do it ».
But how, starting from an almost blank sheet, do you shape a range of rackets intended for the most demanding players?
« When I was chosen as product manager, continues Fred Oudeville, I came to Madrid in order to analyze the needs of the players and to build a coherent offer. I recruited Andrés Sanchez, who was already working for Décathlon in Lille, as a snowshoe engineer. Then I set up in Spain a team of engineers, designers, merchandising specialists… The team had to have the Spanish flag, because it is our first market, the most demanding. "
The precious experience of Horacio Álvarez Clementi
As early as 2017, this team produced their first prototypes of snowshoes, building on the experience gained by Artengo. " Our first racket tests were too heterogeneous, not conclusive enough. We may have good players in our team, but we are not good enough, not smart enough to gauge a racket accurately enough to put it on the market. That's why we decided to work with Horacio Álvarez Clementi, to benefit from his experience as a former pro player and coach ».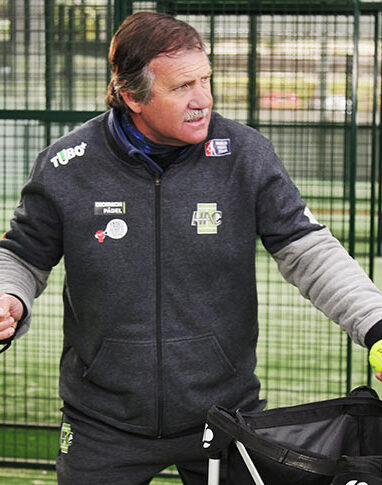 At 63, the Argentinian coach has strong ideas about what a good tennis racket is. padel, which he explained to us in a forthcoming interview. " He helped us enormously, admits Fred Oudeville, including when he did not validate three of the four rackets that were submitted to him, when we had already done five or six versions. He said on the one hand that his "punto dulce" was not big enough, on the other that it was vibrating, while we didn't feel that it was vibrating ... But he was right: so we did. 'listened, we delayed the launch for six months and today, I am very happy with the result ».
The KTL, a secret room, without windows
But let's go back to the back kitchen where the Kuikma rackets are made, in the heart of the El Hangar club, in the north of Madrid. On the surface, nothing out of the ordinary. On the one hand, very traditional offices, with computers and a very young team of only 12 people (but expected to expand soon); average age, around 30 years.
A little further, nestled between two tracks of padel, a secret room, without windows, of which a digital code reserves access to the initiated only. On the door, three letters are written: "KTL"! " It means Kuikma test lab », Explains Andrés, the snowshoe engineer.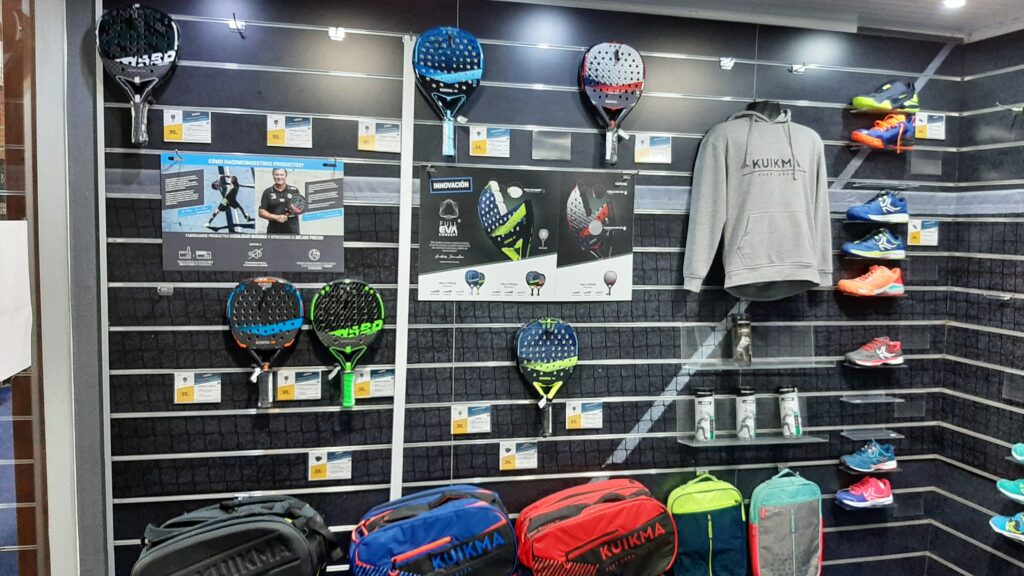 A pure "product" of the Decathlon industry, Andrés has been working there for 12 years: " I joined the company as a salesperson at the Malaga store (Andalusia), while studying industrial design as an engineer. Then, I did a merchandising mission in Lille, where I joined the PCM lab (plastic, composite and metal). This is where we do endurance tests, static tests and impact tests on hard materials. I supervised the trials for racket sports, fishing rods and bicycles ... »
Andrés, a cook combining ingredients
Now let's come back to the Kuikma test lab. " The KTL is where we do various product tests, says Andrés. Even if the development center is based in Lille, we sometimes need to tinker a little in Madrid: cut a racket to lengthen it, add weight, modify a few details ... And besides, my colleague Raquel is doing some merchandising tests here , that is to say, it tests the presentation of the products, the shelves that are then offered to the stores of the whole world ».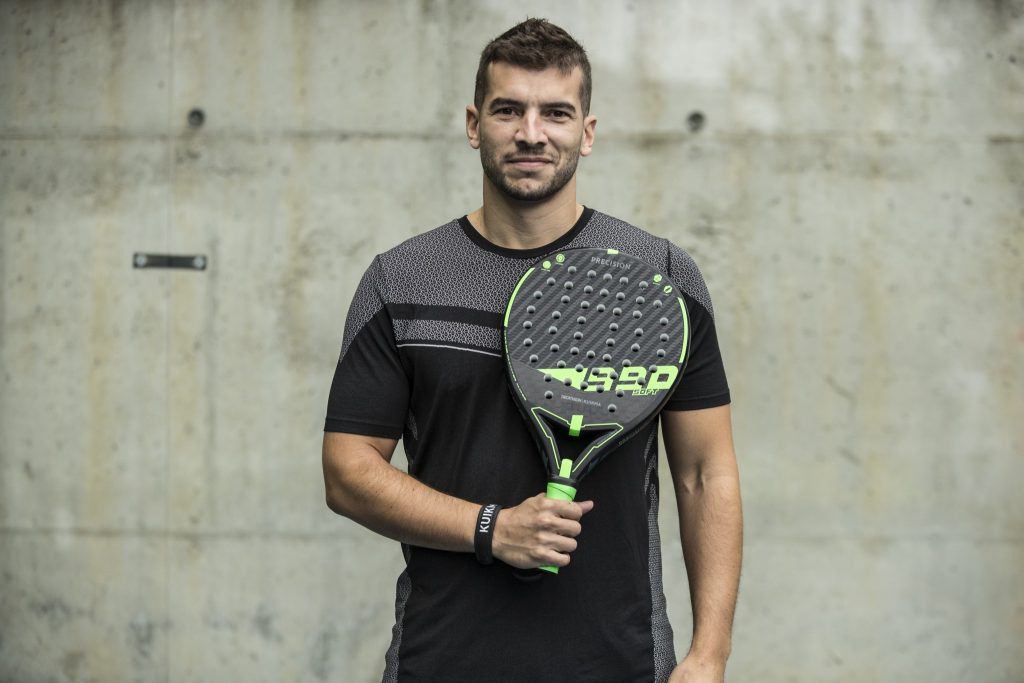 Andrés readily describes himself as a "cook" of rackets, handling three ingredients on a daily basis: the racket mold, the composition of the "sandwich" and the drilling plan. In other words, it seeks, for each model, the best compromise between the shape, the components (carbon, fiberglass, foam), the number and the arrangement of the holes.
« The difficulty, he explains, is to find a clear correlation between what one calculates on a computer and the feelings of the players in real conditions. Sometimes, you just need to change the dosage of a single ingredient and everything has to be done again. ».
Up to ten prototypes for a racket
How many hours of work does a racket require?
« It is very variable, estimates the engineer. For some, I have 350 hours in mind. For the expert range (the PR990), which we developed in 2018, we made ten prototypes, which is a lot. Our requirements were high and that of Horacio even more, for which we thank him. My job is to find technical solutions to adapt to what Horacio advocates, and it is thanks to him that 90% of users like our rackets. ».
After having renewed the different ranges of rackets, the Kuikma team then tackled the development of other products, in particular shoes, balls, bags and clothing dedicated to the padel.
We tested a top secret model
Finally, a new challenge in 2022 is sponsorship: for the first time, well-known players will be equipped with Kuikma products, in particular rackets. And in a few days, we'll know if Maxi Sanchez rumors are founded or not ...
We must therefore expect, at Kuikma, the appearance of a range of even more efficient rackets! But last November, we had the chance to test a top secret model, which Kuikma does not plan to launch until the summer of 2022: its code name is "the Pro". Hybrid in shape, it weighs around 365 grams and combines comfort, power and precision, with a large "punto dulce".
We will not tell you more, except that it will be sold for more than the current expert models. And for good reason: it will be manufactured in Spain and not in Asia ...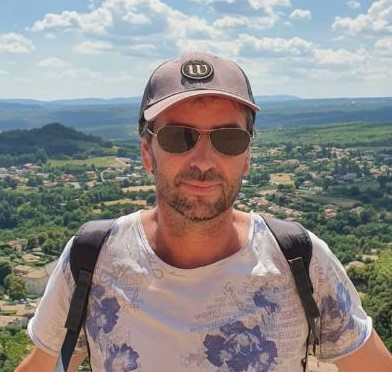 After 40 years of tennis, Jérôme falls into the pot of padel in 2018. Since then, he thinks about it every morning while shaving… but never shaves pala in hand! Journalist in Alsace, he has no other ambition than to share his passion with you, whether you speak French, Italian, Spanish or English.