You checked your week from June 12 to 19, 2022 so as not to miss this great week in Toulouse with the Human Padel Open 2022.
But you are still wondering, how the competition will unfold.
Sunday 12 to Thursday 15 June: preprevias / previas
Direction qualifications (preprevias and previas) at 4PADEL Toulouse Colomiers which is the official club and partner of the event.
The entrance will be free and free with the possibility of catering on site.
From Sunday, a total of 40 ladies' and gents' matches will take place throughout the day. This will be the biggest day of the tournament.
Monday, June 13, end of preprevias with 16 matches.
Tuesday, June 14, start of previas with 12 games.
Wednesday, June 15, previa finals and start of the main draw (16th) which will take place at the Palais des Sports André Brouat.
Sports Palace André Brouat: the main draw
Only 4 matches of the 8th will take place on the 4thPADEL From toulouse. And from Friday, June 17, all matches will take place at the Palais des Sports André Brouat.
The organizers have thought of everything by offering two tracks, one of which is central.
Anyone who has a seat for the central will also be able to see the matches that take place on track 2.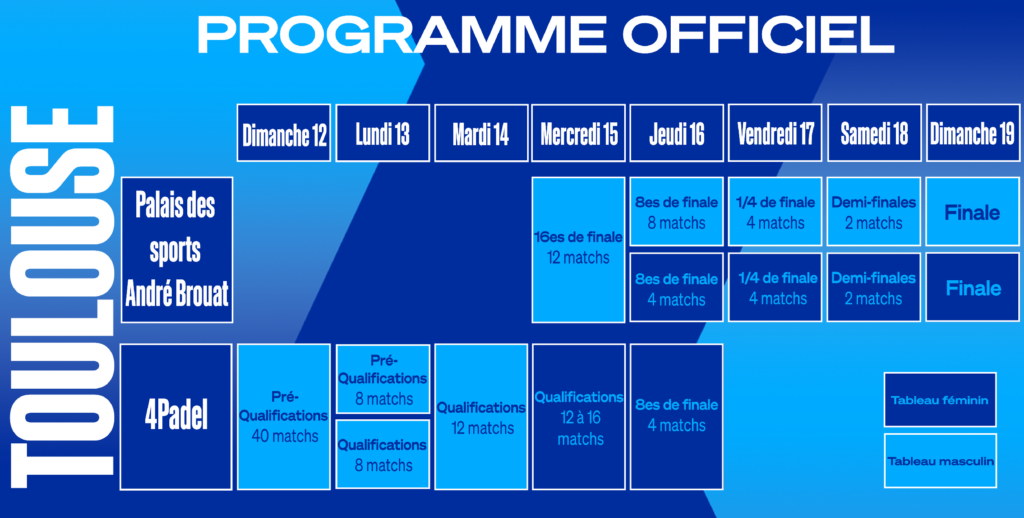 Franck Binisti discovers the padel at the Club des Pyramides in 2009 in the Paris region. Since padel is part of his life. You often see him touring France going to cover the major events of padel French.