President of the Belgian federation of Padel, Alexandre Pavy lent himself to the game of a small offbeat interview:
Hello President, you will have to answer a series of questions as quickly as possible ... You will have to assign to each of your player, a cartoon character Snow White and the Dwarf 7. Let's go :
Who would be Snow White?
Laurent Montoisy
Who would be shy?
Jeremy Gala
Who would be happy?
Christophe Rochus
Who would be Sleeper?
Alec Witmeur
Who would be grumpy?
Philippe Werts
Who would be Simplet?
Joker
Who would be Prof?
Julien Evrard
Since you are not entitled to a Joker and you have not quoted Gerald Moretti, I will have to give him the character of Simplet ..
I did not answer that 🙂
I take responsibility, I know him well and he has the character in the skin 😀
He would rather be Prince Charming,. With Lolo (Montoisy) they would form a beautiful couple ..
More seriously now:
Did you expect to see Belgium fly over the qualifications in Ghent?
We are delighted with our 1er place. I would not say we flew over that qualification. Many games have been tough and we have won 2 / 1 twice. So let's be satisfied, stay lucid and work!
How do you read the draw of Belgium and what are the ambitions of the team for this championship?
The hens are unbalanced, as some countries were absent at the last 2 World Championships. We are going to play 3 "American" teams, which is very rewarding after playing 4 European teams in the Qualifiers. Paraguay and Mexico are very good teams. Canada has less experience. And we will play the challengers. Our ambition is to enter the Top 10 and gain experience with this new young team.
Thank you President.
Thank you.
A.Pavy, President of the Belgian Padel Federation
As a reminder :
The Padel World Championship will take place from 20 to October 26 in Palma de Mallorca
Belgium inherits the following draw: Paraguay / Mexico / Canada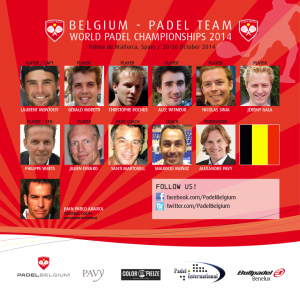 Franck Binisti discovers the padel at the Pyramid Club in 2009 in the Paris region. Since then padel is part of his life. You often see him touring France by going to cover the big French paddle events.