Juan lebron is very happy in Paris. For the first time, he is going to Roland-Garros to take part in the greatest event of his career, and tells us about a mysterious new project. Exclusive interview with Padel Magazine with the world number one.
I loved TPMP
Lorenzo Lecci López: How are the players treated here at Roland-Garros?
Juan Lebron: "Premier Padel climbs the ranks at each tournament. We come with our entire technical team and our family. Everyone is dazzled. We players don't believe it. It's a feeling I can't describe."
Lorenzo Lecci López: A few weeks ago we saw you in Touche pas à mon Poste with Hanouna. Did you do it to prepare for your fame in France?
Juan Lebron: "I swear to you, no ! But I didn't think it was going to make so much buzz! Until Marbella I was told that I had been seen in TPMP. I was treated very well there. Cyril is a great person and I loved the show."
A mysterious project
Lorenzo Lecci López: Last year in an interview in Qatar after the World Cup, you told us that the emotional charge of travel was difficult to live with. This year there are even more trips. How do you live it?
Juan Lebron: "It's a very good question, because at that time my head was a little saturated, and I had trouble managing my emotions. Now I'm better, I feel calmer, calmer on and off the track. I am at a turning point in my life. In a few months you will know a little more but it is true that I talk about it a lot because I am excited by this project. I think for the moment things are going in a good direction and I hope everything will be fine so that I can fully enjoy again. "
Lorenzo Lecci López: What are you talking about? ?
Juan Lebron: "You will know it very quickly. It is related to the padel. I can't tell you anything more for the moment but if you investigate a little you will find. It's a very nice project, which gave me headaches and insomnia. But I decided to let the people who know how to handle this kind of thing do it and give them my trust."
I am not a star
Lorenzo Lecci López: Sanyo Gutierrez and Agustin Tapia are not there, I would say that they are the pair that are putting other players in the most difficulty at the moment. Is it easier to win a Premier Padel or a World Padel Tour when they are not there?
Juan Lebron: "No I think all tournaments are hard to win and I'm focused from the first round, to win every game. The fact that Sanyo and Agus are not participating in the tournament does not mean that it will be easier, there are very good players and they should not be underestimated. "
Lorenzo Lecci López: You have become a bit like a star of the padel world, you are more and more famous, you are asked for photos everywhere, in Italy, in Spain or even here in France. Do you like this celebrity?
Juan Lebron: "No absolutely not, I am not one. Celebrities for me are actors like Brad Pitt (laughs). Yes, I can be asked for a photo on the street in Madrid, but I can walk everywhere without being harassed, go to a restaurant without being disturbed. Sometimes people ask me if I'm Juan Lebron to take a picture but they don't know me directly. I don't consider myself a star, far from it. "
Transmit to youth
Lorenzo Lecci López: What do you want to pass on to children who play padel ?
Juan Lebron: "Happiness, hope and only good things. When I was little and wanted a photo with Bela, Juan Martin Diaz, Gaby Reca or even Mati Diaz, they did it with a good heart. Now I want to transmit this happiness too because they deserve it and children are the greatest happiness we can have. "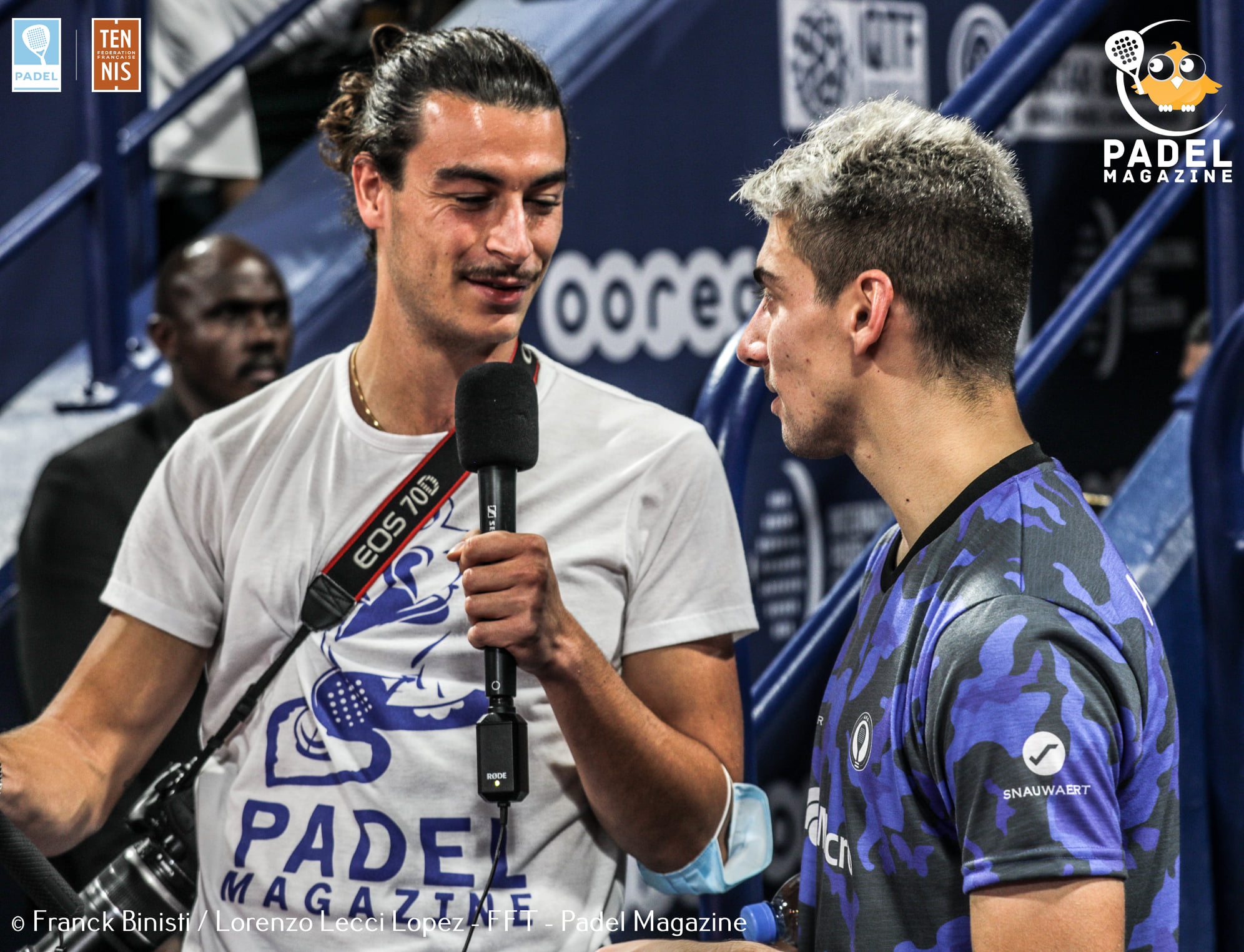 From his names, we can guess his Spanish and Italian origins. Lorenzo is a multilingual passionate about sports: journalism by vocation and events by worship are his two legs. He is the international gentleman of Padel Magazine. You will often see it on the various international competitions, but also on the major French events. @eyeofpadel on Instagram to see his best photos of padel !