[vision_content_box style = "autumn" title = "Pierre Lamoure"]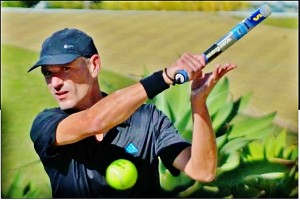 The "french" exiled in Spain, professor and technical manager of the padel club of Vals Axarquia of Torre del Mar, launches his column padel "technical and tactical". Find regularly articles and videos on how to play padel with Pierre Lamoure.
more info here on his program
. [/ Vision_content_box]
The bandja: a whole program!
Indeed it is a specific hit padel; it takes time to put it in place.
Problem encountered at the padel:
I am positioned on the fly and get a lob that I can not attack.
solution:
The tape is a good way to keep the opponent at the bottom of the course by sending a cut ball directed towards the walls and therefore difficult to defend ....
The points to remember to make a bandja:
Shift in relation to the trajectory of the ball
open the supports
make a blow that looks like a high volley of forehand.

Pierre Lamouré is one of the technical pillars of Padel Magazine. The founder of Upadel.net, regularly offers technical and tactical themes around padel. A question ? A demand ? do not hesitate to contact him at pierrelamoure@padelmagazine.fr