The Dunlop Padel BLAST is a paddle racket stuffed with the latest technology. Does all this make a racket apart? Yes and no. What is certain is that the racket has a sacred answer!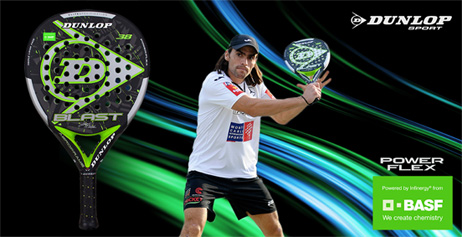 Properties combining Power and Control
One could easily believe that the BLAST is an 100% attacking racket when you see one of the best Juani Mieres forwards with this pala in your hands. Yet the racket is certainly powerful, but is far from the most powerful of the market. Dunlop wanted with this racquet combine control and power despite a balance of the racket header.
The construction is nickel as usual at Dunlop with its aerodynamic frame still surprising.
The racket remains fragile despite reinforcements. It's a Dunlop. The price of this technology and this quality of racket, it is certainly its robustness. Not to multiply the blows in the windows or grating, the BLAST will not take long.
Dunlop also offers these famous silicone-coated capsules at the frame. This technology will mainly interest players with problems with their arms. It is quite effective and the racket absorbs the vibrations caused by bullet holes.
Otherwise, nothing to report on the material part used in this racket since as usual too, Dunlop offers a full carbon racket not so common on the market.
More generally, the balance is at the mid / high level of the racket. Ideal for good topspin smashes. it is designed for all types of players although experts will particularly appreciate this racquet. But the handling is good.
Weight: 265 gr / 274 gr. Public price observed: 250 €.

Franck Binisti discovers the padel at the Pyramid Club in 2009 in the Paris region. Since then padel is part of his life. You often see him touring France by going to cover the big French paddle events.