A few hours before the start of the finals of the French Padel 2016 championships, the French Tennis Federation has just announced the composition of the ladies and gentlemen hens.
Ladies hens: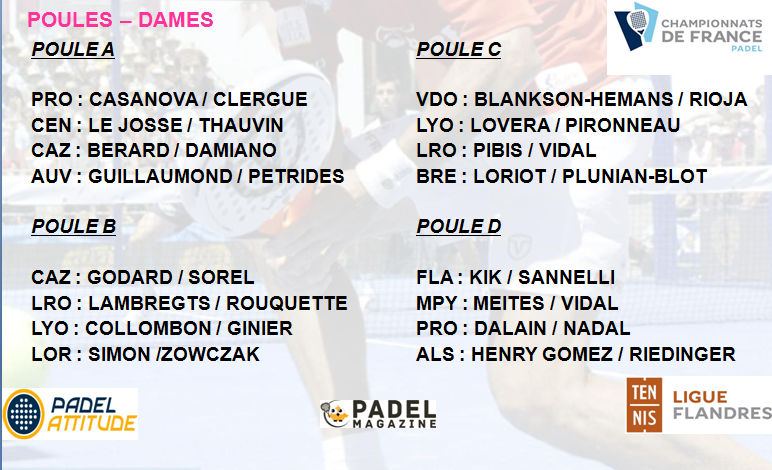 Hen men:
How were these chickens built?
These chickens were built from the following points:
Padel's known ranking, the only one to date ... that of 2015.
Team weights according to padel tournaments
Then the hens were formed via the "serpentine" system: 1er in position 1 pool A, 2st in position 1 pool B, 3st in position 1 hen C, 4st in position 1 hen D, 5st in position 2 hen D, 6st in position 2 pool C etc. etc.
The hens are well balanced and difficult to contest. At least from the official elements of the FFT.
We were also entitled to a draw to place the 2e of hen in the final table.
Our opinion
The establishment of these hens follows a well-defined rule. In the men, the pool A will do some damage. The pair Masse / Roumy will feel very alone against these regular French padel tournaments. Pool B and C are fairly balanced even though French champions Padel Haziza / Scatena are in a position of great favorites in their pool. in Pool C, everything will have to be done to avoid being second, that's for sure. Hen D is also balanced. We have seen the huge progress of the pair Poey / Lerustre lately. The pair Lapouge / Veber is certainly the least expected in this hen but it could surprise his world if the arm of Fabien Veber holds.
In the women, the seeded No. 1 and 2 French could meet at the half which is frankly enough damage when you know the current hegemony of these two pairs on the competition. If we start the game calculations .... Unfortunately for some pairs, like that of the Val d'Oise in Pool C 4e arrival at the championship of France 2015, it will be difficult to pass the stage of hens. But Riojo / Blankson-Hemans have more than one trick up their sleeve.
Even if there are no perfect tables, these French paddle championships seem to have started with the good news of the day: No news / Good news, the FFT could send its selection for the padel world championships team Saturday night at the FIP. The list will correspond to the 4 pairs qualified for the semifinals. Obviously all this is guesswork, but it allows to motivate the troops for this championship France 2016 padel.

Franck Binisti discovers the padel at the Pyramid Club in 2009 in the Paris region. Since then padel is part of his life. You often see him touring France by going to cover the big French paddle events.