As we told you a few days ago, the FIP has launched a new international circuit which replaces the WPT. In this new circuit, there are type 1 tournaments, comparable to Grand Slams. There will be 4 of this type per season. The first taking place in Doha from March 28 to April 2, 2022. For all type 1 tournaments, at the prize-money of 525 000 €, the winners will be awarded 2000 points.
La FIP has just opened registration for this first tournament to be held at the Khalifa International Tennis Complex in Doha, Qatar. Eligible players have the opportunity to register until March 5. Qualifiers will take place on March 26 and 27 while the main draw will run from March 28 to April 2.
The qualification table will include 32 pairs (including 2 Wild Cards). As for the final table, it will consist of 56 pairs (including 8 qualified and 4 Wild Cards). To fully understand the full distribution of points, see the table below (Line: FIP QSI Tour – Type 1).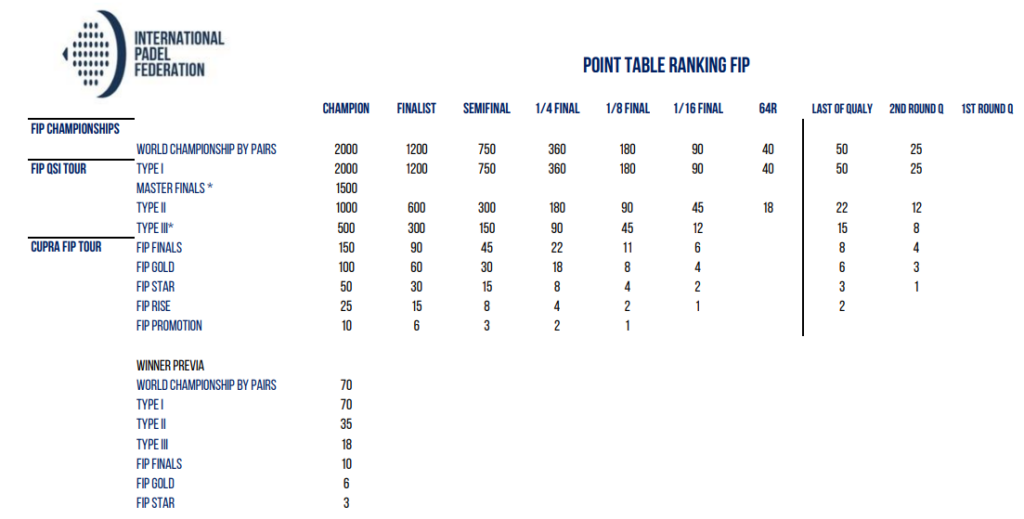 FIP clarified that hotel (breakfast included) is offered to main draw players as well as qualifying players associated with PPA (Padel Player Association). Lunch and dinner are included for all players on site. The organization also takes care of the transport between the airport, the hotel and the place of the tournament for all the players. In addition, players associated with PPA will be able to benefit from a 50% reduction on their plane tickets.

After being rocked by tennis for nearly 15 years, I became an absolute fan of its cousin, the padel. For nearly a year now, I've been chasing the little yellow ball with another racquet, but with just as much passion! Based in Lyon, I intend to make you better acquainted with the padel in the region and on a national level.