[vision_content_box style = "autumn" title = "Pierre Lamoure"]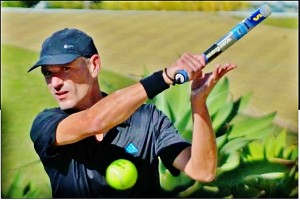 The "french" exiled in Spain, professor and technical manager of the padel club of Vals Axarquia of Torre del Mar, launches his column padel "technical and tactical". Find regularly articles and videos on how to play padel with Pierre Lamoure. more info here on his program. [/ Vision_content_box]
The vibora is a blow very used with tape. It is a lateral smash whose objective is to defeat the opponents thanks to the side effect that will give the rebound of the ball on the windows (wall of the bottom and side wall) rebounds difficult to anticipate.
Problematic
You are in attack, at the net and you receive a high ball but in an uncomfortable situation to be definitive In addition to the bandja, you have the weapon of the vibora.
Solution:
A lot of speed and a lot of effect given to the ball In fact by taking the ball to your right (if you are right-handed and giving a shot that "wraps" the ball it will leave with a significant effect of lateral rotation and much speed of what to ask serious problems to your opponent.
The points to remember to make this move
Open your ground support
Wrap the ball in its equatorial part

Pierre Lamouré is one of the technical pillars of Padel Magazine. The founder of Upadel.net, regularly offers technical and tactical themes around padel. A question ? A demand ? do not hesitate to contact him at pierrelamoure@padelmagazine.fr