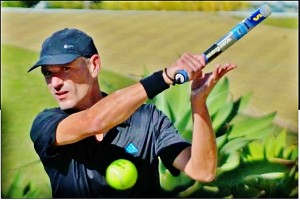 The "French" exiled in Spain, professor and technical manager of padel Vals Axarquia club in Torre del Mar, launches its column padel "Technical and tactical". Regularly find articles and videos on how to play padel thanks to Pierre Lamoure. more info here on his program.
A great classic of the WPT! Spectacular, the "par 3" is intended to be a smash of padel definitive whose only parries are to leave by the door to try to put it back in play or for the best players to counter the smash before the ball touches the back wall.
Problematic
You are in attack, at the net and you receive a lob not too deep, You thus want to gain the point by making leave the ball by the side wall after it has touching the wall of the bottom.
Solution:
This shot is certainly the most technical of the sport. It corresponds exactly to the topspin serve performed in tennis.
Lightly arch the body
Join the feet
Flex then jump forward
Wrist shot outward (pronation)
High speed of the racket head
Hit the ball as high as possible above the head
Hit it with the upper part of the racket from "7:00 am to 14:00 pm"
Two recommendations, however:
You must be able to advance in the ball at the moment of impact in the racket by jumping forward.
We must focus more on technique than strength
Point of impact on the ground: a little before the line
Point of impact on the wall: approximately at the level of the first post at the back
Note: This shot padel is technically difficult and physically quite taxing. I therefore advise you to practice it often and for a short time so as not to tire your shoulder and your wrist.
Good luck ! And see you soon

Pierre Lamouré is one of the technical pillars of Padel Magazine. The founder of Upadel.net, regularly offers you technical and tactical topics around padel. A question ? A demand ? do not hesitate to contact him at pierrelamoure @padelmagazine.fr