Padel Magazine - The WPT in Portugal: It's happening now. This Monday, the Lisbon International Open finally begins. It is the fourteenth of the season and the first to take place outside Spain.
61 pairs participate in this Open. This tournament was born thanks to the municipality that had built a first padel pitch a few years ago. Then was born the center of racket of Lisbon with padel in the sporting offers.
It will be necessary to wait until tomorrow to know the eight pairs qualified for the final stages.
Several local pairs have decided to give a hard time to the Spanish-speaking pairs ... Pierre Plantier and Tiago Santos, Miguel Oliveira and Joao Bastos, Joao Diogo Rocha and Roque, try to compete with the big stars of this sport. We will be a little more tomorrow.
Padel in Portugal has been growing at a slower pace than in Spain. It is estimated that there are currently about 80 paddle courts and five thousand practitioners in total.
According to recent data, there are just over fifty padel clubs in Portugal and it is estimated that there are about 300 licensed. The Portuguese federation chaired by Ricardo Oliveira is doing its utmost to develop this sport. But there is still a lot of work to make up for lost time against his Spanish neighbor.
The WPT is highly anticipated in Portugal because we hope through this global event, to develop the sport and bring new players.
Le World Padel Tour has started its international expansion and, for now, seems to be reaching its goal. The imminent arrival of the best players in the world on the land of Lusas has aroused many reactions in the world of padel but not only.
Since then, the media has shown great interest, articles and news about the Lisbon International Open are daily. On the spot, Portuguese fans are delighted at the prospect of being able to follow their idols, while those who do not know are likely to be dazzled by the show.
The tournament will take place in the magnificent facilities of the Club Racket Center in Lisbon.
This sport "has just arrived" in Portugal, where only 80 tracks count and a little more practicing 5000. Therefore, the arrival of the best players in the world, will create an important impetus for the young Portuguese Federation.
For now, the public response has been very positive. If the local pairs have been swept swiftly in the qualifying stages, the public is responding, and ticket sales are important.
On Tuesday 8 October, there will be a presentation of the best players in the world and the last lap of the qualifying stages before the finals.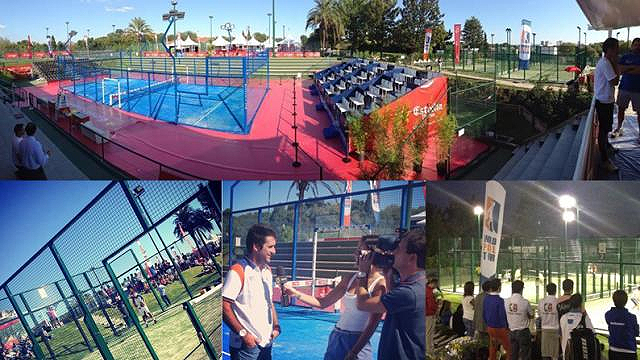 Franck Binisti discovers the padel at the Pyramid Club in 2009 in the Paris region. Since then padel is part of his life. You often see him touring France by going to cover the big French paddle events.