The Bordeaux Tennis Club has become the spearhead of padel Aquitaine. Since its inauguration last year, a number of projects have been created and are underway.

The Bordeaux Tennis Club in training mode
For a year, the Tennis Club of Bordeaux has made the course
The only thing missing was the pedagogical training of teachers to extend the structuring of the padel within the club. This is done since the TCB officials wanted the intervention of " Padel Tennis Academy »With their teaching team playing very regularly at padel, including at the national level with some very good representatives during the last French championship. Therefore, they needed a real specialist in padel, also very well acquainted with tennis club issues.
From left to right: Cédric CARITE (trainer), Patrick LAGAROSSE (President), Grégory MONGES, Alexa LAFITTE, Ludovic CHASSAGNARD, Raphael OUVRARD
The next step is the establishment of a second court to meet the growing demand from players. "This is planned for 2017" says the president Patrick LAGAROSSE.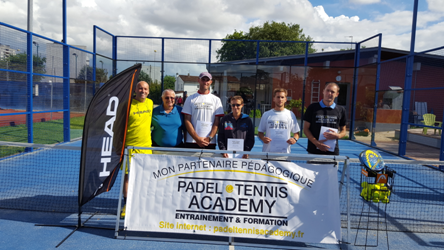 The development project padel always up to date

For the moment the Tennis Club de Bordeaux will continue to develop with its padel.
Patrick Lagarosse, the manager of the club's sports commission, explains that if the padel is developing well within the club, " What is amazing is that our players padel most often come from outside the club despite the fact that the tennis players licensed at the club have the padel integrated into the contribution. »
In project, the establishment of a partnership with the Tennis Club of Saint Loubès.
Next year, a field of padel could see the light of day and also a courtyard. But all these projects will see the light of day if the padel continues its development in the club.
National direction Padel Cup from September 6 to 18
2 events will take place: the approved men's tournament and the mixed tournament.
more info on Padel Tennis Academy
PADEL TENNIS ACADEMY : Training organization
Information on 06 61 68 55 98, or "cédric @padeltennisacademy.fr »

Franck Binisti discovers the padel at the Club des Pyramides in 2009 in the Paris region. Since padel is part of his life. You often see him touring France going to cover the major events of padel French.