In the Var, the Tennis Club de Lorgues is embarking on padel with its 2 fields of padel.
It is also the first club in the Var to offer as much. (Ed. the Lucois Sportive Tennis Association already offers 1 padel)
To set up these 2 fields of padel, it took endurance " to make this project a success Explains the investigator of this project, Jocelyne Géler, President of the Lorgues Club.
In 2014 Jocelyne Géler has the ambition to relaunch the machine of her club by wanting " propose a new activity ". The obstacle course will begin ...
But first, the President of the club would like to point out that all the stars were aligned to develop this project. The fact that the padel is part of the same Federation as tennis " is necessarily an advantage. This was one of the triggers ».
But it was not possible to build these 2 padel without condemning a tennis court.
If the fact of building on a tennis court made it possible to limit construction costs, the replacement of tennis by padel does not necessarily go well with a certain number. Problem, there is not enough room to do otherwise. Jocelyne Géler is holding on and the town hall trusts her by agreeing to finance all the installations.
« Our Sagarbe Sports grounds are superb and operational and we hope to be able to develop the activity in the area as soon as possible Concludes the President of the Club de Lorgues.
ALL INFORMATION FOR INAUGURATION
For more information and to answer the invitation here: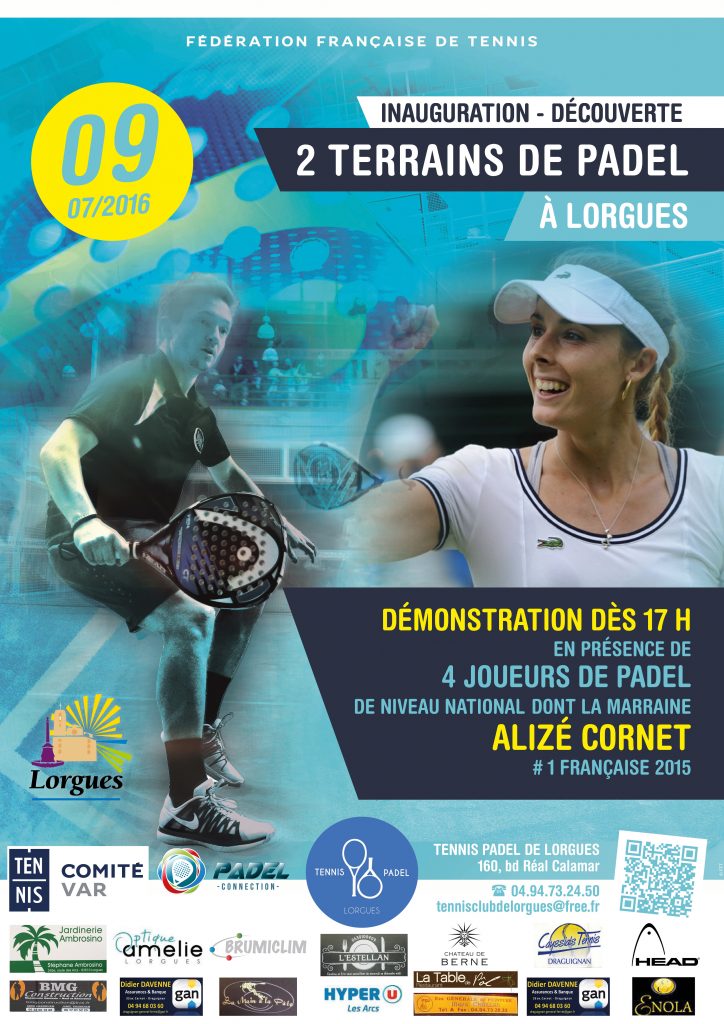 On Saturday 9 July 2016, with the intervention of Padel Connection for the demonstrations, the inauguration of these two courts of Padel will take place in the presence of many political and sports personalities, including:
Ms. Alizée Cornet - N ° 1 French WTA Tennis Pro Féminin 2015 and winner in mixed of the National Padel Cup 2015

Mr Claude Alemagna - Mayor of Lorgues

Mr Michel Fernandez - President of the Tennis Var Committee

Franck Binisti discovers the padel at the Club des Pyramides in 2009 in the Paris region. Since padel is part of his life. You often see him touring France going to cover the major events of padel French.