L'organisation du World Padel Tour vient de publier le calendrier 2017 du circuit professionnel de padel. Si le calendrier propose quelques nouvelles destinations, c'est surtout le Monte Carlo Padel Master qui manque à l'appel…
Monte Carlo Padel Master n'a pas de date
De manière stupéfiante, aucune trace du Monte Carlo Padel Master dans le calendrier du World Padel Tour 2017. Et il ne s'agit pas d'une erreur puisque le World Padel Tour l'a bien confirmé sans expliquer les raisons de cette étrangeté.
Rappelons que le Monte Carlo Padel Master est né il y a 2 ans avec aux commandes Fabrice Pastor pour mener son "rêve" au bout. Il était prévu au minimum 3 ans de Master. On arrivait donc dans cette 3e année.
It was the most glamorous Master of the circuit with entries of players in helicopters, incredible matches, ambassadors like Belasteguin, Paquito Navarro or Pablo Lima who had signed this year to wear the colors of the tournament ... All the stars seemed aligned to once again offer a great show ...
It was a French-speaking master, the first of its kind with a project that went beyond the Master's degree.
We will try to come back to you to know the reasons and the continuation of the padel adventure on the side of the Rock.
Miami, the big new
The Miami Master is the big new calendar that will take place from 20 to 30 in April. A test that should continue over time.
The other Masters
There will be Miami, Barcelona, ​​Portugal and Buenos Aires. Let 4 Masters be. And the big 13 Master at 17 December, which will bring together the 8 best world pairs in the men's and 6 in the ladies (except if the WPT decides to align the number of pairs on the ladies side).
Challengers with international desires
On le sait, le World Padel Tour souhaite s'internationaliser. Avec Monte Carlo qui semble ne pas souhaiter poursuivre, Dubaï qui a déjà dit non depuis longtemps, le WPT n'arrive pas à s'internationaliser comme il le souhaiterait. Et c'est là que les challengers pourraient jouer un rôle importants avec des possibilités de voir certains de ces tournois à l'étranger… 6 dates ont été bloquées par le World Padel Tour Pour le moment on n'en sait pas plus sur les destinations.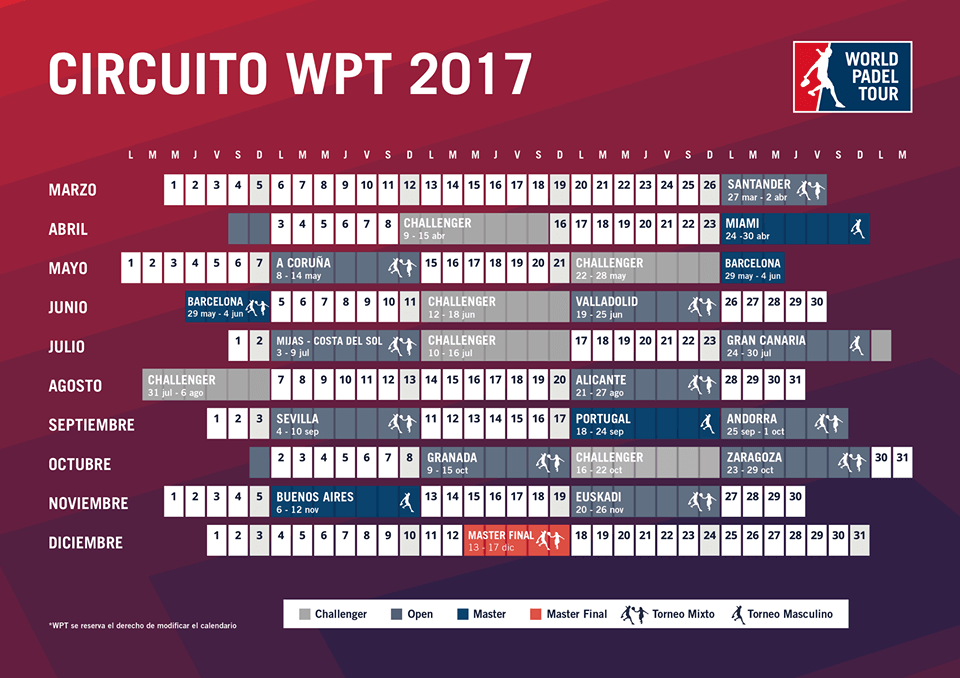 Franck Binisti discovers the padel at the Pyramid Club in 2009 in the Paris region. Since then padel is part of his life. You often see him touring France by going to cover the big French paddle events.