From 2 to 6 December, France will participate in the European Championships Padel to be held at the club La Playa near Rotterdam in the Netherlands.
If equi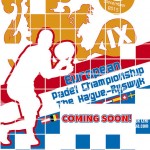 For the time being, the Spanish teams have not yet confirmed their arrival, the other big European teams will all be present.
Several countries will be able to apply for the title of European champion if Spain does not come.
Portugal has already shown on several occasions that it is necessary to count on them. Tiago Santos, one of the best Portuguese players explains to us that he "participates in international tournaments including World Padel Tour Qualifiers".
Belgium has proved that it can also be very dangerous with in particular a tennis team converted to padel : Laurent Montoisi and Olivier Rochus.
But finally one of the countries that could raise the cup is simply France: With Robin Haziza / Jérémy Scatena in 1 number, Laurent Boulade / Jérôme Ferrandez in 2 and Cédric Carité / Alexis Salles in 3 for men, the ambitions of France can be very high (provided that the Spanish scarecrow boycots the European championships).
In the women's category, The Magic Trio (Laura Clergue / Audrey Casanova, Sandrine Sorel / Sandy Godard, Line Meites / Emmeline Lambregt) also has the potential to go as far as possible in this competition. If the Spanish pairs do not come, they could be even the favorites of the tournament.
See you in a month for a beautiful padel party.
Franck Binisti

Franck Binisti discovers the padel at the Pyramid Club in 2009 in the Paris region. Since then padel is part of his life. You often see him touring France by going to cover the big French paddle events.