Monte Carlo Padel Master will offer on September 3 and 4 the pre-qualifications which will allow the 22 local couples (17 men and 5 women) to qualify for the finals which will take place in Padel Club de Beausoleil and Monaco;
The participants in the pre-qualifications come from Europe, Africa and South America (France, Monaco, Sweden, South Africa, Argentina, Italy, Belgium and Germany).
Qualifications at Padel Soleil
All matches will be played in the renovated Club Tennis facilities Padel Sun in Beausoleil.
Organizations of the gentlemen: 17 pairs
Saturday 3: qualifying rounds and 1er round.
Sunday 4: the four decisive matches to determine the 4 qualified.
Qualified 4 will have to play then against the other qualified Spanish:
Victor Ruiz - Javier Lemons
Alejandro Galán - Juan Cruz Belluati
David Leal - Ricardo Martinez
Ignacio González Gadea - Antonio Luque.
These qualifications will take place directly on Monday 5 September on the central court of the Chapiteau de Fontvieille.
Ladies' Organizations: 5 pairs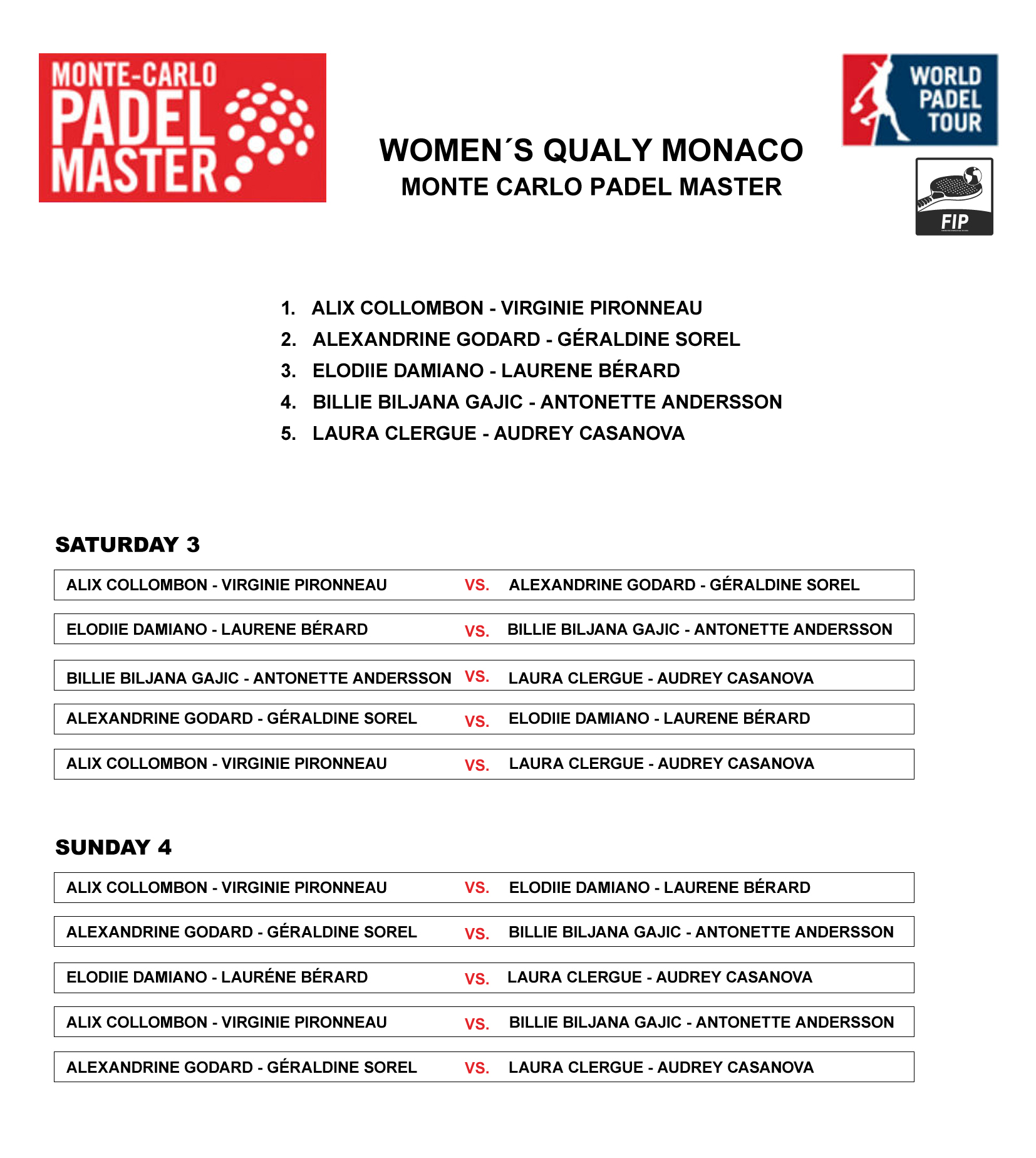 Five female couples
In the female category, 5 pairs registered including the best French pairs. All the pairs will be played against each other so that the ranking will be carried out by the system of round robin (all against all)
Each couple will play two games on Saturday and two on Sunday. In case of a tie, the win will be defined by match won, difference of sets and difference of games.
Qualified 4 will then have to play against other qualified Spanish:
Lorena Barbero - Idoia Martin
Lilian Ramos - Aranzazu Osoro
Lara Tena - Cristina Bala
Delfina Brea - Silvana Campus
The match schedules will be published next week. All information on the development of the preliminary stage will be available on social networks, on the Monte-Carlo site. Padel Master and on Monte-Carlo International Sports social networks.
Find out more: http: // montecarlopadelmaster.com/monte-carlo-padel-master-22-couples-participate-in-the-preliminary-stage / # sthash.tTqYedBg.dpuf

Franck Binisti discovers the padel at the Club des Pyramides in 2009 in the Paris region. Since padel is part of his life. You often see him touring France going to cover the major events of padel French.