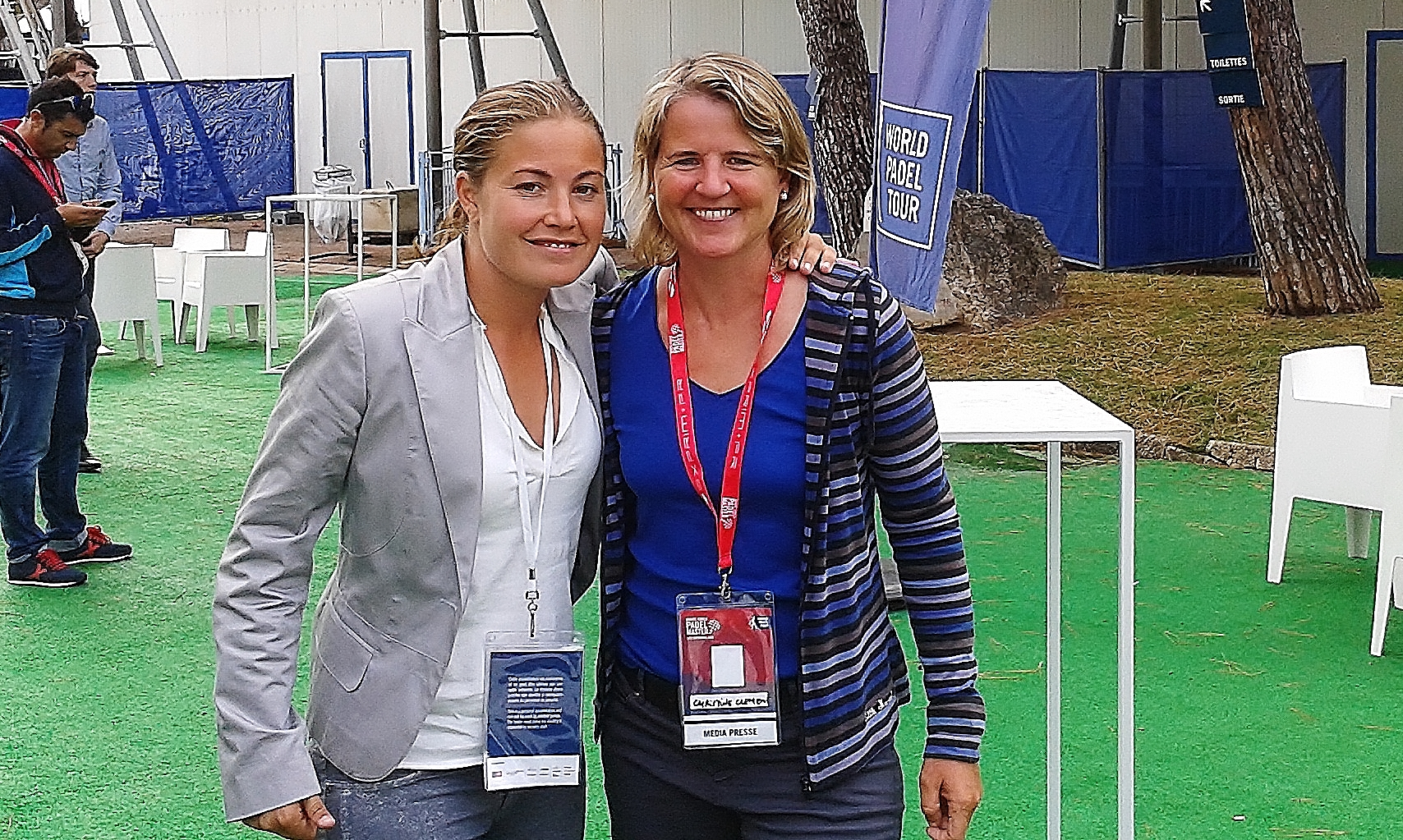 INTERVIEW WITH MARCELA FERRARI ASSISTANT COACH OF PABLO LIMA AND FERNANDO BELASTEGUIN
Can you introduce yourself ?
I am Marcela Ferrari, born in 1981, responsible for the training of Fernando Belasteguin and Pablo Lima and responsible for the School of Padel by Star Padel, Fernando Belasteguin's club in Barcelona.
Are you also a padel player on the WPT circuit?
As I love this sport and want to keep fit, I continue to play on the Catalan circuit and when the WPT comes to Barcelona, ​​if I can, I take the opportunity to do so. For example this year, I did not play but I try in general.
Your best ranking on the WPT?
The best I will not say (laughs) but on the Catalan circuit which is the strongest (of Spain), I am No. 5, when there are players like Lucia Sainz (No. 9 WPT) and Marta Marrero (N ° 3 WPT), who come to play on this circuit. (Editor's note: Marcela plays on the Catalan circuit with Lucia Sainz Lucia Sainz is the partner of prodigy Marta Ortega on the WPT).
How long have you been training Bela and Pablo?
It is now 4 years that I take care of Bela ... and it is true that it happened very quickly. Mikel Sciorilli is the main coach of the team (note: he lives in Madrid and follows the players on the tournaments). So I'm Mikel's relay on Barcelona because I live like the 2 players in Barcelona. I am also taking care of Pablo Lima since January of this year.
How many people are part of the team around the pair Bela and Pablo?
We are numerous. First there is Tony Martinez, for physical preparation, then Mikel Sciorilli who is the head coach and then there is a team that is invisible.
For me the team that is invisible and is very important, the base is the wives of the players, who are there during this tournament in Monaco but who are also present with the players, during the most difficult times, see them in the House. And this work is fundamental and the basis of everything, because otherwise they would have neither the rage nor the strength nor the joy of playing on the courts.
Each one then has his physiotherapist and other people for outdoor activities at the padel court.
What is your role exactly?
Being with them in Barcelona, ​​like Bela and Pablo live in Barcelona. As they don't have Mikel on site (he is in Madrid), my role is to be in contact with Mikel who gives me the training sessions, to give the objectives for each session, to fulfill them. I am looking for sparring partners, the courts (outdoor or indoor). Normally we train at Star Padel which is Bela's club, but sometimes you have to look for a covered court, look for sparrings and they train 100%. In truth with them it is very easy, because they always train at 200%. My role is simply to be there, to support them in everything and then to report back to Mikel.
How is a typical week without tournament for these players?
When they are in tournaments, it is to see them play in streaming because I can not travel because of my work. When they are not in tournament, it is to work, train hard. They do physics first in the morning, then padel ... if there is one who wants a double session or if Mikel plans another session, it is to be with them. In general they spend 1h30 at 2h a day on the padel court, but it depends on the days, at most 2h at 2h30 a day to fulfill the objectives. What is good with them, every week when they are there, they want to improve something and they always go further. They do not come to train, no, they require a lot, and the whole team we have to be attentive all week.

How is it still possible to improve a player who has been the number 1 for so many years like Bela, who has won everything ... how is it possible to bring him something more as a coach or co-coach?
I asked myself this question. Is it possible to continue to improve? And the answer is yes, it is possible to continue to improve. You realize that yes ... It's not on the year but on the week, that they are constantly improving small details, to have more speed, to turn bullets always lower ... always . That's why I think they are number 1, every day they ask more for themselves, they do not just have a good shot, if they can have better and even better ... they do not do not look around but they are watching their own game what they can improve. And do the job well, every day you have to improve something. If it's physical, technical, tactical ... they can rely on this great team.
The qualities of Bela and Pablo?
For me first, it's the person. The fact that they have agreed to integrate a woman into their team for me is incredible.
If not the qualities: they are workers, very simple, they know what they have to do at each moment in their work, the job well done, they fight ... it's not really the shots themselves but it is fighting, constancy, sacrifice, work and outside the court, they are great people.
How do Bela and Pablo complement each other?
Both players are very combative people. We did not know what the combination of these 2 players would give, but in the end, I say today that it gives a perfect cocktail. They complement each other because they know each other very well what their space is and they both like the same thing: win!
What are the differences between the pair Bela-Juan Martin Diaz and the pair Bela-Pablo Lima
It's a question I've never been asked ... For me, Juan Martin is a genius and I admire him, but I never trained him. Also, for me to have the players Bela and Pablo Lima in Barcelona is something very special. They are different and I live it differently too. As far as I'm concerned, I'm looking at the present and the Bela / Lima pair can do an amazing tandem. Every thing has its stage and for me it's a very nice and nice stage.
Are there other women like you who coach men or are you the only one on the circuit?
At the professional level, there are great female coaches like Neki (note: Neki Berwig coach of the female pair Patty Llaguno / Eli Amatriain No. 3 WPT) but on the men's circuit, not that I know. There should be more elsewhere, why not? Of course you can not keep up, but it's more about being with them, encouraging them, correcting them, being a traveling companion if needed. A woman can do it. Bela is the first player to take a woman on his team and show the example that it is possible. And that does not go too bad for him, right? He does not have a bad team, right? (Laughter)
Mikel is the chief coach who counts on me in Barcelona. This is 4 years that I take care of Bela and it will be a year with Pablo. And I do not think any of them have noticed if it's a woman or a man. They know that I give everything and they are happy and that's what counts.
Interview carried out on September 13, 2015 in Monaco during the World Padel Tour by Kristina CLEMENT for Padel Magazine.

Franck Binisti discovers the padel at the Pyramid Club in 2009 in the Paris region. Since then padel is part of his life. You often see him touring France by going to cover the big French paddle events.