Following his interview last week with his new partner Yann Auradou, Max Moreau wanted to come back to an important point: the France team.
"Jo, Ben and Scat: the pillars of the France group"
Absent from the last European Championships, the one who now lives in the Paris region hopes to make his return to the French team, if possible alongside his new teammate Yann Aradou. This is the moment or never, since, according to him, following the many changes of pairs, only three players are guaranteed to be part of Team France :
"From my point of view, since there have been a lot of changes, at the moment, apart from Benjamin Tison, Johan Bergeron, and Jérémy Scatena, who are the pillars of the France team, no one else is guaranteed to have their place. All the other players behind must earn their place, in terms of results, in terms of motivation, in terms of play. "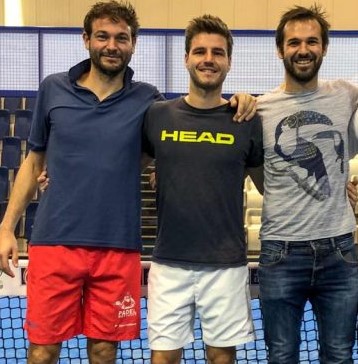 Blanqué and Maigret have everything to prove again?
According to Max, Bastien Blanqué and Adrien Maigret, who were part of the untouchables when they played with Johan Bergeron and Benjamin Tison respectively, will have to show that they are capable of having excellent results with their new partners to appear in Team France:
"At the time you could say that there were 5-6 players who had their place, who were indisputable, but now, for me, there is no more than three players who are indisputable. That does not take anything away from Adrien Maigret or Bastien Blanqué who are very, very good players, but with different partners, they will have to prove once again that they deserve their place. "
Several players in ambush
We must recognize that many players push behind the group of professionals World Padel Tour, who train every day and play all year round at the highest level (a group in which we necessarily include Bastien Blanqué, 120th player in the world). When the tournaments resume, the fight should be fierce, with a dozen players who will fight for only 3 or 4 places:
"The cards have been redistributed, there are other players who are pushing: I am thinking of François Authier and Justin Lopes who have done very well in recent years, but also Yann Auradou, Morgan Mannarino. I think apart from Ben, Scat and Jo, we all have to fight and prove that we deserve our place in this team! "
Strongly the resumption of the circuit of padel French, it promises to be fascinating!

Team Padel Magazine tries to offer you since 2013 the best of padel, but also surveys, analyzes to try to understand the world of padel. From the game to the politics of our sport, Padel Magazine is at your service.