Meet a legendary player on the World Padel Tour circuit. Maxi Grabiel, this experienced player, looks back on his dark year: 2019. But also tells us about his past more generally and his future on the circuit.
Interview with Maximiliano Sergio Grabiel, 43 years old and professional padel player since 1993.
PM: You have a very rich career far from over. Are there any magic moments that you remember?
MG: Moments I have many, for so many years on the circuit, but if I had to keep 2, I would say first the world 2014 that we won with the team of Argentina. The second would be during the Valladolid tournament in 2008, during which I was playing with Agustín Silingo and where we won the final against Belasteguín and Juan Martín Diaz.
PM: On our side, we see you as a discreet player. How do you see yourself
MG: Yes indeed, I also define myself as a discreet player, who doesn't have a game to "shine", but I think that my way of playing has been sufficiently efficient and regular all these years. I believe that one of my strong points will have been to adapt quickly to the game of my partners and to manage to make the best of themselves.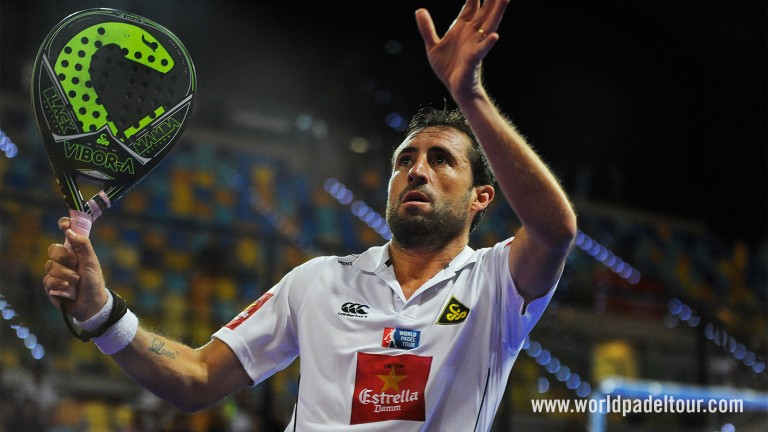 PM: How do you feel with the pace of play imposed by the young promises?
MG: It is true that in the last two years we have felt the appearance of young players. They play at a different pace and above all they are able to play a 3 hour match and the next day to replay a game with always the same physical freshness. This is a change the padel undergoes today, and he needed it.
PM: Which padel do you prefer? The one of today or the one of 5 years ago?
MG: Personally I preferred the padel of a few years ago, especially the carpet of 2015 which was fast and which perfectly suited my style of play.
PM: Where do you see yourself in 5-10 years?
MG: In 5-10 years I see myself living entirely in Spain (as I do today), necessarily retired from padel as a player, but why not coach. What I want is to always stay in touch with the professional padel, because it is a world that I love.
PM: How do you think padel will be in 5-10 years?
MG: I think padel will continue to evolve in every sense of the word. The palas will improve, the players will be even faster and will hit the ball harder and harder, as is the case with Lebron… I believe that the future of padel will be to play ever faster.
If we look at the future of padel in terms of its progress, I think we will see this beautiful sport in more and more countries and continents. Note the great work done by World Padel Tour on this subject.
PM: Your goals for 2020?
MG: My goals for 2020 are first of all to improve the results of my 2019 season, which was the worst of my career. I need to focus on these last games of my playing career, and enjoy every moment of the last few years that I have left. I think this is what I need to focus on so that beautiful and new things are born.
PM: What will be your pala for 2020?
MG: No news on this point. I am staying at Vibora for another year, and I will continue to play with the Black Mamba model, with which I feel good. I like this pala and I'm used to it now; why change?
PM: Do you have a message for the readers of Padel Magazine and for padel aficionados?
MG: My message is mainly directed to young people. If you can, start playing padel. It is a very nice sport and above all it is a pair sport where we have a lot of fun and where we create real friendships.

Julien Bondia is a padel teacher in Tenerife. He is the founder of AvantagePadel.net, a software very appreciated by clubs and padel players. Columnist and advisor, he helps you play better through his many padel tutorials.